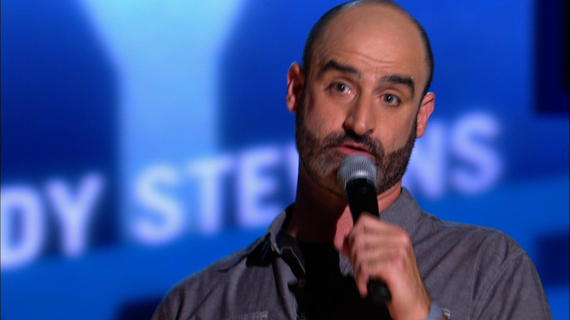 Fifty minutes of Brody "Positive energy!" Stevens is a spectacle both formidable and profound. The HBO and Comedy Central vet's stream-of-consciousness crowd work and unconventionally assailing persona are already intense in shorter sets as a Comedy Store regular or soundstage warm-up on the likes of @Midnight and Chelsea Lately. For polite Midwesterners anticipating traditional setup and punch within a community-festival environment, he's unlike any performer they've seen.
Co-headlining the 425-capacity Pyramid Scheme rock club on Friday, the second night of Grand Rapids, Michigan's fifth annual LaughFest, Stevens followed Nick Thune's low-key, guitar-free tales of his dog eating a pot brownie, being threatened by Denver ruffians and instinctively predicting the sex of his unborn baby. Wearing a blue and orange Detroit tee, Stevens came out swinging...or rather shadow pitching, rocketing invisible fastballs over the heads of the seated crowd. The apt metaphor continued throughout the increasingly rowdy show, audience members socially distracted yet intent on cohesively rooting for what amounted to the home team.
"My mother was born in Detroit, thank you!" Stevens barked up top. "My grandfather opened and ran and decided who went on at -- You got it! -- the Fox Theatre." Local references to Two Beards sandwiches, Amway and Gerald Ford's college-football career received the appropriately reflexive whoops, though lobbed one-liners "I'm parched! Does anyone have any freshly squeezed Sunny Delight?" "I hooked up with an amputee recently...on StubHub," and "I go to Whole Foods...and get a half chicken," met with mixed contact.
Stalking up and down the center aisle sans microphone, he extolled the virtues of Pomegranate-flavored 5-Hour Energy, flexed his thick forearms and downplayed the guy at the bar boozily shouting, "I love you!" "Even if you're a little chatty, I don't care!" Stevens offered, sidling up to play off a drunk birthday group squealing at stage right. "Thanks for getting me!"
Following his traditional rundown of film credits ("The Hangover: In it! Hangover 2: In it! Due Date: In it! Funny People: Cut out.") he re-enacted his brief police-station scene in The Hangover with three eager volunteers. Once the birthday ladies began hollering for his hotel info, Stevens shifted focus to darker and harder-hitting material. "I got touched! And it wasn't by an angel!" he conveyed of his childhood. When the culprit received the doubled term of six years in prison, "It should have been three, but I was molested in a construction zone."
Comedy may generally thrive on the unexpected, but twist punchlines are only a fraction of Stevens's challenging arsenal. Wondering exactly what's going to happen with him mentally, physically, even emotionally both onstage and off is part of the draw. And it's no accident on his part. To witness a full show capped by a round of high-fiving, tambourine-banging, cooler drumming and a quick yoga squat can be exhausting. Watching an uninitiated crowd watch Stevens watching them, however, will never get old.
REAL LIFE. REAL NEWS. REAL VOICES.
Help us tell more of the stories that matter from voices that too often remain unheard.