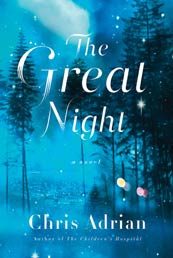 Everyone agrees that author Chris Adrian is a wildly talented writer. He's been published in the New Yorker and McSweeney's, among others; he's received a Guggenheim and his first two novels -- Gob's Grief and The Children's Hospital -- were complex, daunting and critically acclaimed. The question is not if Adrian will gain a wider audience but when.
The Great Night looked to be the book that would break him out. It's 290 pages long, loosely based on Shakespeare's A Midsummer Night's Dream and relatively straightforward.
In San Francisco's Buena Vista Park, the fairy king and queen Oberon and Titiana live in exile with their court of slavish followers and the dangerous Puck. They cast a spell over a string of lovers. Henry is a lonely gay man haunted by his childhood abduction by a man everyone assumes molested him. (Henry's mind is blank on the crucial details.) Will is a gardener/tree doctor fallen for a strange woman. And Molly is a sad woman who can barely realize when the handsomest man in town is asking her out on a date.
They're joined by the clowns Shakespeare loved, in this case a group of homeless people putting on a musical production of Soylent Green to expose the mayor's devious strategy of ridding the city of indigents by serving them up in soup kitchens.
The problem here is that all three lovers have very elaborate back stories, each more dramatic and fantastical than the last. And the homeless people's tirade against the mayor is rather forced whimsy. It's like a staging of one of Shakespeare's plays that is given a very specific setting, like fascist Italy or the deep South, which takes a lot of bother to pull off but doesn't reveal the play in any new light.
But Adrian is too good not to succeed at times in this generous if flawed work. Chapter 3, which surely must have been excerpted somewhere, stands alone as a marvelous story and a glimpse of the dazzling heights he can scale. In this chapter, Titania and Oberon have taken in a human baby and quite unexpectedly fallen deeply in love with it. When the child is sick, they are forced to take it to a hospital since their magic can't work on anything they care about. (This is rarely an issue since Titania and Oberon are supremely self-centered and have never really loved anyone.) Adrian's work as a pediatrician illuminates this section wonderfully.
The story of a child fighting a major illness is fraught with both cliche and sentimentality. And what new can be said about it? A lot. The frustration of a parent's powerlessness in the face of disease is given heartbreaking new life by watching these god-like figures rail against such limitations. Adrian's mixture of fantasy and reality creates a potent mix here that is very moving. They can fill the hospital room with dazzling scenery or feed the child tiny little morsels of delicious food shrunk down to fairy size. They can even offhandedly cure the squalling, ugly, unimportant children all around them on the ward with a flick of their hands. But they can't do a thing for their own.
For this section alone, we're lucky Adrian wrote The Great Night and have every reason to look forward to what he tackles next.
NOTE: Michael Giltz is provided with free copies of books to consider for review. He typically does not guarantee coverage and invariably receives far more books than he can cover.
Popular in the Community