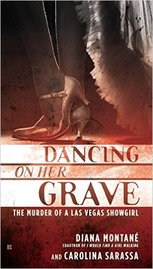 Linda Langton, my agent, sent me this book, knowing full well I'd be hooked by a well-written, nail-biting, true-crime story. It's scheduled to become a two-hour Lifetime Movie, and the horrific crime was already briefly featured on "Deadly Sins".
Well, Linda was right. I was hooked from the start.
Carolina Sarassa wrote that when she began investigating the disappearance of Debora Flores-Narvaez, the opening lyric from Barry Manilow's song "Copacabana",' which says "She was a showgirl..." kept playing in her head. The song soon faded as she and Diana Montané investigated and wrote about the murder of a passionate, educated, talented woman at the hands of her lover, and discovered a heartbreaking cycle of domestic violence that finally culminated with a dismembered body and a sensational trial.
Carolina Sarassa is returning to Univision in Las Vegas after a sojourn in Los Angeles at MundoFOX. She originally won three Emmy Awards there for her journalism, including a "Best Crime Report". She was in Las Vegas when Debora Flores-Narvaez disappeared - right before an important solo rehearsal that would have propelled her into the limelight - and was drawn into this story from its inception. Diana Montané is a reporter, editor, and published author. She was an arts and entertainment writer and film critic for The Miami News, and has co-written six true-crime books. It was through the auspices of a mutual friend that she was able to work with and mentor Carolina as the grim story unfolded.
Dancing on Her Grave is an analytical, well-researched, and yet personal story that moves the reader through a difficult and often disgusting crime. It is obvious that tremendous care was taken to present a balanced story. In addition to the main story, the authors introduce the reader to the close-knit Flores-Narvaez family, especially Debora's older sister, Celeste, whose tireless efforts were inspirational in finding her sister and then pursuing justice for her murder. Interviews with the prosecutors, defense attorneys, and even experts in psychology, criminalistics and others raise the book above the usual repetitive litany of events, with insight not usually prevalent in many other true-crime books. You may not like the killer, but you understand him and the remorseless way he murdered this vibrant and passionate young woman.
Perhaps the most compelling aspect of this work is that Montané and Sarassa both share Debora's Latin heritage and educational background. They are highly successful in their chosen fields, and have an intimate understanding of the motivations and drive that propelled Debora to give up everything for her dreams of becoming a showgirl. As Latinas, the authors have keen vision into the cultural traditions of their victim, and refuse to indulge in stereotypes. Sarassa's career path even paralleled Debora's initially, but as Sarassa rose to the top of her profession, earning awards and accolades, Debora's path came to a painful, vicious end.
Debora Flores-Narvaez was highly educated, with three degrees, including a Master's and Juris Doctor, but her lifelong ambition was to be a successful dancer. After several years as a Washington Redskins cheerleader, she moved to Las Vegas to follow her dream. In December2010, she was about to realize her dream of a solo in FANTASY, the strip tease show at the Luxor Hotel. Even though she had advanced degrees, career accomplishments, and experience in professional cheerleading, her goal was to be a soloist in one of the sexiest shows in "Sin City". When she vanished, all that was left was a cryptic text to her mother, indicating that her boyfriend, Jason 'Blu" Griffith, might be responsible if anything happened to her.
Griffith was the prime suspect from the beginning for her disappearance and, as time revealed, her murder. So, what led a Julliard graduate dancer to kill, dismember, and hide his former lover? Montané and Sarassa examine his motives and psychological conditions. They confer with experts even after the trial, to determine the extent of his narcissistic personality, his manipulation of women, and the toxicity and volatility of the relationship between Debora and Jason from the very beginning.
From his early days in Reno, married with children, to the final confrontation with Debora, Montané and Sarassa provide perceptions into his personality and his ability to manipulate and misdirect several women at a time. He used his attitude and 'lost boy' persona to make women fall for him and provide him with whatever he wanted. Debora fell hard for him too, but when she discovered his infidelities and lies, she responded passionately and angrily. Yet, on December 12, 2010, she agreed to go over to his home just before her final rehearsal, and watch "Dexter", at the time one of the most violent shows on Showtime. What was it about this man that would convince a multi-degreed professional dancer on the verge of stardom to go back to him even, in the face of his deception and lies? The authors examine the evidence and the psychology, and try to determine to this day, why Jason "Blu" Griffith still has no remorse over killing a woman he professed to love.
One grim, yet fascinating aspect of the book is how the accomplices to Debora's murder finally admitted their complicity in hiding her body from the police and her family. Although the writers attempt to remain objective, there is a hint of censuring. It is incredible to believe it took over a month for anyone to come forward with information, and then even more incredible, the immunity deals each individual received for their part in brutalizing and hiding Debora's body.
Dancing on Her Grave carefully delineates and describes all aspects of the relationship and the peripheral characters involved, as well as offers in-depth analysis from experts in an attempt to understand how such a vibrant, educated woman such as Debora was sucked into, and could not escape from, a destructive, abusive relationship. With these expert interviews and analysis, Montané and Sarassa provide a full picture of both the victim's and the killer's psyches, and how their interactions brought out the worst in them.
One of the more compelling portraits the authors present is that of Celeste. Montané and Sarassa paint a picture of a woman whose life has completely changed, from the moment she first shared Facebook posts during her sister's disappearance, pleading for information, to the long years before the trial. Once distant from her family, Celeste was drawn back into the family circle and became its core of strength and retribution. Her presence in the courtroom, including her initial outburst at the first hearing, displayed her passion and devotion to getting her sister justice. Every day she attended the hearing, she was a constant reminder to Griffith's defense team that no matter how often they tried to claim self-defense, the bottom line was that he had murdered and dismembered her sister.
Montané and Sarassa, from start to finish, pursue the case with the diligence of homicide detectives, and their attention to detail and analysis is outstanding. When they make the Lifetime film, I hope that the scope and depth of their work is highlighted.
Dancing on her Grave is an excellent book, and I highly recommend it - even if you don't normally read true crime.
Popular in the Community