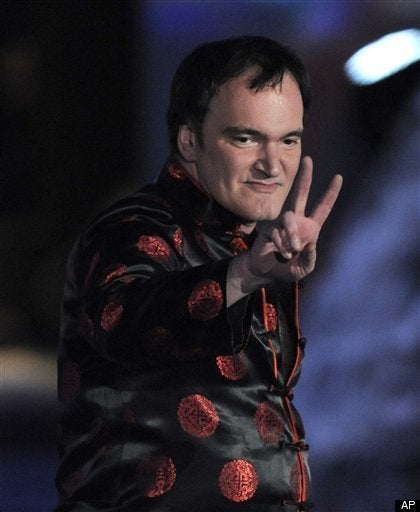 Despite having my initial viewing of Quentin Tarantino's Inglourious Basterds ruined by incompetent projectionists at my local Carmike Cinemas, I felt even then that it was a masterpiece. Overlong in places, to be sure, but a masterpiece. Watching the film in Blu-ray for its release this week is quite a breathtaking thing to see and I would highly recommend it for anyone hemming or hawing on the decision to buy a Blu-ray player.
The film itself is a mixture of a number of things like all of Tarantino's film. Part spaghetti-western, part World War II mission film and part Looney Tunes during their propaganda years. Basterds is equal parts Dirty Dozen, Guns of Navarone and, perhaps The Young Lions as well as some French masterpiece about the love of cinema that I've never seen but am confident of its existence. It's divided up into chapters that at times can seem disparate from each other, but all tie together nicely within the last couple of chapters of the movie.
The film is gory and fun, well-written and well-acted. All in all this was a very, very solid entry into Tarantino's filmography.
One particular aspect of the film that I loved more than most was how Tarantino seemed to pay homage to film projectionists, people who care about film, cinephiles and passionate people willing to battle the Nazi's for what's right. There's also a bit of a love-letter/history lesson about nitrate film and the film itself is even used in the plot to kill Hitler and his lieutenants. It felt particularly empowering to someone like myself who spent so long working as a film projectionist getting to where I am now and knowing that I'm part of the last of that dying breed.
In a lot of ways, the film itself feels as though it's the last of a dying breed, and that breed, more than the others, is the World War II mission-film. I want to see more films like this. Like A Bridge Too Far, like The Dirty Dozen, The Guns of Navarone, Kelly's Heroes and on and on and on.
They don't make movies like that anymore and they really ought to. So, I want to thank Quentin Tarantino for making a great movie in a tradition I thought was long dead.
For those of you interested in the Blu-ray, you'll be happy to note that there are quite a few interesting special features. Aside from a digital copy of the film, you're getting enough behind the scenes content and bonus features to choke a horse. There is the entire version of Nation's Pride, which was the film within a film, an extensive roundtable with Tarantino, extended scenes, trailers and anything else you could care to shake a fist at.
This is the kind of thing they made movies for, and it's certainly the kind of thing they made Blu-ray for.
Popular in the Community