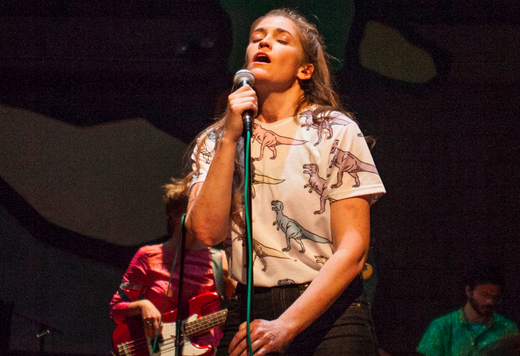 Joan Osborne performed at Joe's Pub Friday night, right before Erin Markey, who finally proved her 90's hit accurate: God is one of us and it's her. It's Erin Markey. At least, I hope it is. I can't think of many others I'd rather be greeted by at heaven's gates: a strange psychedelic dream in sphinx and mermaid form. A princess riding shirtless on a horse, who you would actually really want to be your autocratic ruler. A beautiful nightmare you don't want to end soon.
From the moment of Markey's understated entrance until she is hoisted off at the end, the Brooklyn based Diva gobbles up the stage like it's borscht, vomiting truth onto her audience and wiping us clean with a steady stream of insights and riffs. Her humor is at times provocative, and at times obscene, yet through it all, she herself remains as innocent and enigmatic as one of Eugenides' virgins.
If Cindy Lauper, Zack Galifaniakis, Joey Arias and Miranda July had an orgy, Erin Markey might have been born. The very first thing she wants to talk about on entering the stage, however, is what she'd like to have happen after she dies. At her funeral, she'd like someone to operate her corpse so she can fulfill her dream of singing Whitney Houston's 'Didn't We Almost Have It All?' with a live symphony, an event she has presumably given up on trying to pursue while living. She invites a 'volunteer' to rehearse the part of oral sphincter operator and appoints everyone in the room as her live orchestra. The fact that none of us seem to remember how 'Didn't We Almost Have It All' actually goes, doesn't stop us from trying, and failing, to live up to the demand. Never mind; we failed together. A memory is made.
Her voice, soothing as it is piercing, travels to strange parts of the psyche where it strikes dormant notes; the music is a call to arms and a nostalgia inducing trip. The songs she has written and composed for her scarily flexible instrument are a genre of their own: her opening number about a baby born with no labia, could be Harold Arlen writing Trip Hop; the rest are no less haunting or original. I hope they are made available, because they are the kind of songs that beg to be shared with people whose validation you want.
Among the outsized, delicately painted characters Markey steps into throughout the show is a three time Craigslist hooker who fell in love with her John and sustained this love for him for two years... until it was over. The story is revealed in the poignantly hilarious horse-like voice of her Aunt Jan, and climaxes in one of many show stopping numbers.
For the finale, Markey gets carried around the auditorium alternating between begging, demanding and threatening the audience to fill a hole in the front of her pants with dollar bills. It feels like the culmination of an immersive masterclass on overcoming shame, pushing to the limit the boundaries of intimacy between strangers, and the power dynamic of hooker and John, audience and performer, Sub and Dom. By the end of the show I was led to wonder whether she means to draw a parallel between us, her audience, and the man with the fat wad of cash mentioned during her craigslist confession. If we are to accept the thin line Markey casts between paid entertainer and dominatrix/paid lover, it's a perfect demonstration of how easily love can grow in such an interaction, and how easily the feeling can be sustained... in the case of Markey's show, well after it is over.
Calling all HuffPost superfans!
Sign up for membership to become a founding member and help shape HuffPost's next chapter