This review originally appeared in L.A. Downtown News.
Part of Shakespeare's genius lies in the way he loves even his fools and villains. When we watch his characters blather or sin, we are never repelled. Each seems to be an aspect of ourselves, all necessarily living together in this wonderful house of folly we call the world. The most ridiculous clown has a dignity of soul which never fails to bring us a sympathetic joy.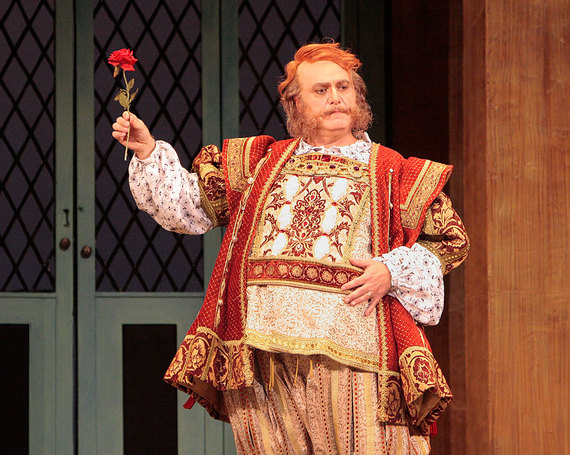 Roberto Frontali as Falstaff.
Verdi's comic opera Falstaff, now onstage at L.A. Opera through Dec. 1, 2013, is a simplification of Shakespeare's popular Merry Wives of Windsor, which was supposedly written at the specific request of Queen Elizabeth. Having enjoyed the character of Falstaff in the Henry IV plays, she reportedly wanted to see him in love.
In those earlier pieces, Falstaff was a fat and failed knight with a brilliant mind, wonderfully self-aware while being wonderfully absurd. In the Merry Wives, he is less brilliant and more absurd -- reduced, a bit, to a clown, but no less loved.
The Knight sets out to woo two married women -- both of whom trick him into making a fool of himself. In the end, however, he is accepted by the society, indeed invited to a feast by one of the husbands he intended to cuckold.
It's a delicate balance to maintain, especially in the stripped-down version required for opera, but Giuseppe Verdi's own genius came to the fore in 1893 when he composed what is essentially a celebration of English life written in Italian -- in which everyone's eccentricity is celebrated as a "humour," but everyone is subject to gentle satire.
The present production offers some wonderful singing, especially in the larger ensembles featuring the ever-amazing L.A. Opera chorus, which are tight, fast and fun. The orchestra under the baton of James Conlon is lively, even rambunctious. The two wives, played by Erica Brookhyser and Carmen Giannattasio are musically charming, the young lovers are sweet, and the reliable L.A. Opera favorite, Ronnita Nicole Miller, is a terrific Mistress Quickly.

Overall, however, director Lee Blakely, along with baritone Roberto Frontali as Falstaff, seem unable to grasp the purpose of the piece, or get the character balance right. There's also a lack of, well, jokes.
At least on opening night, Frontali's Falstaff was rather too pathetic, and his bluster did not seem worthy of satire or torture by the Merry Wives. His pride in his enormous belly seemed not laughable, but pitiable. His wingmen, Bardolph (Rodell Rosel) and Pistol (Valentin Anikin) came off as merely...lame. Comedy was at a premium.
It doesn't help that the new set and costumes designed by Adrian Linford are decidedly clunky and unmagical compared with beloved production used by L.A. Opera for years. Particularly egregious is the staging of Act III -- in which Falstaff is tricked into dressing up as the mythical "Black Huntsman" and sent into the forest to rendezvous with the whole village of Windsor dressed up as fairies and goblins. This is one of the most charming moments in all of opera, and deserves both a beautiful set and engaging effects. Instead, we got a brightly lit stage, low-key costumes, a dead tree, and a crowd of villagers so bunched together that we couldn't even see how they were taunting Falstaff.
Quotations, mostly from the Henry IV plays, are projected between scenes -- but these seem ill-chosen and out of context, distracting from the action at hand rather than adding to it.
One cannot help but compare the whole effort to the truly stunning L.A. production of 2005, a truly great artistic moment with Welsh baritone Bryn Terfel -- echoed, teasingly, on the front cover of the current playbill.
Frontali does have a powerful voice -- and if you close your eyes (which one should always take some time to do at any opera), his rendering of Verdi is knowing and beautifully phrased. His performance did warm as opening night progressed, and he showed flashes of that Falstaffian self-confidence which is so essential to the comedy. Perhaps on other nights, he will muster more mojo, and warm further.
Soprano Ekaterina Sadovnikova made for a delightful Nanetta, the youthful love interest for the very handsome Fenton (Juan Francisco Gatell), and her Act III aria as the fairy queen was a pastoral highlight of the evening. Marco Caria was a credible Master Ford, the not-quite-wronged husband, and he has a smooth and commanding baritone voice -- but in downplaying the comedy, director Blakely underutilized Caria's evident talents. Giannattasio also added much good song as Alice Ford, but like many of the players in this all-too-nice production, was unable to establish a specific personality onstage.
This may be a good production to book a less expensive seat in the upper balcony, where the visuals may be a little fuzzy, but the sound is always excellent.
Falstaff plays through Dec. 1. See www.laopera.com. For more from Marc, see www.theurbanman.com.
Related
Popular in the Community