Fiddle Tim is the artistic pseudonym of Frances Bean Cobain, 17 years old, an emancipated minor, the daughter of two complexly interwoven musical personalities whose impact on culture rivals that of any of the most successful artists of the 20th century. And she makes art.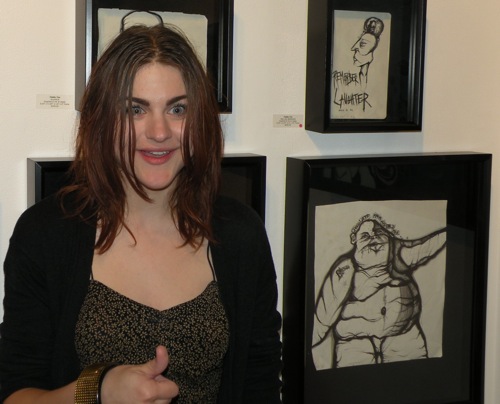 Frances Bean Cobain AKA Fiddle Tim at the July 2 opening of her exhibit "Scumfuck" at La Luz De Jesus Gallery, Los Angeles. Photo: Harley for Coagula Art Journal.
Her debut solo show, entitled Scumfuck, is up now at La Luz de Jesus Gallery in East Hollywood. La Luz is the major league of Low Brow art, a major step in any fine art career. Hundreds of artists send packets and portfolios each year to attract the attention of gallery founder Billy Shire and gallery director Matt Kennedy. One can imagine that Cobain did not have to wait in the same line as every other artist, but in an art world where if you are not pulling strings you are not part of the art world, this cannot be held against the artist nor the gallery. Since the artist is using a pseudonym, the assumption is that there is a desire to have her work judged free from the context of her famous father, Kurt Cobain, and famous mother, Courtney Love.
If that is the case, here is a review for her pseudonym's show: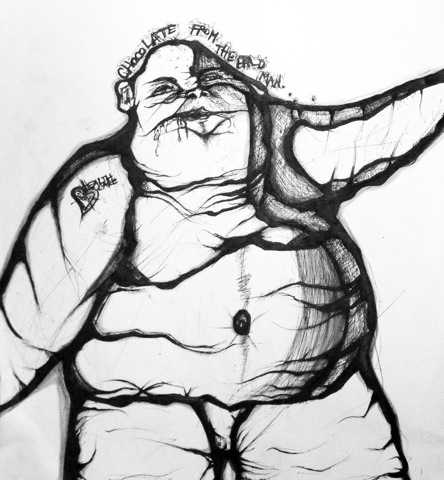 Fiddle Tim is a raw artist in need of honing her above average aptitude for drawing. Fiddle Tim's drawings balance a basic illustration approach with a scruffy (but delicately painted) texture, all aptly composed and not glopped on or glittered like so much trendy low brow attempts at feigning real experience in a cartoon culture. Her themes draw from abject personalities in search of nihilistic power: Jim Jones, infamous punk anti-legend GG Allin, and a recurring specter who makes demands of the viewer with the threat of eating the sun if they are not met.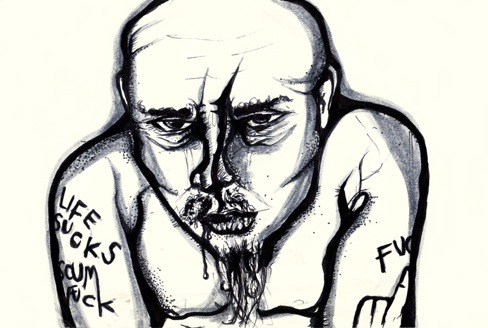 Another recurring character is an obese nude that seems quite comfortable in his/her own skin, its rolls of flesh drawn with sickly wrinkles are easily the most unique and successful drawings in the show, and simultaneously the ugliest. But with her themes of tortuous anti-heroes pausing in their selfish devastation, it is no stretch to assume that her obese characters are quite -purposefully ugly; one of her Obesities is announcing "I don't give a shit" in a drawing entitled Goat Shit (the goat he/she stands next to is the most delicately drawn character in the entire exhibit); the other Obesity is drooling at the mouth under the phrase "Chocolate from the Bald Man" and sporting a jail cell heart tattoo on his/her shoulder reading "health care".
While the work is far from trendy, it has its roots in the ever-unassailable school of black leather self-hating punk. Fiddle Tim's eight small drawings are ensconced on the walls of the gallery amidst slick day-glo acrylic cartoon popsters. But a kindred art ally is near on an adjoining wall where Alyson Souza's expertly painted snakes and lizards are juxtaposed with bible verses and halos or in other paintings where body organs are separated and highlighted in intricate pictorial detail. One can only wonder if the veteran painter Souza had punk scrawled caricatures filling her late adolescent art school assignments a lá Fiddle Tim. It is a testament to La Luz that the gallery can seamlessly curate at both ends of the "raw" spectrum.
But of course a second review becomes necessary knowing who the artist is. Cobain has placed her portrait of the late GG Allin in the center of this grouping of eight framed drawings. Like her father he was punk singer and heroin addict. Unlike her father he was "pure" in punk rock legend for never becoming famous (beyond punk infamy) or successful. In punk lore, no artist went further in his rejection of all social mores than New Hampshire's Jesus Christ Allin. The daughter of two fucked-up punk rock casualties renders the son of two hippies fucked up enough to name their son "Jesus Christ." That his younger brother could not pronounce his name was how he came to be called GG, and he is pictured by Cobain bloody and brooding, his "Life Sucks" and "Scumfuck" tattoos rendered with more clarity than GG's were in real life. Anyone with a lick of punk street smarts knows that the tender sadness Cobain renders in Allin's tired eyes is also the preparation of creating ever more destructive mayhem with no consideration of the consequences. Cobain's work is at its conceptual harshest when its the rendering is soft and simple. Yikes! Kind of like a Nirvana song.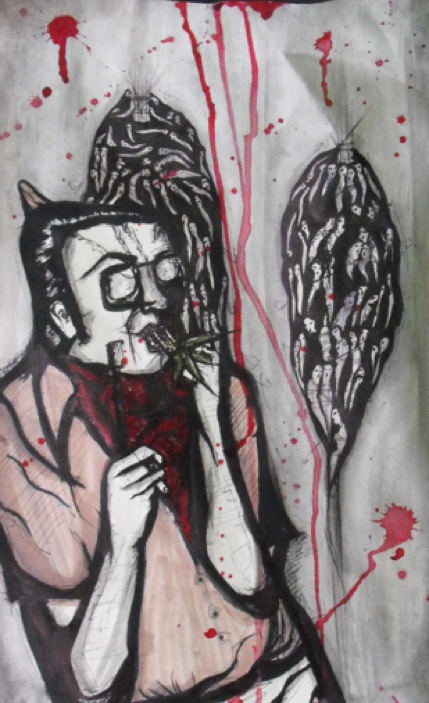 Cult leader Jim Jones is pictured, sideburns and all, in The Ballad of Jim Jones holding a toothbrush as his victims are sperm cell-like organisms with simple faces of death. Allin and Jones are two sides of the same coin: the power of one's self-hatred as the means to destroy.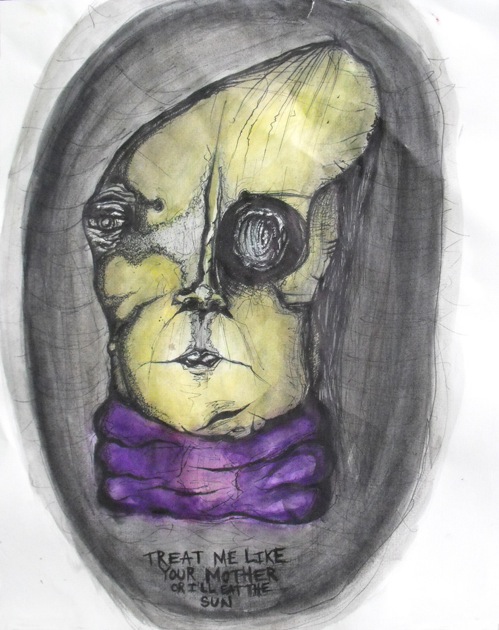 If her Obesities discussed above are self-portraits, a working through that late-teen developmental state of hating and loving our own bodies, could the eerie Spector Hector reveal her relationship to her deceased father? A yellowed, fetid head shaped somewhat like Gumby has an asymmetrically disjointed left eye, and its right eye is just a socket. The most delicately colored piece in the show, does it show us a vision of Kurt Cobain rejecting his daughter's love with the admonition (which is painted below the head's purple neck) "Treat me like your mother or I'll eat the sun." Does her fixation on "icons of filth" like Jones and Allin allow Cobain to more easily accept and process the punk rock world of her destructive parents? With restraining orders against her mother and a long-dead father seemingly pictured as rotting and insisting that there can be no redemption with him, is love a luxury that this talented heiress can never afford? If so, at least Frances Bean Cobain will always have her art.
Popular in the Community