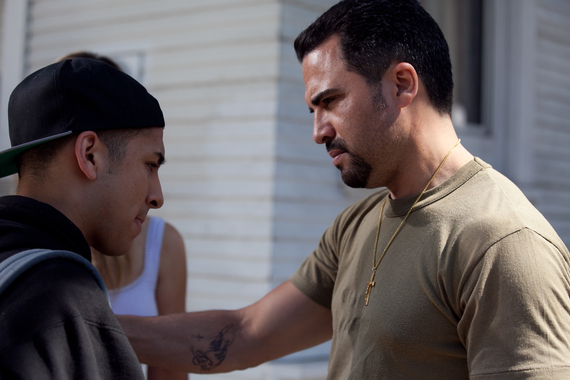 I recently saw an important new film at the Crosby Hotel presented by the Dutch Consulate. As always, the Dutch support their filmmakers with the hope of "bringing not just beauty, but enlightenment to relevant topics," as Jan Kennis, the General Director for Cultural Affairs for the U.S., explained when talking about GREENCARD WARRIORS. The Dutch have led the way as progressive thinkers for many generations. Director/writer Miriam Kruishoop began her trek to make GREENCARD WARRIORS over two years ago after seeing a billboard in East LA recruiting undocumented Latinos for the military, many of whom are high school students.
The script sheds poignant light on a subject which has had little attention paid to it, giving the audience a hard look at what happens too many times to undocumented families who find themselves desperate and living in poverty in the middle of gang violence and crime. The military has recruited over 20,000 undocumented immigrants thus far, with few getting the promised papers they require to live better lives.
The ever intense Manny Perez expressed his own sorrow and hopes at the screening: "I had to do this! I just cried when I read it. My people are under-represented." He is outstanding in the film, giving all his attention to the inner disposition of Jesus, father and husband to a family of five. His eldest son, played by, Mario Ardila, Jr., is a drug dealer and gang member who is recruited by two U.S. military men with the assurance of legal residence for the entire family. Though the son is reluctant to make the sacrifice, he does as his father urges, so that a better life can be had by all. The gang sees innocent younger brother Angel (played by Angel Amaral) as fresh fruit ready to be picked and works on him through violence and harassment to become one of them. At the same time Angel falls in love with Jasmine (Paige Hurd), a beautiful 15-year-old African-American girl whose parents want her to have nothing to do with young Angel. Jesus desperately tries to save his younger boy from the horrible circumstances of the gang world, warning him of what the consequences of his actions could mean if he continues to be involved with the gang, but really it seems that Angel has little choice -- either he becomes a gang member or one of its victims.
Perez, Amaral, and Hurd do an outstanding job of showing their commitment to the material, with often difficult scenes to challenge their acting chops. Kruishoop deftly approaches the script she has only half invented, as the other half is just the reality of non-naturalized Latino immigrant life. Cinematographer Helle Jensen's in-your-face, close-up shooting style speaks to the dilemma; an aggressive epidemic of immigrant misery close up and personal, married with a need for manpower by the U.S. military, with a powerful impact on society overall. Kruishoop assembled an amazing cast of gang members (many of whom came from Homeboy Industries, which provides support, services and opportunities for former gang members) for supporting parts; their scary believability made me want to call a cop. You won't want to meet Richard Cabral's or Caesar Garcia's characters when your tire goes flat on the highway one night, or day for that matter. As Ms. Kruishoop put it during Q and A, "The budget was a BMW, not a Ferrari." This was guerilla filmmaking at its thirsty best, as it was shot in three weeks with a grueling shooting schedule.
Ms. Kruishoop has something to say, and with immense passion and compassion she says it with pictures that get under your skin. Buy a ticket; for the price of admission you can be moved and enlightened by GREENCARD WARRIORS. It opens Friday, March 28 in New York, Los Angeles and San Diego.
Calling all HuffPost superfans!
Sign up for membership to become a founding member and help shape HuffPost's next chapter