REVIEW: Heimir Bjorgulfsson Solo Show at Western Projects, Culver City
It takes a visitor to make a native see his land anew. Artist Heimir Bjorgulfsson relocated to Los Angeles three years ago from his native Iceland by way of Amsterdam. His solo show "walrus knuckles ash trigger" at Culver City's Western Projects is already his third solo exhibition in Southern California in that time.
You and I, we drive around L.A. we see the Southland every day, but we never look at it. We know where we are going and we drive just looking for the red brake lights in front of us to tell us to stop or for the red street signal to tell us to stop. We look for the green light to tell us to go and the green street sign to tell us that we are there.
Bjorgulfsson paints, draws and collages non-iconic totems of the mundane Southland that are ubiquitous to the point of invisibility to those of us who spend every day commuting on the I-10 or making dates Downtown or visiting good friends in the Valley a few times a year. His backgrounds are mists of faded tagging, plywood property barriers, a radiant sun we have been told is to be screened from our very skin. And then he brings in the birds. He presents these fragments of our landscape with the addition of gorgeous renderings of exotic birds. Bjorgulfsson's birds are not Hitchcock's or Poe's but they are not sentimental either. Not satisfied with the frozen precision of an Audobon, the artist adds them to his fractured LA-scapes as tourists. A predatory owl perched on a cactus, a toucan hosts a canary on his bill beneath the telephone lines that hyphenate our skyline, a flamingo stands out next to faded and rotting billboards.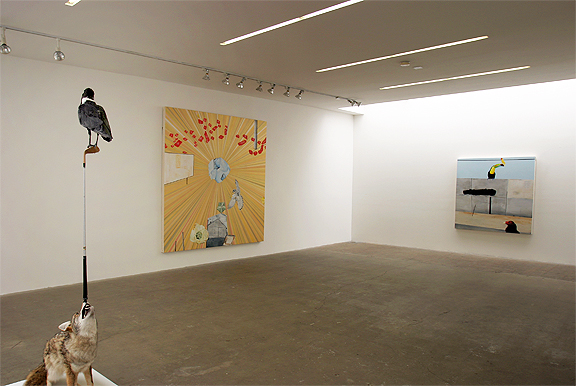 The lone sculpture in the show features a small coyote balancing a golf club on its nose. The canine looks up at a plump African raven with a lustfully hungry look. We are left in a suspended state like the coyote -- the closest he can get to the bird is exactly where he is. Any movement on his part and the bird will fly away and he will be left with the toy of another species for a game he can't play. If we try to decipher a Bjorgulfsson artwork, the work stops being about the subjects that are illustrated and composed and the meaning changes to being about a world without us, an alien-like species proudly perched on our castoff architecture and forgotten garbage.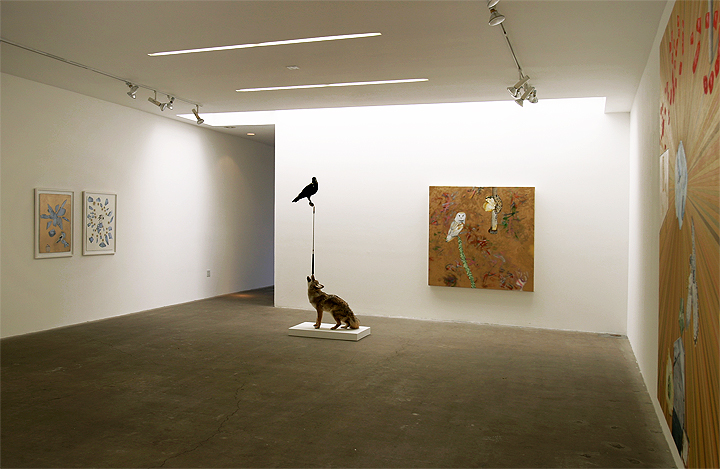 With these beautiful feathered counterbalances to the utterly every day, the artist delivers a delicate deconstruction of both form and function, with more questions arising than answers would be possible. Is any exotic animal isolated from its traditional habitat more inherently aesthetic when its scenic landscape is what our visual memory filters out as indistinct? Is a bird that does not belong in Southern California a metaphor for everyone who came here on a wing and a prayer seeking wealth and validation? Are the ugly leftovers of civilization as majestic as its monuments when isolated out of context? The moment we answer one of these is the moment the coyote twitches and all tense epistemology flies away.
Exhibition installation photos courtesy of Western Projects
Related
Popular in the Community