New York is filled with impromptu gallery shows -- and the pickings can often be slim. The current exhibit at 320 Studios, 320 W. 37th St, 14th floor, is notable primarily for the work of two young artists: Caitlin Flynn and Danny Quirk. In a sea of overwrought graphics and offbeat installations, their work was distinct. Both deserve bigger spaces to showcase their singular styles.
Flynn offered emotive abstract ocean scenes reminiscent of Richard Diebenkorn, as well as moody expressionist figures. "Key West," in which a bird perches in angular solitude against a cerulean blue background, is strikingly dramatic. Though "Red Spill," a commentary on the BP disaster, owes its rectangular structure to Rothko, the red slash carefully dripping into a thick blue stripe, had a calm mastery. Flynn imbues all her work, figurative and abstract, like the hypnotic "Blue Summer," with a gracefulness and painterly sensitivity.
By contrast, Quirk is a more traditional painter, adept at nudes or portraits, with a twist: His sitters will casually expose a breast, throat or spine; they aren't showing skin, but the anatomical structure beneath the skin. The effort is casual and dispassionate, but the result are arresting paintings that capture the viewer's attention and excite comment. Quirk, who aims to be a medical illustrator, has a gift.
In a show with upwards of 20 artists, the only other notables were Timothy P. Brown's metal sculptures, almost Cirque de Soleil-type figures, and Tracy Von Becker's Egon Schiele-like pop efforts. Less memorable were banal black-and-white photos from Rowland Scherman; the figures, like RFK, were recognizable, but the images staid.
"My work studies the relationship we have with the edge," says Flynn. Stick with her and Quirk. They are on the edge of future success.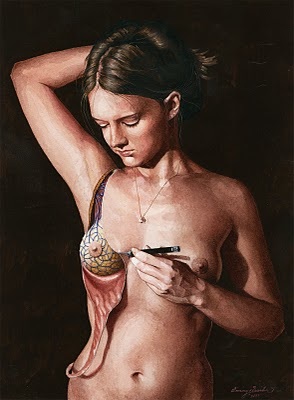 Popular in the Community