Washington National Opera's Show Boat will depart the Kennedy Center Opera House soon, the end to an exceptionally fine mainstage season, but if you can scare up a ticket you shouldn't miss this quintessential American musical, lovingly and movingly staged by Francesca Zambello, WNO's artistic director.
Zambello has an impressive track record with musicals and a fondess for the art form. In an interview published on HuffPost two years ago, she told me that she'll present a fully staged musical from Broadway's golden era each summer at Glimmerglass Festival where she became artistic and general director in 2010, and this July she'll produce Camelot with Andriana Chuchman as Guenevere. Why is this is relevant? Because Chuchman is the stunning young Canadian soprano who's now playing Magnolia Hawks in Show Boat.
Zambello has found a gem in Chuchman, whose silvery soprano and ebullient stage presence are the glue in this big, glittering Show Boat which needs a compelling leading lady. Magnolia has to mature from blushing ingénue to sadder-but-wiser wife, mother, and breadwinner after problems arise with her riverboat-gambler husband, Gaylord Ravenal. Chuchman portrays Magnolia as a winner, not the usual Victorian-era victim, and she has palpable chemistry with Ravenal, played here by Michael Todd Simpson, an elegant baritone who sings with luster and acts with conviction. Simpson's another find (and one can easily picture him as a sexy Don Giovanni, the role he sang last fall at Pittsburgh Opera).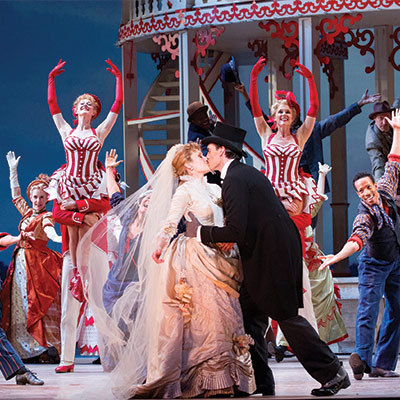 Gaylord (Michael Todd Simpson) weds Magnolia (Andriana Chuchman).
Photo by Scott Suchman for Washington National Opera.
Show Boat offers music by Jerome Kern and lyrics and a libretto by Oscar Hammerstein II, and it was a game changer when it debuted in 1927, a so-called "musical comedy" that dared to explore such controversial themes as racial inequality, addiction, and spousal abandonment. These are woven into two stories: Magnolia's marriage to Gaylord when they become star players in her father Andy's floating theater, and star singer Julie LaVerne's descent into alcoholism after she's accused of miscegenation in 1887.
I saw the 1994 Harold Prince production, which was the show's seventh Broadway outing. It featured the latest stagecraft -- sets that melted away -- and fine performances from Rebecca Luker as Magnolia and Lonette McKee as Julie. But when I remember the 2013 Washington National Opera production, I'll reflect on the brilliance of the singing, and the way each artist embodied the spirit of the music and lyrics -- from the poignant Alyson Cambridge as Julie, a woman suffering discrimination and rejection, to Morris Robinson as Joe, the African-American "conscience" of this show who sees racial inequality all around him in the post-Reconstruction south.
Cambridge is a soprano I first heard as Adina at Wolf Trap Opera several summers ago, and her voice has grown richer and fuller. Her rendition of "Bill," a showstopper, is less about nostalgia than Julie's overwhelming sorrow, adding depth to her character's isolation and despair. Morris Robinson has a rich basso that can penetrate the listener's bones, and his "Ol' Man River" brings the house down. He has a warm rapport with Angela Renee Simpson who sparkles as Queenie and tugs at one's heartstrings in the seldom heard "Misery's Comin' Round."
Show Boat has an underlying message of tolerance that is true to Oscar Hammerstein's expansive vision, but for those who feel the libretto may be dated, the musical also demonstrates how far society has come in terms of granting civil rights and viewing addictions as diseases. Without issuing a spoiler, I also noticed that Zambello subtly alters the "fairy tale" ending that has always struck me as improbable.
The serious moments in the show are offset by expert comic relief emanating from Cindy Gold and Wynn Harmon as Parthy and Captain Andy, Magnolia's parents, and Kate Loprest and Bernie Yvon as Ellie May Chipley and Frank Schultz, vaudeville performers who dance as well as they sing. The ensemble is uniformly excellent -- both the singers and dancers -- and this Show Boat offers a feast of vivid colors and an eye-popping moving boat designed by Peter J. Davidson, and sumptuous period costumes by Paul Tazewell.
It's not often that one sees a musical in which all the components work together seamlessly to create sheer magic, but WNO's Show Boat is a rare example. Hurry to the Kennedy Center before this show departs the opera house.
Washington National Opera will also present the world premiere of Approaching Ali on June 8-9, 2013, in the Kennedy Center Terrace Theater. Approaching Ali features music by composer D.J. Sparr and a libretto by Mark Campbell and Davis Miller. This new work is the first short opera created under the aegis of the American Opera Initiative, WNO's new commissioning program for contemporary American opera. All tickets are $30 and are available by calling (202) 467-4600 or online at www.kennedy-center.org.
Glimmerglass Festival's Camelot
Also, to see Andriana Chuchman in Camelot at Glimmerglass, visit www.glimmerglass.org. Camelot also stars Nathan Gunn as Lancelot and David Pittsinger. It would be worth a trip to see any of the four productions at Zambello's summer company in central New York.
REAL LIFE. REAL NEWS. REAL VOICES.
Help us tell more of the stories that matter from voices that too often remain unheard.