To step into the world of Swiss photographer Karlheinz Weinberger is to fall down a rabbit hole of such a specific homoerotic fashion obsession that to crawl out would be a missed opportunity.
Zurich-based KHW was a lifelong factory worker by trade, but by nature he was a portrait photographer who zoned in on his erotic obsessions, consistently male, who changed along with fashion itself from teenagers to rockers to bikers as the decades progressed. In the early '60s KHW began photographing the Halbstark, aka the Half Strong, and these are the images with which he is most closely identified as a photographer. The Halbstark were a tribe of denim-wearing, rock and roll fanatics who took the cliché of the new American phenomenon, "the teenager," and turned it on its head with sly, deviant rock 'n' roll fashion rampant with homo-erotic overtones. KHW's was a world populated by feral, sly, outsiders, disdained by their conservative Swiss parents who fashioned their own "gangs" and wore their own "colors" consisting of uniquely customized jeans and leathers that proclaimed their counterculture allegiance. Wearing precious denim and leather, they were walking shrines to their American heroes with giant belt buckles emblazoned with pictures of Elvis and James Dean and Brando. They slung heavy industrial chains over their cowboy shirts and striped tees. The male Halbstark replaced the zippers of their jeans with bolts and laced them with chains. The women teased their hair into ratty towers and downplayed their femininity with denim jackets and scratchy mohair sweaters. The Halbstark obsessed over and fetishized their trans-Atlantic icons as Weinberger obsessed and fetishized over them. As an observer and recorder of a weird, shifting youth culture, KHW's images are fascinating. As a record of a twisted, crazy fashion movement they are priceless.
In 2000, the Swiss institute published Karlheinz Weinberger: Photos, 1954-1995; which introduced its secret son to the world a few years before he passed aged 80. The book, long out of print, now commands nearly a thousand dollars on the art book market. John Waters, Tom Ford and Steven Meisel amongst other became collectors and fans of KHW, discovering him and claiming him in a way that is reminiscent of the Grey Gardens cult. This year has seen the release of Rizzoli's Karlheinz Weinberger: Rebel Youth, which focuses more on the flamboyant, color images taken in the '60s, and now Jeans a co-publishing of the Swiss Institute (who control KHW's estate), Presentation House Gallery, Museum Gegenwartskunst, and Bywater Bros.
Jeans is the quietest of the KHW publications. Working under the pseudonym "Jim" at the start of his artistic career, KHW initially focused on portraits of the individual men in his life and on the streets. Featuring images from what seems to be the late '50s into the very early '60s, Jeans is a facsimile of a black-and-white portfolio of portraits KHW put together of his lovers and friends mixed with strangers on the street. It is pre-Halbstark. All dressed in denim, the uniting status symbol for their generation, these are portraits of men who defined themselves through their image. They were what they wore; they were aware of their projected personas and played upon this. In conservative post-war Switzerland, American blue jeans were a highly priced rarity. To own a pair of jeans was more than a fashion decision; it was a statement of rebellion and contempt for the establishment. And with an astronomical price tag, there was the underlying assumption that the teens stole, prostituted and hustled to obtain their counter-culture status symbol. On the street, at a fairground, in a phone booth, sitting on a stoop, facing the camera, away from it, in front of a backdrop, all of KHW's subjects want to be seen. They straddle a fine line between hustler and extrovert. And it is this symbiotic, co-dependent relationship between Weinberger and his subjects that makes for such intense immersion in these addictive fashion tableaus.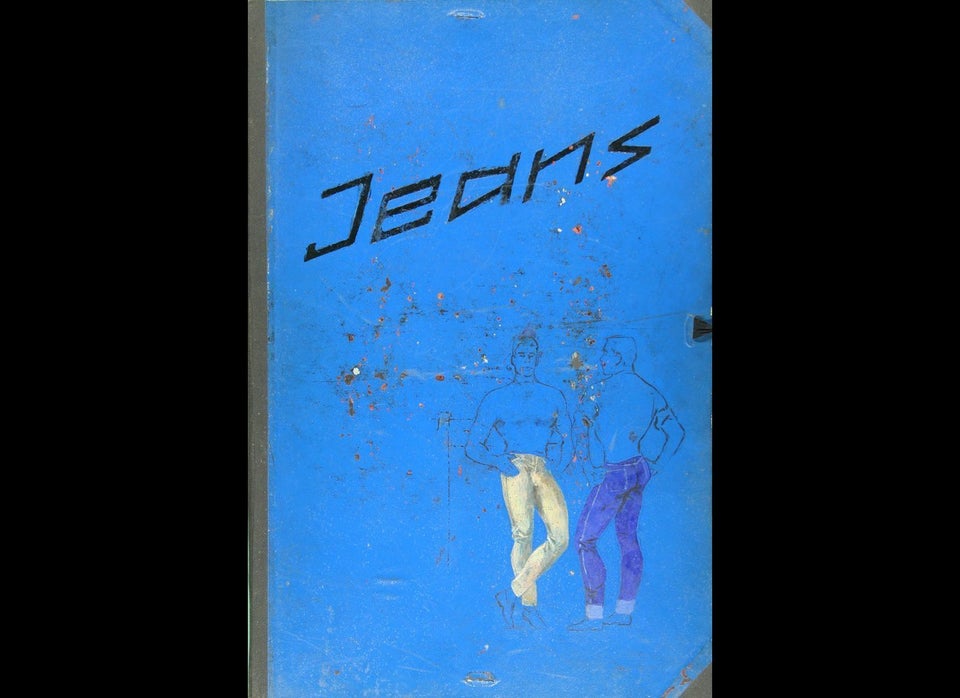 'Karlheinz Weinberger: Jeans'