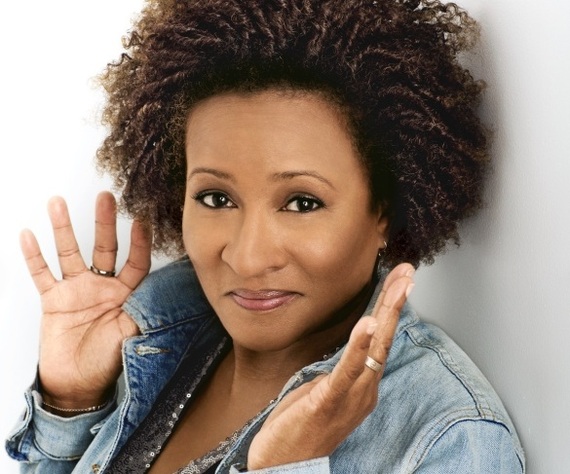 Community spirit deeply imbues every facet of LaughFest. Between contributing to multiple benefit events, purchasing corporate sponsorships or simply attending shows, the personal involvement of Grand Rapids, Michigan citizenry is instinctively broad. Monday's Wanda Sykes performance demonstrated an even wider contextual embrace, attracting a diverse, supportive and downright exuberant audience to the 2400-capacity DeVos Performance Hall.
The red-hot crowd adored opener Keith Robinson, who in his designated role as "the trailer before the movie" and "that pickle on the side of the sandwich," addressed Bill Cosby, stricter gun control and manufactured Internet outrage. Crowd work with a front-row volunteer resulted in the donning of a white LaughFest tee; his was the rare warm-up spot earning a prompt standing ovation.
Sykes immediately praised festival non-profit Gilda's Club, founded in honor of late Saturday Night Live original castmember Gilda Radner. "This is a special place for me because I am a breast cancer survivor," said the Curb Your Enthusiasm and New Adventures of Old Christine vet. A double mastectomy followed her diagnosis, itself prompted by breast-reduction surgery. "I would take my bra off and people would think Law & Order was coming on."
Trading easy punchlines for more circuitous commentary, Sykes eased into subtle dissections of racial equality by relating recent stays at both a haunted Virginia hotel and remodeled Boston prison. (Observations concerning Paula Deen and Duck Dynasty proved far more candid.)
Midway through an impressive hour and 25 minutes, she took a more immediate and personal angle, explaining, "I'm a black woman married to this French lady, and I've got two white babies. I'm a minority in my own home!" From the photos on the walls ("This must be how the Obamas feel walking around...") to the poorly-timed viewing of 12 Years a Slave and The Help, her sense of personal identity has been subsumed in favor of a non-traditional family unit. Admitted Sykes, "There is nothing creepier than walking up and seeing two little white kids standing at the foot of your bed."
Having turned 51 over the weekend, there were also frank admissions of sporadic incontinence and ending up on the floor after leaping out of bed too quickly. And while, as she put it, "Pussy makes you crazy!" marshaling her into foreign territory of snowboarding and paying off student loans, preserving and strengthening the romantic relationship at the core remains a clear priority.
"I love you, Wanda!" a woman shouted from the balcony. "I love you, too!" Sykes replied, prompting the latest in a lengthy series of applause breaks up to and including one for the sound techs correcting a bout of monitor static. She may have been known in the past as a controversial trailblazer, but career longevity and personal fulfillment now trump marketing flash. The standing ovation Sykes received at 10 p.m. on the dot celebrated not shock, but affinity. Family, growing older and gaining perspective: Comedy doesn't get more universal.
REAL LIFE. REAL NEWS. REAL VOICES.
Help us tell more of the stories that matter from voices that too often remain unheard.