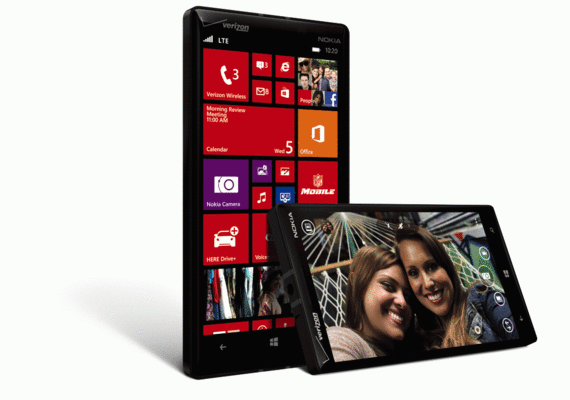 Nokia is upping the ante in a big way with its newest Windows Phone, the Lumia Icon. This smartphone is only available on Verizon Wireless for $199.99 with a two-year agreement. It promises to grow even more interest in the Lumia Windows Phone line for Big Red customers.
The Nokia Lumia Icon smartphone is a dazzling blend of curved Gorilla Glass and top-tier internals that meet or beat everything that's on the market today. That may seem to be quite a statement, but it's one I'm happy to make.
They have clearly done their homework with what people like and have come very close to producing a smartphone that any one of us would want. My review phone came in matte black with a brushed metal frame and a sealed polycarbonate back. It has a natural feeling curve on the back that fits well with its metallic frame. The phone measures in at 5.39H x 2.79W x .39D inches and 5.86 ounces.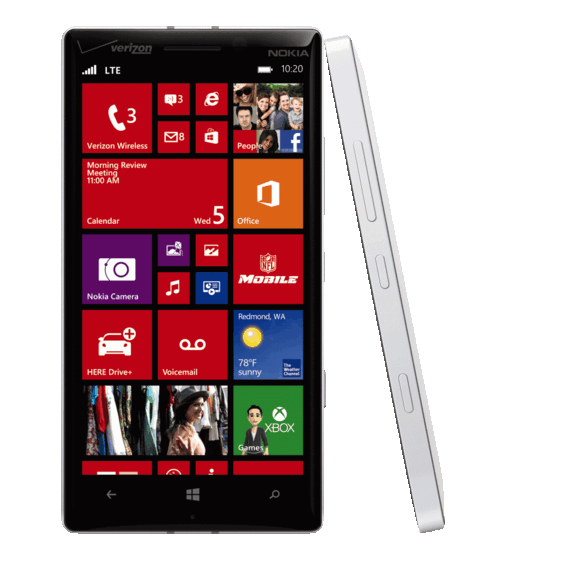 This leads up to the brilliant five-inch OLED full HD 1080p display topped with extremely tough Gorilla Glass 3. The full HD screen is nice, but its 441 pixels per inch passes up what the Retina display found on the iPhone 5s can muster at 326 ppi. And unlike other mobile operating systems, the version that this Nokia Icon has allows you to fine-tune saturation and color temperature.
Looking and feeling great are only two aspects of what the Icon has to offer. It's quite fast with the 2.26GHz quad-core Snapdragon 800 CPU, 2GB of RAM and 4G LTE. This Nokia supports VZW's LTE at 700/1700MHz, UMTS 850/900, and is Global Ready with GSM 850/900/1800/1900MHz and 3G EVDO Rev. A 850/1900MHz. I tested it in Las Vegas about 15 minutes away from the strip in a semi-rural area inside of a building. I received several speed test results of 27Mbps+ down and 13Mbps up. Rounding out the wireless features of the Lumia Icon are GPS, Bluetooth 4.0, NFC and dual-band 802.11 WiFi b, g, n and ac. A 2420 mAh battery kept it going all day even after running various speed and WiFi transfer tests. Calls were even clear when making them in a crowded room.
A smartphone that comes with 32GB of storage space is needed when taking photos with the Lumia Icon's 20MP sensor. This camera sensor is the same as what's found in the Lumia 1520, including the multi-element Zeiss optic, but adds the capability to capture photos in DNG Raw format.
Overall design details of the Nokia Icon impressed me. For instance, the SIM card tray is removable with a fingernail. A few physical buttons run along the right side for volume, power and camera functionality. The camera shutter button has two levels to it, one to focus and one to take the shot. And last but not least, this Windows Phone has wireless charging. Wireless charging makes sense in 2014 and it's something that every phone vendor should be including.
Nokia Lumia Icon Unboxing Video By Chris Rauschnot @24k on Twitter
Nokia is on a roll, as of late, with better smartphones at each turn. It shows that their product designers get what people want in a phone. Those features are large bright screens, 20MP or more cameras that produce crisp photos, brushed metal touches and polycarbonate cases to reduce weight.
The Nokia Lumia Icon is currently available for $199 with a two-year contract on Verizon Wireless. Now is the perfect time for Nokia to have released their newest smartphone. Friends that have Verizon Wireless have mentioned that they can't wait to get their hands on one. Its form factor, high quality construction, great camera and amazing OLED screen have me excited for this phone.
Pros
:
More comfortable smartphone to hold in one hand than the Lumia 1520.
Quad-core CPU and quad noise-canceling microphones.
Bright and clear screen that works well even in direct sun light.
Free cloud storage and backup service from Microsoft.
Cons
:
A full metal enclosure would have been great, but the polycarbonate back makes sense to reduce weight and increase signal.
Somewhat slow auto focus even with the updated Nokia Camera app.
No memory slot for expansion.
Disclosure: I received a Nokia Lumia Icon at no cost for review. I did not receive compensation for this review. All thoughts and opinions are my own.