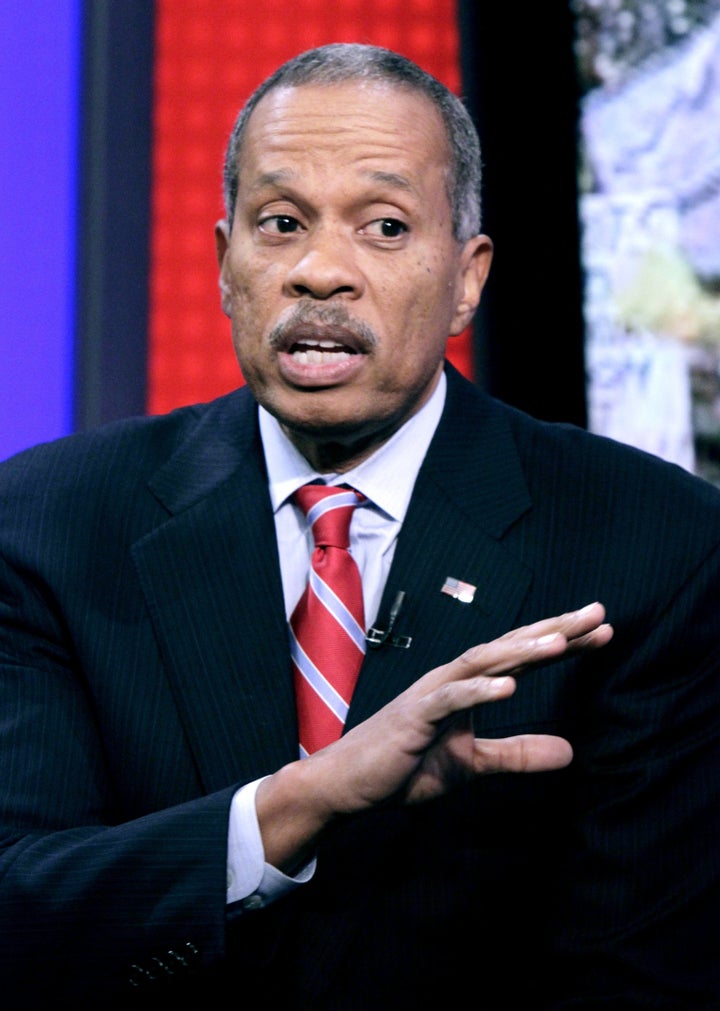 National Public Radio has completed an external, independent review of last year's firing of then-NPR news analyst Juan Williams for comments he made about being a-scurred of people in "Muslim garb" on airplanes. Per NPR media correspondent David Folkenflik, the review found that the Williams firing "was legal and within terms of contract." Nevertheless, NPR was advised to undertake a thorough review of "ethics and other policies," with an emphasis on "outside appearances by NPR News personnel."
"In light of the review and feedback provided to them, the Board has adopted recommendations and remedial measures designed to address issues that surfaced with the review. The recommendations and remedial measures range from new internal procedures concerning personnel and on air-talent decisions to taking appropriate disciplinary action with respect to certain management employees involved in the termination. Some of these changes have already been made and others are in process. Specifically, the Board adopted recommendations that NPR:

"-- Establish a committee comprised of NPR personnel, respected journalists, and others from outside NPR to review and update NPR's current Ethics Code (the "Code").

"-- Develop policies and procedures to ensure consistent application of and training on the Code to all employees and contractors.

"-- Review and update policies/training with respect to the role of NPR journalists appearing on other media outlets to ensure that they understand the applicability of the Ethics Code to their work and to facilitate equitable and consistent application of the Code.

"-- Review and define the roles of NPR journalists (including news analysts) to address a changing news environment in which such individuals have a myriad of outlets and new platforms for their talent, balancing the opportunities presented by such outlets and platforms with the potential for conflicts of interest that may compromise NPR's mission.

"-- Ensure that its practices encourage a broad range of viewpoints to assist its decision-making, support its mission, and reflect the diversity of its national audiences. The Human Resources Committee of the Board is working in conjunction with key members of NPR management on this issue.
There is additional fallout. According to NPR's statement, NPR Senior Vice President for News Ellen Weiss has resigned. If you recall, Williams took issue with Weiss's role in his firing -- she opted to do it over the phone, two days after his O'Reilly appearance. No face-to-face meeting was offered, and, according to Williams, Weiss said, "there was nothing I could say to change her mind, the decision had been confirmed above her, and there was no point to meeting in person." Weiss seemed to have Williams, and his contributions on Fox, on her radar. In February of 2009, she insisted that Williams omit his NPR affiliation during his Fox appearances, which seemed pretty petty and utterly pointless, if we're keeping score.
Vivian Schiller will remain the CEO of NPR with the full confidence of the NPR Board of Directors. However, in the wake of this review, the Board has decided "that she will not receive a 2010 bonus."
In the end, this whole incident is more about NPR's discomfort with their contributors having actual thoughts than about some full-throated defense of the dignity of Muslim airplane passengers. Again, NPR should maybe consider the possibility that content contributors are human beings that have opinions, which can be countered by other content contributors, as if we are all adults capable of having a debate. The alternative -- firing Williams -- seems to have caused more problems than it has ameliorated.
[Would you like to follow me on Twitter? Because why not? Also, please send tips to tv@huffingtonpost.com -- learn more about our media monitoring project here.]

Related
Popular in the Community