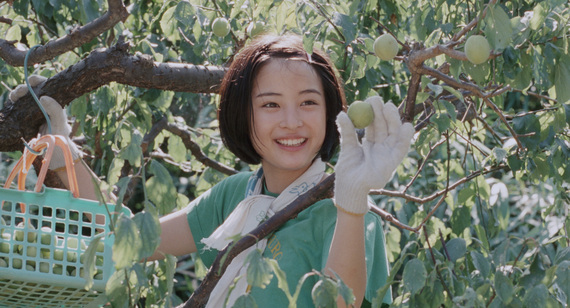 Once again we turn to the cinematic mirror to reflect, and learn about the human condition. Our Little Sister takes its place alongside I Wish (2011), What Maisie Knew (2012), and White God (2015), in the divorce genre from the progeny perspective.
This understated lucid film was written, directed, and edited by the Japanese master of soulful domestic observation, Kore-eda Hirokazu. Rated PG, I recommend it for those touched by issues of loss and separation.
Three protagonists are twentysomething sisters struggling to launch as adults with the trauma of abandonment reverberating from a fractured place embedded in their psyches. Family, community, and nature are the protective anchors firmly in place in their matrilineal extended universe which muffles the pain of absent phantom-parents.
Over-Functioning Takes Its Toll
The siblings shelter each other, but their relationship is stressed from growing up fast in the aftermath of their parent's messy uncoupling 15 years earlier. They have raised themselves, coping in the comfort of a sprawling ancestral home.
The eldest, a tightly wound classic parentified character study takes out the repression she feels on the middle sister, who drinks too much to escape the pressure as both parents did. Self-righteous, the eldest has her own secrets to protect.
The two oldest are in a repeat loop of conflict, re-enacting the residual memories of parental marital distress, keeping the youngest infantilized.
The Stranger Who Has An Important Message
This tension evaporates when the crestfallen orphaned youngest (half) sister -the product of the affair which broke the marriage- is adopted into the family fold. In a bold move, they take this delightful and grateful child from her guardian, the newly deceased father's flaky third wife.
The little sister's precarious journey and fresh wound stirs troubling dormant memories, resurfaced in the young adults. All soften and reclaim their stolen humanity in doing right by her, as she brings out the best in everyone.
Past wrongs are addressed, though not undone, as residual separation and individuation issues are resolved without coercion. To ignore her would continue the inter-generational trauma of creating rejected, disposable children.
Funerals and illness occur regularly, a backdrop adding value to each day that prepares them for transformation when Our Little Sister arrives. Her presence reminds us children have very little power over their own lives. You cannot help loving this neglected one, wanting to help her and in doing so repair oneself.
The sibmance is briefly challenged with the disheveled burned-out mother's unannounced appearance. Remarried, she left the girls to be raised by grandparents 2 years after the father left town with his pregnant mistress.
The mother's suggestion of selling the home, disbanding the sibling unit and scattering them to apartments, freeing them from what she interprets as the burden of upkeep is shot down. The great aunt steps in, stating it is not mother's right to make this decision.
'Good medicine' is derived from the sisters' compassionate and nurturing seaside community is a composite make shift extended family of kith and elder kin from which to draw strength. Communal and individual memories and bonds are preserved and renewed between and within generations, constant as the pounding surf and wind rustled trees.
More than a positive distraction, harvest rituals embed lyrically in cherished seasonal activities. The culinary tradition of making plum wine is family therapy. The community unites for the delicacy of white bait. Time is marked by the cherry blossoms to swoon for. Tuning into the majesty of nature, it is as if the earth and its rhythms support universal rights of passages.
Children Role Model for Adults
What went wrong between the parents and the inter-generational transmission is hinted at. Why did the mother bond so easily to the sisters' hapless father in the first place? Could it be the authoritarian approach of the grandmother backfired, creating rebelliousness and weakness in the mother?
From my therapist's chair I might surmise that in this provincial town, the grandmother was a beloved teacher who may have been more benevolent in public than she was at home, demanding and hard to please like the eldest sister has become. There was no room for mother and the maturing daughter to co-exist.
Because the grandmother could not abdicate her throne and make room for the mother as an adolescent, she quashed her own dreams, and fell hard for a bad boy. Three children in nine years, the traditional route of marriage was pursued. Then came along the rebellious 60's and 70's. Conventions were blown wide open in the cities, but little known in this cozy provincial town.
When the divorce rate soared no one predicted that women would become single mothers, along with the feminization of poverty when fathers disappeared, skipping out on child support. This may have increased the late grandmother's importance, who is prayed to every day at the household shrine. All we know is there was humiliation and scorn attached to the failure to fully or successfully individuate and separate.
Adult Mistakes are Corrected by the Young

Our Little Sister is a subtle meditation on self-discovery for all four sisters, looking back into painful pasts and reaching forward to hopeful futures. What the sisters did not get in the way they were parented, they make up for now by providing for themselves and each other.
This story reminds you to never give up the hope of the dream, bringing a version of it into manifestation, from duality to unity, with right action, especially after a fall from grace.
Disclaimer Alert: Watching movies is no substitute for therapy, though great films can reveal insights about life. If you or someone you know is suicidal, do not hesitate to reach out to a professional or trusted family member or friend to get needed help.
REAL LIFE. REAL NEWS. REAL VOICES.
Help us tell more of the stories that matter from voices that too often remain unheard.