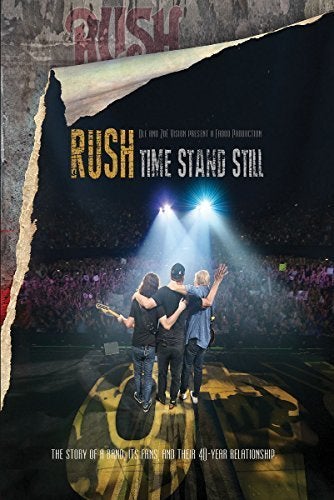 I'm a writer, a professor, a husband, and a father. But before I was any of these things, I was a Rush fan. There aren't many things in life that weather the changes of puberty, adulthood, being a parent, and having a career, but the music of Rush has remained with me for decades, and I still find their work intellectually nourishing even as I rock out. Seeing Rush live is an unforgettable experience and yet, sadly, it appears this has come to end. Their latest documentary, Time Stand Still, is both a goodbye and a thank you to their fans. I saw a special screening of it recently and I was surprised at how much it moved me. Here's why.
Only the Beatles and the Rolling Stones have sold more albums than Rush. Think about that for a moment. If I were write that sentence in the mid-1970s, when Rush was just beginning to take off, even they wouldn't believe it could be true one day. It seems improbable that three guys from Toronto would write such influential music and yet remain marginalized by the music industry for so long. Until they were inducted into the Rock and Roll Hall of Fame in 2013, they were (as I like to call them) the most popular unpopular band around.
Like millions of other fans, the music of Geddy Lee, Alex Lifeson, and Neil Peart has become the sonic landscape of my memories. Their last tour was called R40 because it commemorated their forty years together. Shortly before this tour kicked off in Tulsa, Oklahoma, the group's manager, Ray Danniels, said that R40 might be the "the last major tour of this magnitude." It appears now that he was right. Rush's touring days may indeed have come to an end because their music is demanding, complicated, intricate, and very difficult to play, even if you're young. Lee, Lifeson, and Peart are all in their 60s now. The inevitable physics of biochemistry can't be ignored forever. All bodies age. This includes the bodies of rock stars.
Time Stand Still documents the last tour and we get to see backstage. It's a type of farewell. Allan Weinrib, Geddy Lee's brother, is one of the producers and as a result we see Rush before and after their performances. R40 was iconic because on stage it told the story of Rush in reverse order: the opening songs were from their latest album and as the night went on they backtracked through their vast catalogue until they were performing songs from their 1974 debut album. Even the stage set and the musical instruments they used went backwards in time. R40 was a singular treat for fans. In this new documentary, there are interviews with Lee, Lifeson, and Peart of course, but there are also conversations with the road crew and Rush's management. It helps to underscore the band's decision to slow down and maybe, perhaps, stop doing live shows altogether. It's that last part which is hard for Rush fans to accept.
After I saw Time Stand Still in the theatre, I came home to my wife (she's not exactly a Rush fan; more of a Rush "appreciator") and she asked me what I thought. I was surprised how emotional the documentary had been for me. And that's when a surprising sentence tumbled out of my mouth. I looked at her and said, "I'd be a different human being if it wasn't for that band." This isn't hyperbole on my part. It's true. The books they introduced me to, the work ethic they embody, their belief in the virtue of kindness, and their determination to uphold deeply felt artistic beliefs—all of this has influenced me. What wonderful lessons to learn as a teenager, and what sustaining lessons to remember as an adult. (I've written about this in greater detail for a Huffington Post article called "Rush and Me" so I won't chew up pixel space and restate it here.)
If Beyond the Lighted Stage (2010), their previous documentary, is about the band and the personal tragedies they've overcome, this new documentary is about the fans. Through old videos, interviews, and stories that have almost certainly never been told before in public, Time Stand Still is both an emotional goodbye and a celebration of Rush's many supporters. Even the trailer is powerful for those of us who have grown old with this band.
Part of what makes Time Stand Still such a delight is its focus on those who listen to their music. Rush built their audience the old fashioned way—through touring and live performance—and because of this they now have the most dedicated fan base in the business. As an editor for Rolling Stone says in the documentary, maybe there never will be such a devoted fan base again because the music business itself does not allow for a band and its followers to grow together, album by album. Rush formed in 1968 and they've had the same lineup since 1975. It's therefore normal to run across Rush fans that have seen them in concert 30 times, 50 times, 70 times. Time Stand Still makes a point to highlight those who enter the auditorium and cheer when the lights dim.
I've seen them 30 times which, to outsiders, is totally crazy, but to other Rush fans this just makes me normal, pretty average really. Time Stand Still not only interviews fans who have seen them over 100 times, but we also meet a man who has turned his basement into a Rush museum, we meet a father and son who have flown up from Argentina to see Rush together, and we meet Jillian Maryonovich who works in the White House by day and helps organize RushCon on nights and weekends. We see her walking with the President one moment and then making sure the annual gathering of Rush fans goes smoothly the next. (My favorite line of hers? It happens when she mentions that high school quarterbacks and head cheerleaders are rarely Rush fans. It's usually the band geeks and those who love art and science. True enough. We're a nerdy bunch.)
Lastly, a fan from Scotland who was involved in a near fatal car accident attributes a Rush song—"Everyday Glory"—to helping him find the strength to walk again. The doctors said he'd never stand, let alone walk. So when we see him walk into Rush's last show in Los Angeles, which also happens to be on the anniversary of when his car plummeted off a bridge, how couldn't you be moved as a viewer? How couldn't you want to cheer?
Watching Time Stand Still created a strange cauldron of emotions in me. There is great sadness that I may never see Rush again live, and yet I'm so grateful to have been along for the musical journey. Those in the theatre who saw the documentary with me obviously felt the same way. When the credits started to roll, no one got up to leave. We all stayed until the lights came up. It was, I believe, the first time I've left a movie and talked with strangers about it in a parking lot.
The DVD comes out on November 18. Even if you're not a Rush fan, it's worth seeing because it's a testament to hard work and how to bow out gracefully when the hard work becomes too much for the body. Time Stand Still is not only a good story, but it helps to explain why this band has mattered to so many people, in so many countries, for so many decades. If this is the end for Rush, it's a beautiful final chapter.
Popular in the Community