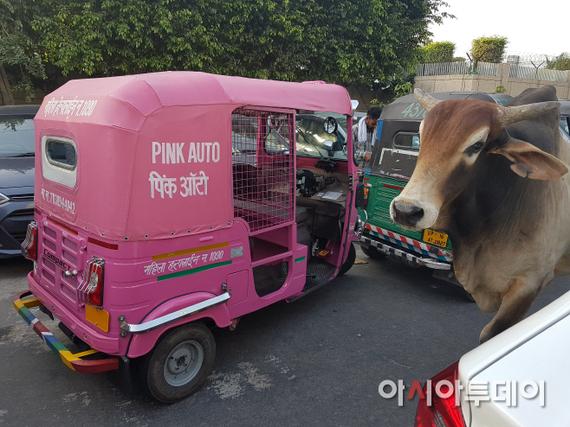 [A pink rickshaw in Noida, India/ Photographed by Jeong In-seo]
By Jeong In-seo, New Delhi correspondent, AsiaToday - With sexual harassments against women rampant in India, the government is taking action for change.
On September 10, I saw an exceptionally noticeable pink sign in the bus stop in front of Botanical Garden subway station in Noida, India. The sign read, "Pink Auto Parking" in Hindi.
A pink auto rickshaw is a three-wheeled Indian public transport that ferries only women passengers. These autos are pink in color unlike normal yellow autos. The Indian government launched the pink auto service as a part of its safety initiative for women against continuous sexual attacks.
In order to see how pink autos were actually used by women, I headed to a bus station. But when I arrived, all I could see was full of normal rickshaws, not pink ones. But there were many women waiting for a pink auto.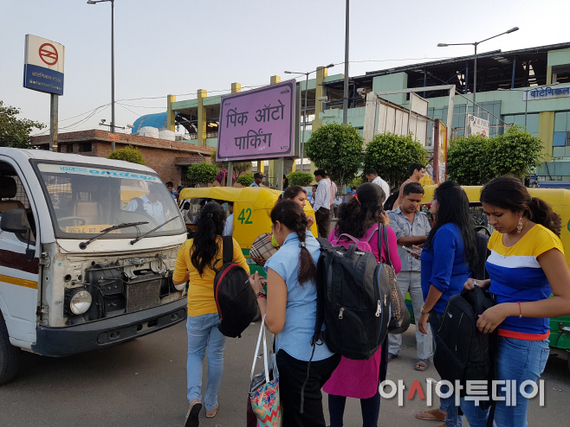 [Many women are waiting for a pink rickshaw at a pink rickshaw station. However, there is a small number of pink rickshaws available. Most of women decide to ride either a bus or regular rickshaw./ Photographed by Jeong In-seo]
Rani Kumari, 22, a woman who was waiting for a pink rickshaw, complained, "I was waiting to ride the pink rickshaw. But I've already waited for more than 20 minutes. I should just to have to ride a bus." She said, "It's safer to ride than other ordinary buses. Sexual harassments are frequent in ordinary buses. Sometimes, men touch the buttocks of a woman in a crowded bus. It could happen to me."
I waited for a pink rickshaw along with Ms. Rani for 20 minutes hoping to see one, but there was none. Rani said, "What's the use of this bus stop? It's like I should take a bus." Eventually, she went home by bus. Apart from her, many other women waited for a pink rickshaw, but they couldn't have a ride.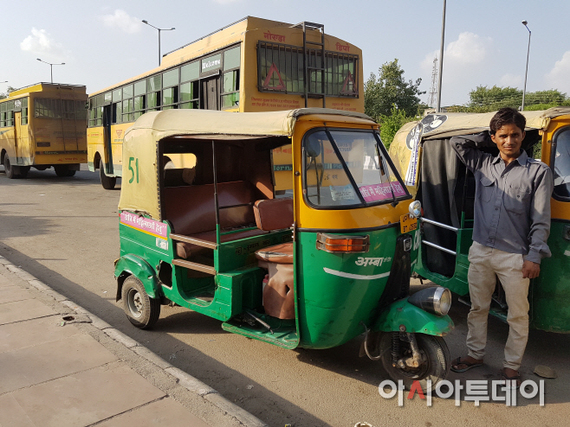 [A normal rickshaw and rickshaw driver Mohammad Yerxat. On the auto, there is a pink sticker, that reads, "For women at nights" in Hindi./ Photographed by Jeong In-seo]
After asking all around, I finally met an auto rickshaw with a pink sticker that reads, "For women at nights" in Hindi. Rickshaw driver Mohammad Yerxat, 24, said, "Pink rickshaws are so hard to find. We seldom see them in gas stations." When asked about the pink sticker, he replied, "Due to frequent sexual attacks, the government released the stickers. It seems to be a way to reduce sexual offenses. We are not different with pink rickshaws. We serve to safeguard and protect women."
To find a pink ricksaw, I got into Mr. Mohammad's rickshaw. He headed to a nearby shopping center, saying that he knew where you can find a pink rickshaw. But we failed to see one when we got there. With our last hope, we headed to a gas station. An employee of the gas station said, "I haven't seen any pink rickshaws today. I see them quite often, though." Feeling sad, I was going back to the subway station and there was a pink rickshaw. After two hours of searching around the city, I didn't want to miss it and I waved my hands to stop the auto.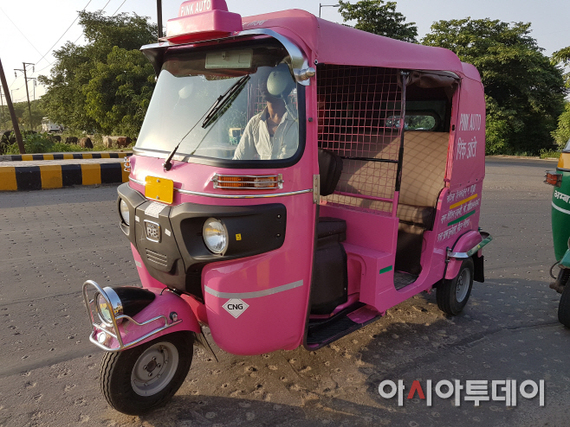 [On my way back to the subway station after two disappointing hours of searching for a pink rickshaw, I finally met one./ Photographed by Jeong In-seo]
Unlike traditional rickshaws, the pink rickshaw was covered in pink all over. There is barbed wire that separates a driver and passengers to protect the passengers.
Pradeep Kumar, 23, a pink rickshaw driver, said, "Only female passengers are able to ride. There aren't many of these pink autos. Unlike other ordinary rickshaws, we don't have time to have a break," emphasizing the popularity of pink rickshaws.
In order to determine the popularity of pink rickshaws, I headed to nearby downtown with him. As soon as the pink rickshaw entered the station, two women hopped on the auto as if they were waiting for it. It was completely different with normal rickshaw, where a driver has to attract passengers by himself and wait for at least ten minutes.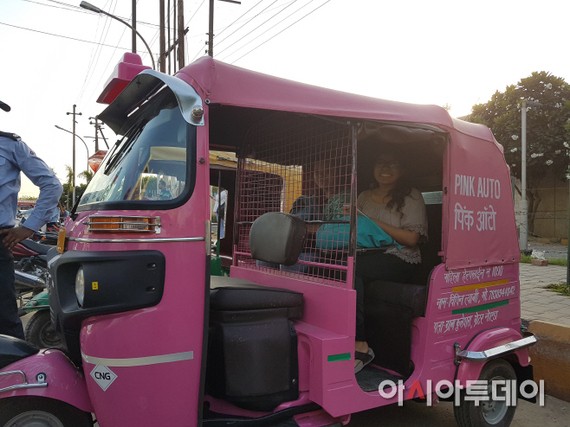 [Dipika Rani and her friend on a pink rickshaw./ Photographed by Jeong In-seo]
Dipika Rani, 24, a woman who takes a pink rickshaw ride frequently, said, "The popularity of pink rickshaw among women is the best." She continued, "Sexual crimes occur many times in India. You can be sexually harassed any time on an ordinary rickshaw. But you are safe when you ride a pink rickshaw because it is equipped with safety features. There are only a few number of pink rickshaws, so it's a little inconvenient. I hope there are more of pink rickshaws for women."
The "Pink Auto" service is gaining popularity among women and is currently operated in Noida, Gurugram, Ghaziabad, and Mumbai of Maharashtra.
Support HuffPost
The Stakes Have Never Been Higher
Related
Popular in the Community