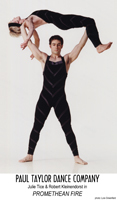 Last week was heady for American modern dance in New York. The Martha Graham Dance Company performed historic works from the great one's canon at the Joyce Theater. Further uptown, in both geography and symbolism, the Paul Taylor Dance Company closed the first week of its spring season at Lincoln Center -- an historic event. There have been rare modern-dance residencies at Lincoln Center, but by and large it is known as the home of classical ballet -- New York City Ballet and American Ballet Theatre.
When Paul Taylor, the 81-year-old choreographer, proper in suit and tie and beaming a characteristic boyish grin, joined his young company on stage for an opening night curtain call, a roar of sound filled the house. It came with almost physical force, as long-time fans and newcomers stood in respect for a veteran's contribution to the art form -- and to our lives.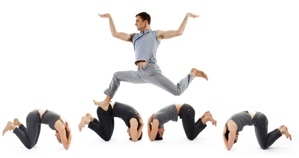 Nearly every evening last week saw a parade of Taylor works. Economics drove the use of taped music -- unionized musicians cost a fortune. It's suboptimal for the audience; the dancers, too, miss the adrenaline boost they get from live playing. (Picture a massive stage built for a large ballet troupe, and here toil 13 human beings, modest in bare foot.) Much of Taylor's music is orchestral, so he's long since made this compromise. Still, the sound system at the Koch was scrawny.
A menu of 22 works created over five decades are on view. A top pick is Brandenburgs (1988), set to Bach, and delivered with a melting level of precision and intensity with the company's lead dancer, Michael Trusnovec, setting the pace. Joining in featured roles are Amy Young, Laura Halzack and in one memorable duet, the petite wonder, Eran Bugge, who gives Johann Sebastian a run for his money. It's funny watching Brandenburgs at the Koch, because its second section recalls Balanchine's Apollo, a seminal ballet in which a single man grapples with a trio of muses.
[Balanchine admired Paul Taylor and was rumored to have invited the modern dancer to join City Ballet.]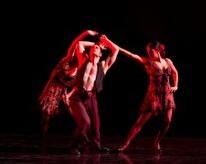 The dancing always shines in Piazzolla Caldera, Taylor's endlessly inventive plumbing of Argentine tango culture. The wonderful Santo Loquasto costumes feature gartered stockings for the ladies, bare chests on the men, and there's lots of sex and squalor in this dance.
Appearing in wonderful condition, and celebrating its fiftieth anniversary this year is Taylor's lyrical masterpiece from 1962, Aureole, set to Handel, which will catapult you to a happier time and place. The dance is packed with action and then you realize, once it's over, that it all emanates from only five dancers. Aureole's original cast, including the great dance leprechaun, Dan Wagoner, ascended the Koch's stage for a charming alumni curtain call on Thursday night. The others were Elizabeth Walton, Sharon Kinney, Renée Kimball, and of course Taylor himself.
The choreographer's red-headed dance surrogate, Trusnovec, a heavy lifter whose intelligent body hews to the most economic path, ennobles Aureole's current cast. The aptly named Michelle Fleet carves endearing little "C"s with her hips and hands -- an early and significant Taylor leitmotif. Clad in sweet white dresses, and looking oh so pure against the blue backdrop, are Amy Young and Heather McGinley. Francisco Graciano dances the Dan Wagoner role.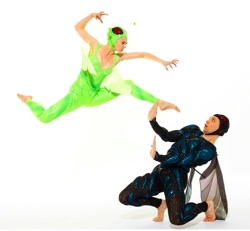 Three new works debut this season. The Uncommitted, set to Arvo Part music, portrays a civilization frayed by a loss of personal connections. Gossamer Gallants explores one of Taylor's favorite metaphors, that we are all just bugs in a bugged-out universe. The comic work unleashes insect gender-warfare with funny visual jokes on Smetana's gypsy sound in "The Bartered Bride." I found it irresistible the way Taylor sends his female contingent, in neon-green bug suits, wiggling 'cross the stage, hands tucked pertly on hips. Even thinking about it makes me laugh. Finally, House of Joy, not quite ready for prime time, overcomes a very hackneyed scenario -- a brothel and its clients -- with a spanking (yes, punning) fight sequence.
To extend the evening's fun, consider Aureole restaurant's "Paul Taylor Dance Menu," on offer at a swank midtown eatery that shares a name with Taylor's 1962 dance. This well-priced three-course menu has a drama of its own, served at the chic Aureole, an island of sanity located near Times Square. Even the flinty Sancerre wine that accompanied our superb meal could not impair our boarding the subway in time for the performance. Nothing could get in our way. Aureole's artful prix-fixe is an ace prelude to an evening with Paul Taylor Dance Company.
Photos: courtesy of Paul Taylor Dance Company
Read more about the Taylor Company season at Lincoln Center:
Debra Levine is a Los Angeles-based arts journalist blogging about dance, film, music and urban culture on arts•meme.
Related
Popular in the Community