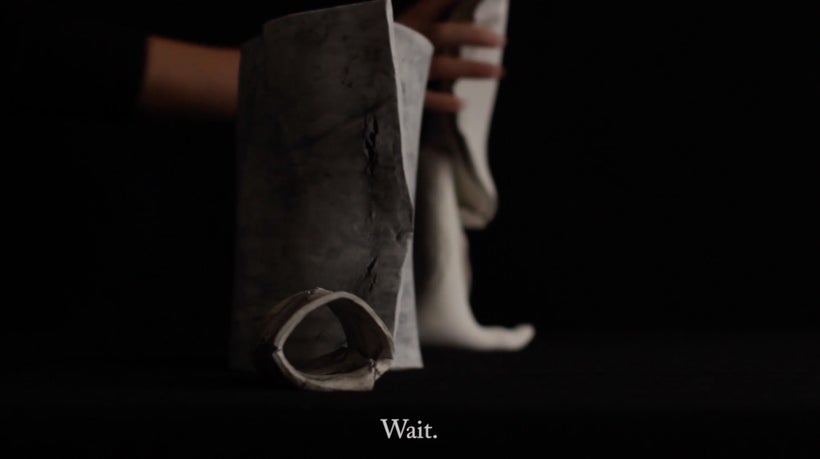 The contestation of history is a topic largely written about in larger, totemic contexts like national collective memory, political framing of past events, and cooking the textbooks. Foucault famously criticized historiography generally, noting that "historical descriptions are necessarily ordered by the present state of knowledge, they increase with every transformation and never cease, in turn, to break with themselves." The present states of knowledge are always reinforced structurally: they are institutional, political, and bureaucratic. But what about historiography as seen on the microcosmic level – the subjective, personal level? Can the individual contest histories, and boldly shape this historical clay? As individuals, we descend from lineages, unspool ourselves into the world, and leave behind the material for which to build history. The current exhibition up at NurtureArt gallery in Brooklyn, Relative Material, stages works from artists that attempt to embody this unspooling, dipping their hands into the mesh of the historical and the familial. The show contains the works of seven artists working across disciplines, territories and varying levels of the personal.
What better entry point for the conundrum of historymaking than the process of translating texts of the past? Asuka Goto's work is a seemingly transparent process of translating a novel of her father's from Japanese to English. Pages of process work, notes and annotations showcase the slow, complex endeavor of translation. Paradoxically, the more we engage with the work, the less we seem to know about it. It is simultaneously organized yet chaotic; it is neatly written, yet non-linear in its legibility. To throw another wrench into the work, Goto admits that the translation itself may be clunky in its accuracy. A dubiously deliberate tangling of the unspooled.
In his expansive project "A House Without A Roof," Adam Golfer builds what might be one of the most descriptive family heritage histories ever compiled without much interest in conventional historical description. The project, which largely orbits around Golfer's own jewish and Lithuanian ancestry, is an impressive combination of research, text and images. It fluidly presents itself in varying formats, sizes and shapes. In its current iteration at NurtureArt, it is stretched across a single wall in a meandering series of images, all ambivalent to any sort of uniformity. The images are remarkably consistent in their tone, despite their origins spanning three continents and five years.
Incidentally, Gabriela Vainsencher's video work included in the exhibition combines methods of both of the aforementioned artists. Using recorded phone calls with her mother, she edits them for an audiovisual experience, but also translates the hybrid Spanish/Hebrew being spoken to her. Thematically aligned with the conceit of this exhibition, Vainsencher herself notes that among the topics discussed in this compendium of conversations is the "ways in which meaning arises out of chaos." The images that comprise the video flow dreamily from strips of moving water, to a faceless performance for the camera by the artist. This performative sequence consists of gestural movements with unique, sculptural objects and close-ups of her own flesh. The sculptures appear like they could be made of some sort of hybrid flesh-bone substance. The video seems to subtextually suggest that flesh bodies, bodily sculptures, bodies of water, and the embodiment of language are somehow distinct yet interchangeable.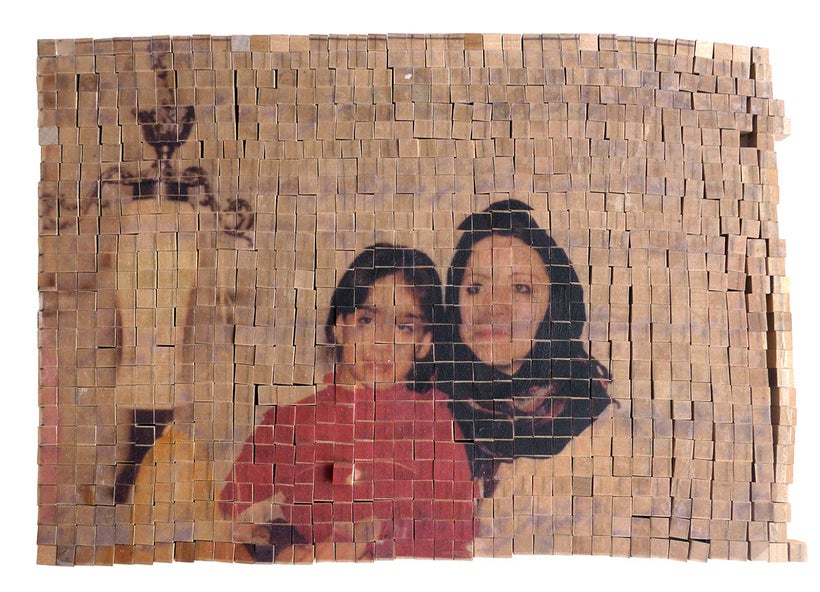 Also included in the show are a literally puzzling family sculpture-image by Golnar Adili; conceptual poems from erasures by Jesse Chun; video works that refuse the boundaries of research and practice by Rafael Kelman; and an assemblage, composite history of the husband and the son of Qiana Mestrich.
The show contains a significant amount of material but never overwhelms. What's perhaps the most interesting thing to consider in the show is that the objects and media in this show are not only interpretations and reconfigurations of the past, they themselves are the future historical material. A new, complex, and vibrant category of the archival. Relative Material presents a cohesive and diverse selection of art that demonstrates that curator Janna Dyk certainly has her finger on the pulse of urgent issues in both contemporary artmaking and historical representation.
Relative Material is on view until December 17, 2017 at NurtureArt located at 56 Bogart Street in Brooklyn.
Calling all HuffPost superfans!
Sign up for membership to become a founding member and help shape HuffPost's next chapter
This post was published on the now-closed HuffPost Contributor platform. Contributors control their own work and posted freely to our site. If you need to flag this entry as abusive,
send us an email
.