Going to a Bolshoi star's self-produced ballet program is like going to a Michelin-starred chef's new pop-up. Her name alone will pack the house, but much of the allure is seeing what she'll do outside the confines of the storied, if traditional, establishments that made her famous.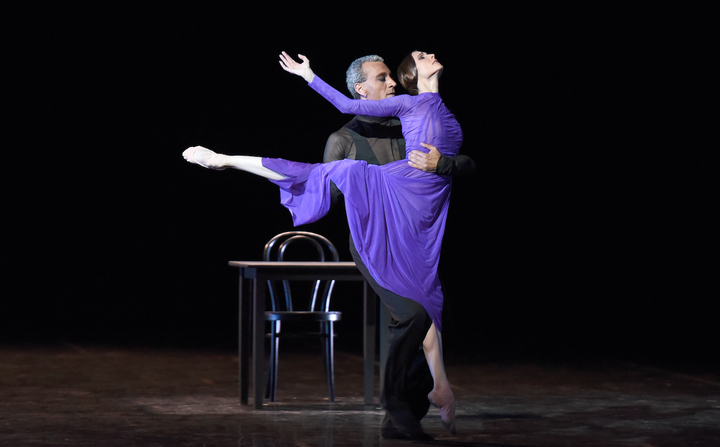 Such was my feeling going into Svetlana Zakharova's Amore at the London Coliseum on opening night. Widely hailed as the greatest ballerina of her generation, she made her name serving up classics such as Giselle and Swan Lake. But as the 38-year-old follows the likes of Sylvie Guillem and makes a new dawn out of what would be the twilight of most dancers' careers, what would she choose to put on the menu?
The answer is a three-course sampling of tailor-made works, with Zakharova as the main ingredient and members of the Bolshoi providing the spice. As a showcase of Zakharova's well-known talents — ear-grazing extensions, otherworldly suppleness, weightless jumps and heavy drama — Amore is an all-you-can-eat buffet. But as a taste of what's next for the supremely talented artist, the program left me a bit peckish.
Amore opens with Yuri Possokhov's "Francesca da Rimini," set to Tchaikovsky's eponymous score. Drawing its inspiration from Dante's Inferno, it tells the tragic story of Francesca (Zakharova), who is engaged to one man (Mikhail Lobukhin), but in love with his brother (Denis Rodkin). Without giving too much away, things don't end well for them.
At its best, "Francesca" is a feast for the senses. Fragments of sculpted figures from Rodin's "Gates of Hell" dangle precariously over the stage. Ladies in flowing, red gowns interpret the heroine's inner turmoil, while menacing, stone demons portend the calamities to come.
Agonizing to the point of apocalypse, Tchaikovsky's score — masterfully conducted by Pavel Sorokin — puts the Russian soul on full display: in a white wedding gown, Zakharova's Francesca is all downcast eyes, passion and torment, while her paramours are gallant love and jealous rage incarnate.
If it weren't for the oddly placed, contemporary flourish (a flexed foot here, a fractured line there), this could easily pass for a 19th century classic, which no doubt came as a thrill to anyone seeking an encore to Giselle. But to me, it was disappointing to see such a work created in 2017. Artistically, it didn't teach us anything new about the ballerina. Thematically, a story about a helpless woman caught between two men felt like the wrong way to start a celebration of a diva who clearly has her destiny in her own hands.
More interesting was Patrick de Bana's "The Rain Before It Falls." This is another ménage à trois, with de Bana appearing alongside Denis Savin to vie for Zakharova's attentions. It's unclear whether these men are lovers or ideas, but either way, the work unfolds as an angsty contemplation of her choices.
De Bana's grounded and velvety movement quality provides an effective counterpoint to Zakharova's ethereal grace, and his choreography — more restrained, abstract and expressionistic than Possokhov's — proves revelatory in some moments. It isn't necessarily a natural fit for Zakharova; she's still almost too ballerina-pretty for it. But therein lies the interest for me: I'm looking forward to seeing how this different side of her develops.
The final piece of the evening, Marguerite Donlon's "Strokes Through the Tail," easily won the personality award. No angst or drama here — just wit, humor and playfulness, suitably set to Mozart. It turns out this is a good fit for Zakharova: alternating between tutus and tailcoats, she orders her five male minions around, arranging them like so many notes on a composition page.
Fun as this closing number was, what stood out most to me is that it didn't put its star up on a pedestal, as the other pieces did. Instead, it allowed her to express her power and personality as a living, breathing human being — and not merely as a muse to be endlessly lifted and glorified. Perhaps it's not a coincidence that it was choreographed by a woman.
Getting this taste of Zakharova "the person" at the end made me realize what I'd been hungry for all along. Hopefully, there will be more of that on offer on the ballerina's next menu.
Support HuffPost
The Stakes Have Never Been Higher
Related
Popular in the Community