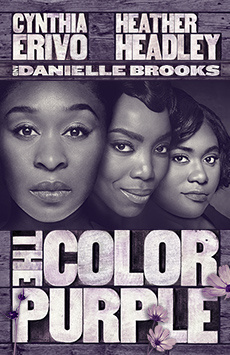 As far as musical revivals go, the current talk of the town is "The Color Purple" at the Bernard B. Jacobs Theatre, directed by John Doyle. Although this musical has recently been on Broadway, this entirely new production gives it different light, while playing alongside "Hamilton," "Shuffle Along," and "Eclipsed" it has a new, more political meaning. "The Color Purple" among other great things, has such an important message about black women and the racism and sexism that they face in our prejudiced world. This musical, full of tear-raising anthems, hilarious musical rants, and standing-ovation causing ballads, educates the audience about oppression while also providing them with an extremely enjoyable piece of theater.
The musical follows the lives of several black women, notably Celie (played by the incomparable powerhouse Cynthia Erivo), Sofia (portrayed by "Orange is the New Black" star Danielle Brooks), Shug Avery (first played by music icon Jennifer Hudson and now by the fabulous Heather Headly), and Nettie (played by effotrlessly Joaquina Kalukango). Each of these women gave incredible performances that were nuanced with comedy, tears, and incredibly emotional depth.
The songs of the show are so emotionally powerful that the sit with you for days afterwards. In particular, "Somebody Gonna Love You," "Too Beautiful for Words," "What About Love?," "The Color Purple," and "I'm Here" were all amazing ballads filled with impossible belts, streams of tears, and thunderous applause. When Erivo pours her heart out into "I'm Here" she is usually greeted with a mid-performance standing ovation (a practice that has altogether died on Broadway until this production).
Recently Cynthia Erivo won the Drama Desk Award for Outstanding Leading Actress in a Musical, and this musical with its extraordinary cast is certainly a major contender for the Tony awards. It received 4 nominations including Best Revival of a Musical, Best Leading Actress (Erivo), Best Supporting Actress (Brooks), and Best Direction (Doyle). Although not nominated, the musical also boasted very impressive design, from the modernist set by director John Doyle, to the beautiful costumes by Ann Hould-Ward, to the emotional lighting by Jane Cox.
In a genre that has been too male and too white and too straight for far too long, "The Color Purple" represents one of this season's amazing attempts to combat that history, to demand change, and to politically share voices and stories that have been repressed. Go see "The Color Purple"--you'll get an amazing musical, you'll probably cry, and most importantly, you'll learn important lessons about intersectionality through musical theater (what more can you ask for?).
Calling all HuffPost superfans!
Sign up for membership to become a founding member and help shape HuffPost's next chapter