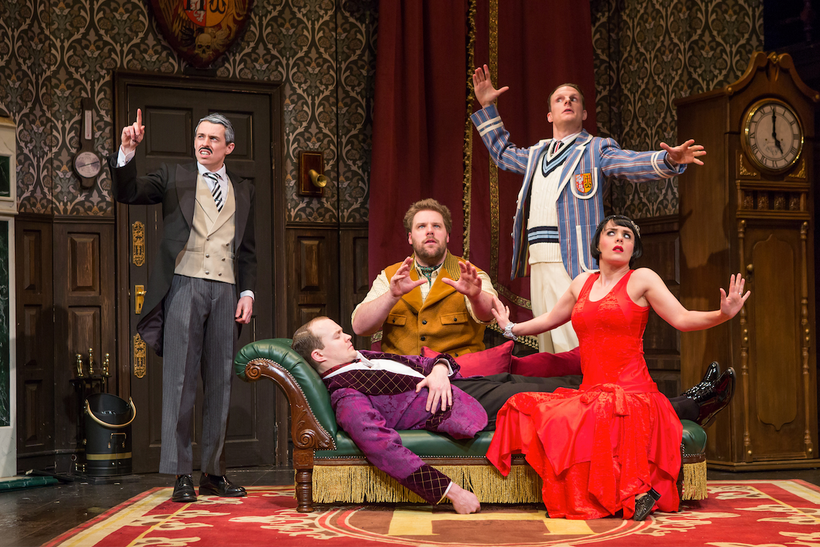 "The Play That Goes Wrong," which opened on April 2nd at the Lyceum Theatre is a transfer of a British production is guaranteed to be the talk of the town. The play is by a group of people (Mischief Theatre) about a group of people doing a play about a group of people--purposeful confusion aside, it is probably the most metathetrical play Broadway has ever seen. Although at its core it can seem like an updated "Noises Off," since it is primarily about a group of actors disastrously trying to do a play, it goes beyond all its predecessors.
This production takes metatheatricality to a entirely new level. As audiences sat down, actors playing the light board operator, the stage manager, and the director walked through the house and on the stage, testing levels, looking for props (and a missing dog), fixing the set, and asking the audience about their day. Confused audiences members looked in their programs to find a fake dramaturgical note from the fake director about the fake group of students from the fake Cornely University Drama Society and their production of the fake play "Murder at Haversham Manor." The next page has a fake cast list and fake bios from the fake actors playing the fake characters. Thank god, metatheater aside the playbill also included a real cast list and real information about the real actors--although the fake information for the Cornley students and production were much more amusing.
Unsurprisingly, everything about this play adheres to the standards of British farce. There's the accents, the melodrama, the posing, the well-timed exits through many doors, that physical humor, the mystery, the scandal, and the class differences. But there's a twist: everything goes wrong, and they mean everything. There are the things you may expect to go wrong: missed entrances, forgotten props, messed up lines, mispronunciations, and bad acting. Then there are the slight surprises: an incompetent techie who doesn't play the light and sound cues correctly, a poorly built set, a door that will either refuse to open or refuse to stay shut (depending on which is most comedically inconvienient), and costume malfunctions. There there are the things that take everyone by complete surprise, but left audiences falling over laughing: actors getting repeatedly injured/knocked unconscious and replaces by the timid stage manager holding a script, a missing dog that everyone pantomimes, a jug of water accidentally replaced with paint thinner, an actor locked in a clock, a broken elevator, a second floor of the set that collapses, light fixtures that explode, and entire panels of set that come crashing down.
Their title promise that "everything goes wrong" and they certainty didn't lie. Every single conceivable thing that could go wrong did. Then after that a massive amount of more, inconceivable things also went wrong. Throughout it all the entire audience could not stop laughing. This became even more funny when the actors onstage got alternatively mad at the audience for laughing at their failure (some even yelled), or alternatively became even hammier and tried to play to the laughs (one actor repeated anything the audience laughed and did so with a ridiculous grin looking at to the house).
More than most shows, this was absolutely an ensemble piece, and every member of the acting and creative team is deserving of praise, from the notable hilarious actors (Rob Falconer, Charlie Russel, Nancy Zamit, Greg Tannahill, and Dave Hearn) to the incredibly talented designers (sets by Nigel Hook, costumes by Roberto Surace, and lighting by Ric Mountjoy), to the ingenious writers (Henry Lewis, Jonathan Sayer, and Henry Shields), to the extremely talented director, Mark Bell. The comedy, stage magic, and physicality of this show was impeccably timed and shockingly precise, something not often achieved in the world of comedy.
For all of those who believe comedy has no place in high art or on Broadway, for those who feel British farce is dead, for those who hate metatheater, and who those who think that there are no good new plays out right now, go see "The Play That Goes Wrong," it will prove you wrong. Without a doubt, "The Play That Goes Wrong" is the funniest play Broadway has ever seen.
REAL LIFE. REAL NEWS. REAL VOICES.
Help us tell more of the stories that matter from voices that too often remain unheard.
This post was published on the now-closed HuffPost Contributor platform. Contributors control their own work and posted freely to our site. If you need to flag this entry as abusive,
send us an email
.