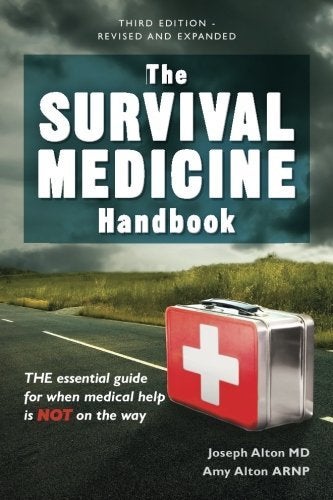 The Survival Medicine Handbook is an empowering, informative and motivational read. Joseph Alton MD and Amy Alton's book, "The Survival Medicine Handbook," provides readers with the insights to understand how to approach medical issues from a medic's standpoint in times of trouble when medical attention is limited or not available at all.
The Survival Medicine Handbook plays a vital role to help nurse a person back to good health or help them main stability until they are able to be treated by a professional health care provider after they have encountered a traumatic event (i.e. hiking, camping, away in an isolated area or underdeveloped country).
Most individuals do not realize that a life could easily be saved with simple, tips, tools & techniques. Knowing what to do at the right times can help protect a person's mental health, physical health, quality of life, and safety.
Packed with informative information on how to prevent, treat, and overcome hundreds of common conditions that a person could easily encounter. The book begins by explaining that people should remain calm because it is not always necessary to run the emergency room.
The authors enlighten their readers by giving them a clear, well-detailed, simple reference book to use when a medical issue occurs. The authors go on to explain the purpose of the book is not just to keep us alive when traumatic issues occur, but it is a powerful resource to educate the reader and it can be used as a guide to teach others. For some medical issues, medicine is necessary, but many conditions can be treated with home remedies created from nature itself.
In The Survival Medicine Handbook, the Alton's helps you understand with their words of wisdom that a journey of awakening does not require a traumatic event to occur in order to experience a rude awakening. Their teachings in the book give the reader an understanding that many medical issues can be treated by regular individuals who do not hold a medical background. Joseph Alton MD and Amy Alton ARNP give provide excellent guidance for medical care in their astonishing book, The Survival Medicine Handbook.
The Survival Medicine Handbook is packed with magnificent advice, tools, techniques and strategies, which teaches readers how to handle virtually any medical issue giving them the ability to help save a life or stabilize the individual's situation until medical attention is an option.
Joseph Alton MD and Amy Alton ARNP provide brilliant insight on how to help other who seek medical attention including fabulous advice plus a wide-range of recommendations, tips, resources, glossary's and step-by-step guidance on how to create your own survival kit to keep in your car, backpack, home or to bring with you on vacation.
A Passion for Healing
Throughout the book, the Alton's provide a vast array of well-researched evidence that helps readers acknowledge the vital importance of taking the initiative and taking responsibility when a medical issue occurs.
One important factor I acquired from reading this amazing book was that it's crucial for individuals to be prepared for any situation. Being prepared could mean life or death. No one expected Hurricane Katrina, but it happened. You never know what the future has in store. As a wife and mom of three, I found the information in this book extremely valuable and effective.
This book covers every medical issue under the sun. Joseph Alton MD and Amy Alton ARNP teaches you in their book how to turn to save a life including your own life along with the tips, tools, strategies and techniques that are easy to incorporate in your life and very self-rewarding.
The Alton's not only discuss and show you how to be medically prepared; they show you how to save lives as you read this astonishing life changing book.
I highly recommend this book for everyone. Joseph Alton MD and Amy Alton ARNP book is excitingly packed with outstanding advice, tools, and techniques and I find The Survival Medicine Handbook a rewarding, motivating, inspiring and an enjoyable read.
Support HuffPost
The Stakes Have Never Been Higher
Related
Popular in the Community