It's pretty easy to find books written about Walt Disney, but not so easy to find books written about or by Disney Imagineers or Cast Members. Disney Editions has books on Mary Blair, Marc Davis, John Hench, Roy E. Disney and Marty Sklar, which are all terrific and must-reads. However, these are just a few of the thousands of stories about working for Walt, The Walt Disney Company and in the theme parks that have been told. Until now.
Founded in November 2002 by Bob McClain and with a catalog of 138 books, Theme Park Press is the world's leading independent publisher of books about The Walt Disney Company, its history, films, animation and theme parks.
Three books of particular note are: From Disneyland's Tom Sawyer to Disney Legend: The Adventures of Tom Nabbe by Tom Nabbe, Together in the Dream by Suzanne & R.J. Ogren and Would You Like Magic With That? Working at Walt Disney World Guest Relations by Annie Salisbury. Each one of these books gives a unique perspective about Disneyland and Walt Disney World.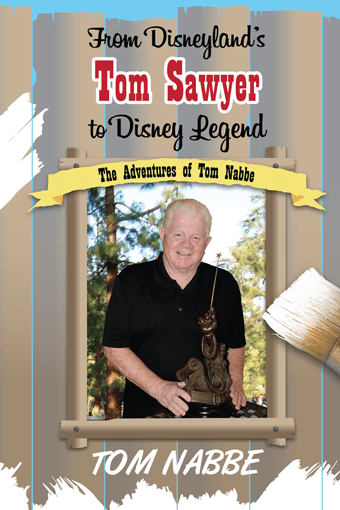 Tom Nabbe's book, Disneyland's Tom Sawyer to Disney Legend: The Adventures of Tom Nabbe, starts with a Forward from Charlie Ridgeway, Disneyland and Walt Disney World's former publicist. Ridgway writes, "Tom Nabbe holds a unique place in Walt Disney Parks and Resorts. He began working in Disneyland at age 12 when the park opened in 1955. He was then hired by Walt Disney himself to be 'Tom Sawyer', official host of Tom Sawyer Island after it debuted in 1957."
Tom worked at Disneyland, Walt Disney World and Disneyland Paris before retiring in 2003. During his illustrious 48 year career, Nabbe discusses his various careers at the three parks, as well as time spent away from Disney.
Starting his Disney career selling the Disneyland News. One day, Nabbe saw Walt walking around the park. He approached him and told him he heard he was putting in a Tom Sawyer attraction and since he looks a little like Tom someone said he should play the part. Walt told him he'd think about it.
After four years of playing Tom Sawyer, Nabbe grew out of the part. He discusses about life after Tom Sawyer which included working in other parts of the park, a stint with the U.S. Marines and a horrific car accident. Nabbe eventually makes his way back to Disneyland and then down to Florida to open Walt Disney World.
Nabbe tells some amazing stories about opening Walt Disney World and EPCOT Center, as well as working at the Disney warehouse. He describes how he used to walk on the monorail beam while Walt Disney World was under construction, "I used to walk from the Transportation and Ticket Center station up the beam into the Contemporary Hotel to check the station, says Nabbe. "Then I would walk the beam from there down into the Magic Kingdom station." For those who aren't familiar with Walt Disney World's monorail, and even for those that are, that monorail beam is only 30 inches wide and at its highest point it is 60 feet off the ground.
He also talks about his "invention" - the "Nabbe Grabber," a modified custodial picker upper, which was used to retrieve guests' personal items that fell down the trough of the monorail beam. It's still used to this day.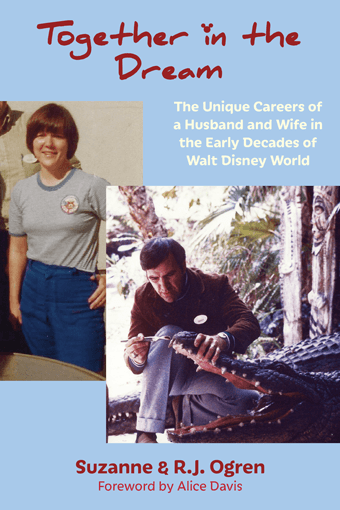 Having worked at Walt Disney World in the mid-seventies and starting out in the same department, the monorail, albeit at different times, Together in the Dream, written by husband and wife Suzanne & R.J. Ogren, tells the tale of their Disney careers. They eventually ended up working in the areas they really wanted to be in - the entertainment division for Suzanne and for R.J. - an artist.
Suzanne and R.J. talk about their journey and experience working at Walt Disney World in alternating chapters and give an honest and candid account of what it's like to work in the park.
Getting a job at Walt Disney World is no easy feat. A chance meeting with a National Guardsman proved to be R.J.'s lucky break. He decided to join the Orlando National Guard and during his meeting with the recruitment office he told him of his desire to work at Walt Disney World. One thing lead to another and R.J. had an interview with Disney Casting the next day. Shortly after arriving for his interview he had a job.
Because her husband was already working at Walt Disney World, Suzanne's path was a little easier and simpler - R.J. spoke to his contact in casting.
R.J. and Suzanne's stories are equally fascinating and surprising. On the one hand, it's interesting to hear what happens on- and off-stage, as well as shocking to hear what some guests do to Disney characters and to Disney attractions.
Some of the many fascinating stories R.J. tells is how park guests try to take things from the attractions as souvenirs. Limbs went missing from a number of popular attractions including Pirates of the Caribbean Snow White's Scary Adventures.
As surprising as R.J.'s stories are, his wife Suzanne has equally and unbelievable stories to tell. Although Suzanne wanted to be an on-stage performer, her first job at Disney, like her husband, was working on the monorails. R.J.'s stories give a unique perspective what it was like to work at Walt Disney World from a behind-the-scenes point of view. Suzanne's stories give readers what it was like working on the front lines from an hourly employee's point-of-view.
Some of her roles included playing Dopey and Sleepy, as well as Bianca from The Rescuers. Suzanne describes what it was like working under various conditions as a character, but the most shocking stories were about the rude guests who manhandled, punched and kicked the characters. Guests seem to forget that there are actual people inside those costumes. In spite of those negative experiences, Suzanne said she always felt proud to be working at Walt Disney World and with such a great group of people.
It's simply amazing to hear all the things guests did to these and many other attractions. Most Disney fans do not see this kind of behavior while visiting the parks. However, because Cast Members are there on a daily basis, they see everything. So it's shocking to hear that the perfect world we all go to is sometimes not so perfect.

In later chapters, Suzanne talks about her transition from being a performer to working in various departments at the resort including an administrative assistant in transportation and in Special Events.
It is very evident to hear the love for Walt Disney World through the voice of R.J. and Suzanne. It's not only the guests who are having a magical day there, but more often than not so are the Cast Members.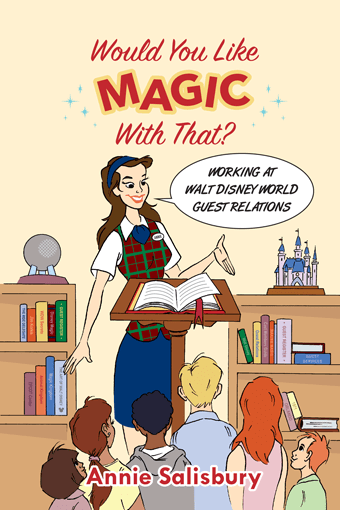 Would You Like Magic With That?, written by Annie Salisbury, gives a completely different perspective on what it's like to work at Walt Disney World. It's a look mostly from the day-to-day interaction with the people behind the magic. This book, like Suzanne and R.J.'s, is an honest look at what it's like to work at Walt Disney World.
Annie (not her real name) opens the book with her acceptance into the Disney College Program and the reality when you get the area that you want - attractions, but not the attraction you want- The Great Movie Ride. Her internship was working at Disney Quest.
Before getting the job she really wanted at The Great Movie Ride, she applied for a Guest Relations position. After 6 days of working at The Great Movie Ride, she was offered the Guest Relations position and left after 10 days.
The stories Annie tells about working in Guest Relations are eye opening. There are guests who try to scam the system in hopes of skipping the lines at the attractions, receiving refunds and even free tickets. Then there are those guests who have legitimate issues or needs.
She tells about working with the other Cast Members. Most of them were very nice, but like any other jobs there are those who she worked with that were unhelpful, unfriendly and rather un-Disney like. Annie also tells the reader about including eating in the Disney cafeteria, riding the Cast Members bus, promotions, salaries, dealing with guests, working schedules and more. This book is definitely a primer for those who dream of a career in one of the Disney Parks.
These books are entertaining and enlighten the reader about working for Disney. As Mary Poppins says, "A spoon full of sugar helps the medicine go down."
Popular in the Community