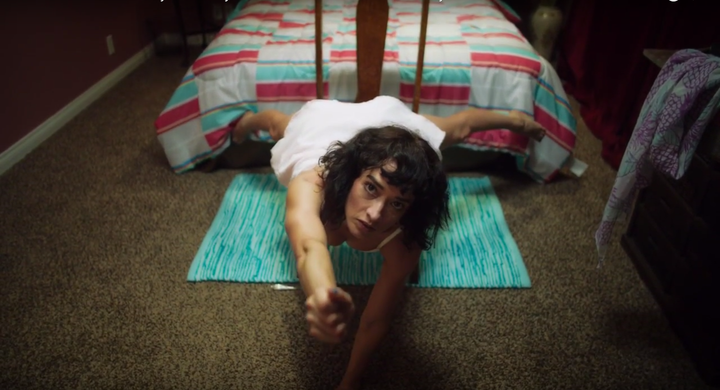 When presented with the opportunity to review another offering from one of my favorite content creators, Elia Petridis, and his VR firm, Filmatics, I jumped at the chance. Arising from the Eye for an Eye transmedia universe, "Henrietta" is the origin story of the titular character, here played by Karen Corona, who becomes the catalyst and source of horror in the acclaimed experimental VR horror thriller Eye for an Eye (which debuted this past Halloween). If you haven't yet seen the VR piece, the Eye for an Eye story follows a group of kids trying to find their lost friend, last seen entering the eerie mansion of a mysterious fortune teller, Henrietta. Without spoiling too much, secrets concerning ghosts and the supernatural become a frightening, 360-degree reality that left me itching for more content upon the piece's conclusion.
Unlike the Eye piece, Henrietta isn't a virtual reality piece -- it utilizes traditional 2D live action storytelling. This, at first, had me skeptical -- the main reason I found Eye for an Eye so engrossing was its masterfully crafted virtual reality storytelling. How could Petridis follow up Eye for an Eye by taking what is essentially a step backwards in visceral immersiveness?
After watching the short, however, I came away feeling very impressed. Despite the different conventions of the medium, Petridis's style and aesthetic still shine through in what becomes a riveting thriller and origin story for Henrietta. Petridis is a true auteur in the transmedia movement, and his commitment to extend his story universe across multiple mediums really elevates the audience's connection to the story. The consistency in visual narrative is probably assisted by a few important choices Petridis makes in the production. Most of all, his casting of Karen Corona (who delivers an arresting, enveloping and rhythmic performance, complimented by tremendous choreography designed by Emmy winner Tessandra Chavez) and Pam Heffler (who enchants in the VR piece with her gaze, and takes the character to greater horror depths) reiterates his commitment to the transmedia angle to his productions — the two do an incredible job of embodying the same character, Henrietta, in different periods of the story timeline.
Petridis displays a natural ability working with traditional 2D film (a world which he's delved into before -- see How Henri Came to Stay), and by sticking to a tried and true medium with this venture in the Eye for an Eye universe, he successfully expands its fictional world in a way that lends both Eye for an Eye and Henrietta more power. One scene in particular involving a dancing Henrietta about to make a, shall we say, eye-opening gesture sent shivers down my spine.
My only gripe with Henrietta is that I wish it was longer! It's possible Petridis is still working out how all these different artistic pieces will fit together, perhaps brevity in this instance is a gift -- it leaves me wanting more haunted mansions and gruesome thrillers....and perhaps we will find the next installment of the Eye for an Eye universe presented in another exciting story medium.
Popular in the Community