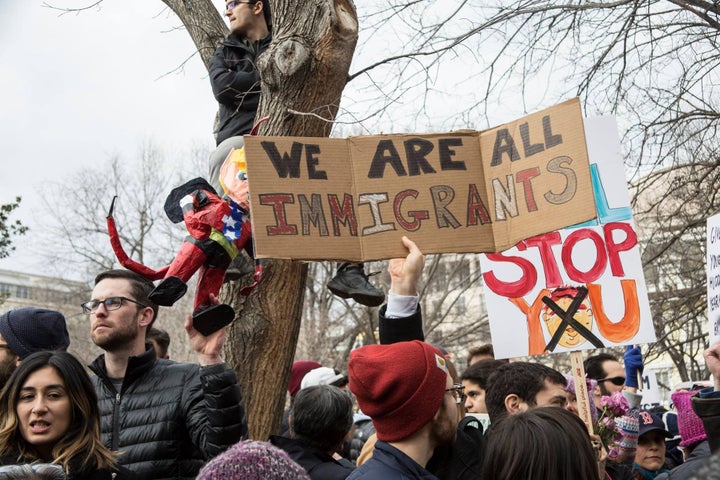 The administration's first executive order was frozen by judges and has proved one of the biggest embarrassments for the nascent administration. It caused widespread chaos at airports, as enforcement agents, lawmakers and some of Trump's top aides were not briefed on the order.
However, it seems that the Trump administration is determined to not learn from their mistakes. Today, President Trump officially issued his second executive order on immigration. The new order is set to take effect on March 16, 2017. In short: this new version continues to blindly put millions of refugees and asylum seekers at risk.
Here are the major differences introduced in the revised executive order:
U.S. "lawful permanent residences" (also known as "green card holders") are now exempt from the travel ban.
If you have travel docs, if you actually have a visa, if you are a legal permanent resident, you are not covered under this particular executive action.
The Washington Post states that the new order also provides exceptions for: dual nationals who use a passport from another country, individuals attending diplomatic missions, and individuals who have been granted asylum or refu­gee status.
But what about those who are still trapped in dangerous environments and have consequently, not yet been granted asylum or refugee status? What happens to them? The new executive order continues to ignore these life-or-death questions.
Iraq has been removed from the list of countries whose citizens face a temporary U.S. travel ban.
Syrian refugees no longer face an "indefinite" ban.
Officials report the new order ceases to prioritize religious minorities when considering refugee admissions cases.
Yet, the changes described above, still fail to enact policy that lives up to the core ideals and values of the U.S.
Here is why the latest executive order is still catastrophic for both the U.S. and global community:
The new order maintains a 90-day ban on U.S. entry for new visa seekers from: Iran, Somalia, Sudan, Yemen, Syria and Libya.
Just like when the first executive order was issued approximately six weeks ago, many refugees do not have months. For example, this revised order continues to represent a life-or-death issue for LGBTQ refugees and asylum seekers. All six Muslim-majority countries included in the latest version of the order remain fundamentally dangerous environments for LGBTQ people. As Human Rights Watch notes:
LGBT people in Yemen, Sudan, Iran, and Somalia can face the death penalty. In all seven countries [the countries included in the first executive order], LGBT people face a climate of societal and institutionalized homophobia. Many LGBT people are persecuted by multiple actors, including their families, state forces, and terrorist groups such as ISIS.
These people do not have months.
The U.S. nation's refu­gee program will be suspended for 120 days and will not accept more than 50,000 refugees in a year (markedly lower than the 110,000 cap set by the Obama administration).
By imposing a 120-day suspension and lower cap on refugee admissions, the Trump administration is effectively squashing hope for a better life for millions of refugees and asylum seekers. This ban shatters the opportunity for many persecuted individuals to exercise their fundamental human right to pursue happiness, freedom and safety.
The latest version of President Trump's executive order on immigration is still a disaster for our nation, for the global community, and for justice. We must all continue to resist. Peoples' lives are at risk.
*TAKE ACTION: Sign this petition to help protect LGBTQ asylum seekers and refugees in the U.S.
Popular in the Community