 A new report out of the Center for American Progress urges state policymakers to revise their teacher leave policies in an effort to improve student achievement and usher in significant savings.
With teachers largely considered the most important school-based determinant of students' academic success, it is not surprising that excessive teacher absence negatively impacts student achievement. Research has found that every 10 absences lowers average mathematics achievement to a degree equivalent to the difference between having a novice teacher and a slightly more experienced one. Furthermore, with 5.3 percent of teachers absent on a given day, stipends for substitute teachers and associated administrative costs amount to a minimum of $4 billion annually.
In 2009, the U.S. Department of Education's Office for Civil Rights began including teacher absences in its biennial Civil Rights Data Collection survey. The report's author, Raegen Miller, examined the data for 56,837 schools and determined that on average, 36 percent of teachers nationally were absent more than 10 days during the 2009-10 school year. The percentages reported by individual schools ranged from 0 to 100 percent, with 62 percent of variation occurring between districts and one-third occurring within districts.
The state with the lowest average of teacher absence was Utah at 20.9 percent, with Rhode Island owning the highest average at 50.2 percent.
Timothy Duffy, head of the Rhode Island School Committee Association, told WPRI that absent teachers have "adverse effects" on students, and union contracts can affect how often teachers in different districts are absent.
"It's the inner-city districts -- the larger districts -- where you see a larger percentage of absenteeism," Duffy told the station. "That may be due to the fact that the contract language is just loose enough to allow or afford teachers to take time when they may not be legitimately sick."
According to Miller's report, both the type of school and grade level can provide some indication of teacher absence behavior. For instance, teachers are absent from traditional public schools more than 10 times per year at a rate that is 15.2 percentage points higher than in charter schools. When it comes to grade-level breakdown, 33.3 percent of high school teachers, 36.7 percent of middle school teachers and 37.8 percent of middle school teachers were absent more than 10 days.
The report also found evidence of racial disparities. When holding constant grade level and type of school, a school with an African-American student population in the 90th percentile had a teacher absence rate 3.5 percentage points higher than a school in the 10th percentile. The corresponding differential based on percentages of Latino students was 3.2 percentage points.
Miller writes that two patterns emerge when analyzing the timing of teachers' absences, the first being that teachers are absent most frequently on Mondays and Fridays. Second, a high proportion of illness-related absences are for short enough periods as to not require medical certification.
The author recommends that state policymakers revisit statues governing employees' leave privileges, and also ensure that employees have access to family and medical leave insurance.
The report also states school districts "must accommodate some level of teacher absence" by applying a combination of policies and management tools. These include allocating some number of days of paid leave for illness or personal reasons, and offering incentives discouraging frivolous use of paid leave. Additionally, there is a need for an electronic absence management system that records absences, assigns substitutes and produces reports.
Before You Go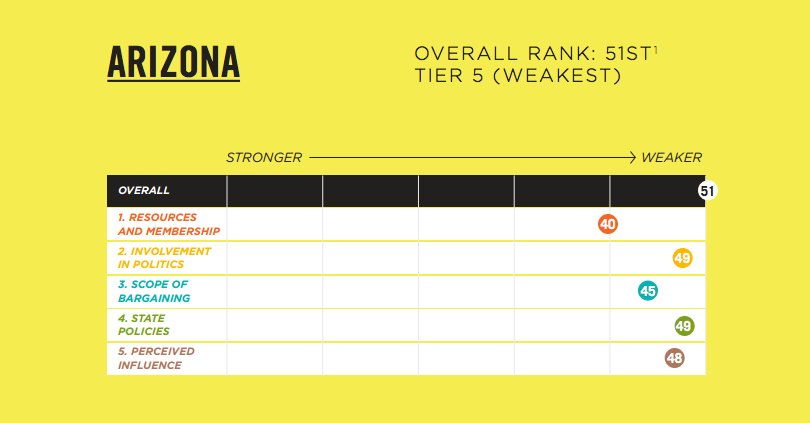 How Strong Are U.S. Teacher Unions? Fordham's State-By-State Comparison
Popular in the Community