What do two friends, one a director and the other a stylist, do to stay afloat when the economic crisis threatens their livelihood? What happens when work is scarcely existent and long gone are the days of splurging on the current must-have fashions, when happy hour morphs into a serious tête-à-tête about the future?
About a year ago, when meeting for cocktails had been downsized to a bottle of wine and a block of cheese from Trader Joe's, my friend Alison Brooks and I found ourselves chatting about how to update our wardrobe without spending a lot of money. A bottle later we had stumbled onto the topic of our mothers and their exquisitely unique personal style. We reminisced about jumpsuits, headbands and the glory days before the parade of uniform fashionistas we now know. We realized that certain unique pieces were woven into the fabric of our childhood memories--A Koos Van Den Akker skirt, a Holly Harp dress, or a Halston halter. However, the most vivid memories we both had were of our mothers jewelry, certain signature pieces that made any outfit--from jeans to a cocktail dress--uniquely their own.
I can remember wandering through the streets of Athens with my mother at nine years old. We browsed through all sorts of shops, none of which were particularly memorable, except one. A small random jewelry shop filled with beautiful gold pieces. As my mother tried on necklaces, earrings, and rings, I inspected every piece in the glass cases that lined the store, picking out the pieces I liked. Among other things, my mother bought a hammered gold necklace with blue lapis stones that I thought was the most beautiful piece in the whole shop. To this day I have never seen a necklace quite like this one, handcrafted, bold and elegant. It may seem silly, but that necklace is inextricably featured in countless memories of my youth.
Alison told me the story of her favorite necklace. As a child Alison loved to throw tea parties for her friends. However, the budding stylist in her would ransack her mother's closet and jewelry box to dress herself and her guests before they were allowed to sit down for tea. She would concoct outfits for everyone; her tiny guests would swim in her mother's dresses, hats, and belts. As hostess, Alison would always wear her favorite necklace, a beautiful piece with multiple strands of black pearls. Not only did the necklace become her signature piece at the tea party, but years later it is still the preferred piece in her jewelry box.
In a bleak moment, the whisper of inspiration could still be heard, and these stories spoke to us of the undeniable power of wearable art. The next day, I got a call from Alison. She had the answer. What do two friends do to stay afloat when the economic crisis threatens their livelihood? They make jewelry. They make jewelry because they love it, because a beautiful stone, crystal, or gem does have the power to make life a bit brighter, even for a moment. We wanted to create a way to add glamor, elegance, and sophistication to any outfit in your closet with bold, lavish jewelry that won't break the bank. Our mother's personal style and jewelry boxes would become the inspiration for a timeless collection of handmade one of a kind pieces. Maybe we don't need the latest must-haves, just a great piece of jewelry; a sparkle in the dark.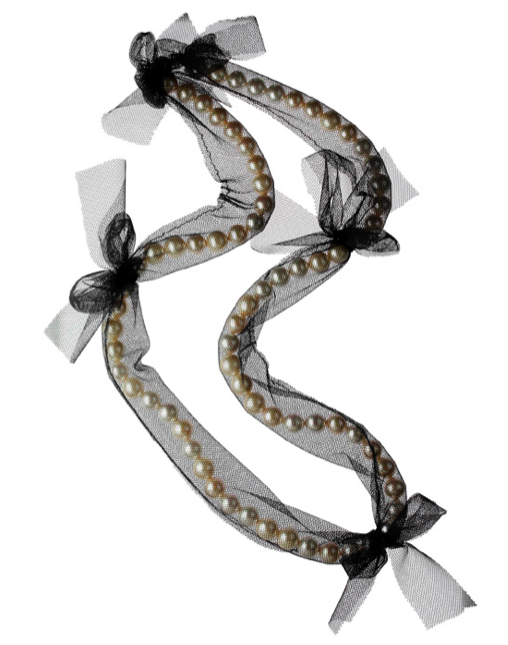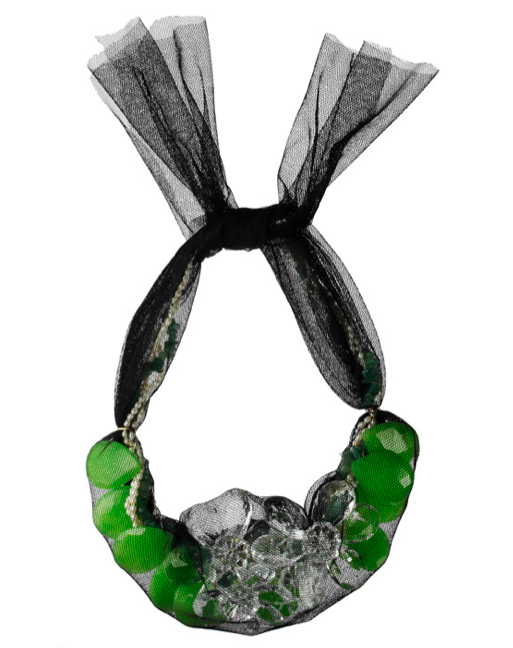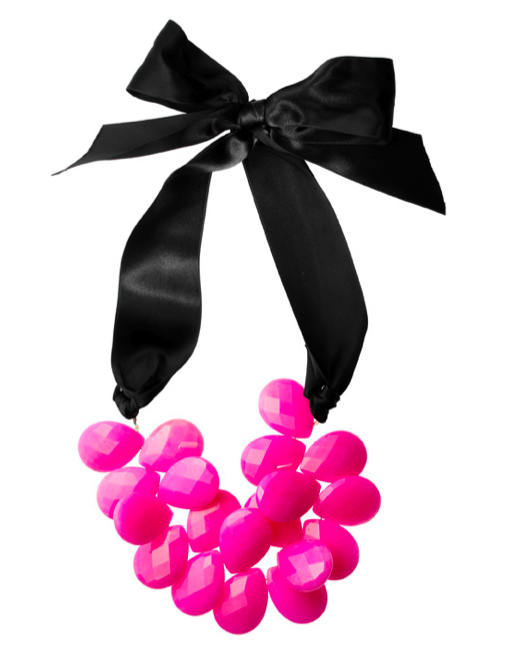 We hope you enjoy viewing the new collection from Brooks Poitier.
Available at ronherman.com