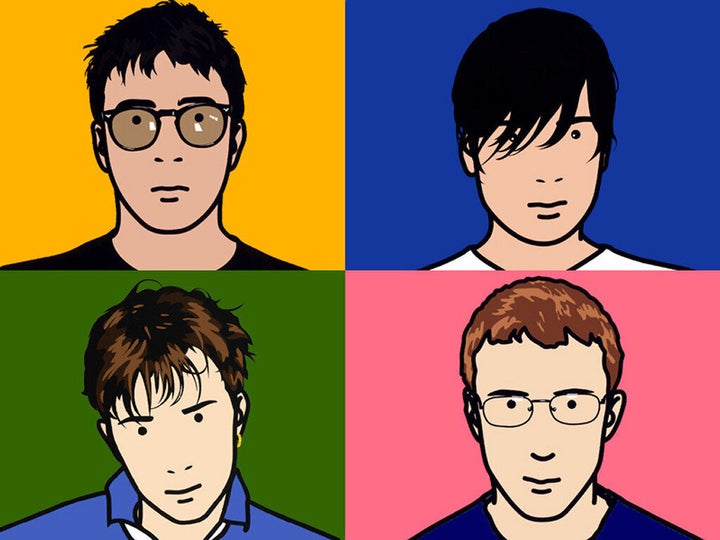 Thanks to the summer Olympic games, all eyes are on London. Danny Boyle's opening ceremony was nothing short of a spectacle. As promised, it featured a lengthy nod to the UK's vast musical history. From the Beatles to New Order to Dizzee Rascal, many artists were represented. Still, this music fan couldn't help but be disappointed by the lack of Britpop (Blur's "Song 2" aside). Sure, my fellow Americans may remember little more than Oasis, but these bands ruled the British charts and changed the landscape of popular music.
The British music press coined the term "Britpop" in the early '90s to describe the new guitar pop bands of the time. At the start of the decade, baggy shoegaze music ruled the airwaves. Bands like Slowdive and My Bloody Valentine dominated the alternative rock scene. Some of these bands like Lush and The Verve eventually crossed over and scored Britpop hits with songs like "Ladykillers" and "Bittersweet Symphony." When Suede hit the scene in 1992, they changed everything. Brett Anderson pranced around in women's blouses smacking his arse with a microphone. Suede's lyrics were dripping with sex, drugs, and gritty London life. The video of Suede performing "Animal Nitrate" at the 1993 BRIT Awards to a room of unenthusiastic industry types never ceases to amuse me.
I consider Suede the pioneers of Britpop thanks to the infamous issue of Select magazine featuring Anderson on the cover superimposed before the Union Jack with the headline "Yanks Go Home!" That was Britpop: young British men and women singing about things that mattered to them. American pop culture dominates many countries and finally, the British youth fought back. Just as it had been in the swinging '60s, London was hip again. The '90s ushered in an era known as "Cool Britannia." Of course, most Americans didn't care but oddly enough, some of them (myself included) identified strongly with Britpop. Even now years after Britpop's death, many American cities have small but devoted Britpop scenes.
Recently, the AV Club published an edition of Gateways to Geekery about Britpop. I don't want to rewrite their article. Oasis, Blur, Pulp, Suede, and a few others have received plenty of love and recognition from audiences worldwide thanks to the Internet. Instead, I want to shed light on my favorite Britpop bands that are sadly almost forgotten outside of their native UK.
I believe that Gene's Martin Rossiter is the greatest songwriter of the Britpop era. It was once said that Rossiter writes "songs that make grown men cry." His lyrics are nothing short of raw. Gene songs tug at the heartstrings because Rossiter puts into words feelings we've all experienced, especially concerning love and relationships. During Britpop's heyday, critics constantly compared Gene to the Smiths. Unfortunately, this turned off many potential fans and Gene never reached the levels of fame experienced by Blur and Oasis. To Gene's credit, they released four impeccable studio albums. Many of their contemporaries released one great album then disappeared or stayed afloat making sub par music. Gene never lost the magic. They disbanded in 2004. I often refer to Mansun as the most under-appreciated band in Britpop. They managed to fuse guitar pop with elements of prog rock creating a sound that distanced them from most of Britpop. Lead singer Paul Draper snarled and whined his way through the band's concept album, Attack of the Grey Lantern. Mansun commented on everything from religion to the political state of the UK. By the start of the new millennium, Mansun wasn't quite sure where they fit in the post-Britpop world. They disbanded and have yet to reunite. However, Draper can occasionally be found working with successful British artists like the Joy Formidable and My Vitriol.
Though Elastica's Justine Frischmann was the reigning queen of Britpop, Sleeper's Louise Wener was certainly next in line for the throne. Sleeper's debut Smart and follow up The It Girl are still solid albums. Sadly, the same cannot be said for their third release, Pleased to Meet You. After Louise and the Sleeperblokes went their separate ways, she established herself as a respected writer. Her memoir Different for Girls is a must-read.
We're slowly but surely working our way into the territory of the lesser-respected Britpop bands, the Britpop-by-numbers bands. Shed Seven is one of these bands. They boast a number of hit singles and can be found touring the Britpop nostalgia circuit. Personally, I adore Shed Seven and wear my "Disco Down" t-shirt proudly. Marion could have had it all but their success was cut short due to drugs and infighting. Their debut, This World and Body, has stood the test of time. Jaime Harding had the finest voice in Britpop and arguably the best cheekbones. Before making it big as a BBC TV presenter, Lauren Laverne fronted the almost entirely female punk-inspired band Kenickie. Their music was just plain fun. At the Club remains my go-to record when getting ready to go out on a Saturday night.
Just like grunge, Britpop became commercial. In 1995, a group of gorgeous young men known as Menswe@r signed a lucrative record deal after only a handful of live shows. Did it matter? No, they looked great in tailored suits. I refer to them as Britpop's boy band. A friend of mine refers to them as a "fashion statement." Whatever your personal feelings are about the 'swe@r, their debut album Nuisance stands up as a great Britpop record. Dated sure, but essential Britpop nonetheless.
I could go on about the lesser-known Britpop bands for days: Kula Shaker, Echobelly, the Dandys, These Animal Men, Dodgy, Ocean Colour Scene, the Boo Radleys, the Bluetones, Rialto... The list goes on. I hope that this article encourages anyone interested to delve deeper into Britpop and give a listen to the bands that were nearly lost to the annals of pop music history.
Check out Kayley's YouTube crash course in lesser-known Britpop here.
Popular in the Community