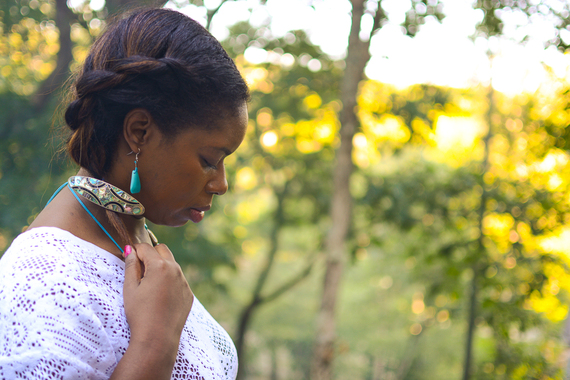 A year ago, I received awesome news that I was joining the HuffPost blogging family. My inaugural post was Back to My Roots - Hair. It started when my hair stylist told me that it was time to give up the "creamy crack" hair relaxer addiction. Like a child being deprived of Halloween candy, I had a fit. "No, I can't. I need my creamy crack!" I wasn't ready to join the "naturalista" movement. A colleague that went natural told me, "Going natural will put you in touch with yourself."
After a year, I am creamy crack free. The journey has been enlightening. Going natural put me more in touch with my roots, not just my hair follicles but the culture and history of black hair and how black women were socialized to be ashamed of our natural hair. Natural hair was not deemed appropriate in professional settings. Dana Stevens touched on the sociopolitical implications of creamy crack, noting that "many black women straighten their hair to conform to the larger culture's white ideal of female beauty. Or, as Chris Rock puts it in the film's opening narration, relaxing black hair relaxes white people."
In rediscovering my natural hair, I recalled how communal maintaining black hair can be. Just like soul food is a vehicle for passing down tradition and history, likewise maintaining natural hair is a cultural expression and experience. I remember being a little girl sitting in the living room or at the kitchen table, getting my scalp "greased" (moisturized) before combing and braiding. As the older women combed their daughters' hair, they began talking about women issues. It was during this time that mother's wit and wisdom was passed down from grandmother to mother to daughter about lessons learned from relationships, cooking, child rearing and everything in between.
Instead of cutting my hair to go natural, I decided to grow out my relaxed hair. Now my hair is a third natural and two-thirds relaxed. My natural hair is stronger and thicker. As more natural hair grew, I became frustrated with how to maintain my hair. It was then that I realized that "I" never maintained my mane. A village of women via my Mom, Granny, and aunts maintained my hair. During my summers growing up, my mom had a teenage girl braid our hair with beads like most black girls in the neighborhood. When I became a teenager, my older sister maintained my hair until I had a relaxer.
It dawned on me that my natural hair journey was like passing down tradition. I went home for the holidays and had dinner at a girlfriend's house. She promised to flat iron my hair. I sat in the chair in the living room while she proceeded to take care of my nappy roots that I was getting reacquainted with. Just as our grandmothers, mothers, and aunts before us, we began discussing women issues.
I have always spoken out against cultural appropriation of black women features in my articles like: Feminism & Race and Ain't I a Woman. However, the fashion industry's glamorization of the Kardashians and others emulation of black women features and mannerisms while at the same time not using us in photo shoots, runway shows, and calling us #lessclassicallybeautiful peeved me off at a new level. No Kylie Jenner, you didn't wake up like "diss." Your lips are not naturally full and your braided hair is the product of a team of stylists. My hair is not a fad or trend, it is part of my identity as a black woman. Thank goodness for Amandla Stenberg's Don't Cash Crop My Cornrows. She also wrote a wonderful critique on how "black features are beautiful but black women are not."
As a professional black woman, I recall being warned that having natural hair and braids would close doors and could be detrimental for advancement in the corporate sector. Naturally, I am upset when Allure and other fashion outlets appropriate black hair and culture without acknowledging the origin and history. However, I am encouraged by my sisters from another mother, like JK Rowling, who stand up to the double standard and hypocrisy, especially the recent assault on Serena Williams' femininity. Thank goodness for black women entrepreneurs, like Nubian Skin, that allow me to wear nude lingerie and hosiery that actually matches my skin tone. My nappy natural hair represents the struggle, faith, and hope of my culture. For my sisters of a different persuasion, you are welcome to celebrate us. Imitation is the highest form of flattery, unless you denigrate us and fail to honor our contributions.
Sex and race because they are easy and visible differences have been the primary ways of organizing human beings into superior and inferior groups and into the cheap labor on which this system still depends. -Gloria Steinem
Photo Credit: Strivers Row Photography
Related
Popular in the Community