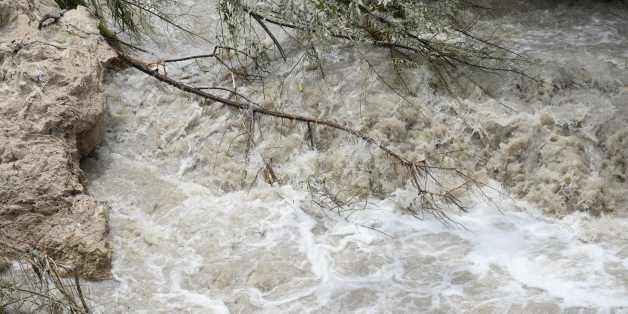 For the past few weeks, national nightly news broadcasts have been leading with weather stories. California and Florida have been burning out of control, a tornado two miles in diameter wiped one Kansas town off the face of the map, and agrarian Missouri has been flooding.
Fires and tornadoes, although extraordinarily dangerous and deadly, move fast and decisively, cutting a swath through all natural and manmade objects with reckless abandon.
Floods, on the other hand, make a victim languish with fettered hope. As rivers meticulously rise in their man-modified basins, those living in or along the river bottoms holistically cling to the hope that somehow, the earthen levees will hold; that in some way, their lives and livelihoods will be saved.
But as Mark Twain wrote in Life On The Mississippi over a century ago:
"One who knows the Mississippi will promptly aver--not aloud, but to himself--that ten thousand River Commissions, with the mines of the world at their back, cannot tame that lawless stream, cannot curb it or confine it, cannot say to it, Go here, or Go there, and make it obey; cannot save a shore which it has sentenced; cannot bar its path with an obstruction which it will not tear down, dance over, and laugh at."

Twain's literary prophecy proved true on May 8. More than 450 homes were flooded in Big Lake, Missouri, and the Missouri River continued to cast a pall over other towns in the northwestern corridor of the Show Me State. Moreover, as most of the rivers that meander through the Midwest ultimately culminate in the Mississippi River, thousands of residents and businesses are bracing themselves for the worst -- they are steeling themselves should the various streams rise and overtop or blow out their levees, creating lakes not found on state maps. Indeed, it's only May, and the flood season will last for another two months at least, but Midwesterners are well-aware of how precautionary measures save property and lives: They know this certainty inasmuch as they know that a runaway river can wipe out any hints of civilization within a matter of hours. That's because they've seen it before.
For the last 14 years, nary a flood story has run without mention of the Great Flood. The 500-year flood. The flood of 1993. In the summer of 1993, heavy rains raised the Mississippi River to historic levels, creating a vicious current that blew out levees from Iowa to Missouri and southern Illinois and caused an estimated $12 billion in damage. More than 500 counties were inundated and 20 million acres were destroyed. And while the current climate has the same hoof prints as the Great Flood (which is why every news outlet mentions 1993 when the topic arises) one news bastion from that era has been washed away with the retreating tide, as it were.
Remember James R. Scott from Quincy, Illinois? Or perhaps you recognize him by his newer name, #1001364, an inmate at the maximum security Jefferson City (Missouri) Correctional Center? You'll most likely remember him as the man who broke a levee in July 1993 to strand his wife in Missouri so he could party in Illinois without her. James Scott remains the only man in Missouri history to be arrested, charged, tried, convicted and sentenced of Intentionally Causing a Catastrophe, a Class A Felony. Nobody died when the levee at West Quincy, Missouri, broke and submerged 14,000 acres of prime farmland, yet Scott was convicted on circumstantial evidence for causing the breach, and he was sentenced to life in prison, the maximum penalty under the statute.
He was tried twice and convicted twice, first in 1994, but that case was overturned because of prosecutorial misconduct. At his second trial in 1998, a Hannibal, Missouri, court -- a town that was also claimed by the Great Flood -- found him guilty again. Much was made of the case at the time. The overriding question was whether James Scott caused one levee to fail (even though more than 1,000 levees ultimately failed during the Great Flood), or whether he was merely an easy scapegoat for a community raging at its devastation.
The case of the West Quincy levee breaker will not be touted in contemporary media circles when the question arises of whether the floods of 2007 will be another Great Flood. Even in the wake of Hurricane Katrina and the breeching of the 17th Street Canal's levee. The likely story will be how every 500 years (or 14 years in this case), America's rivers remind us that Mark Twain was right. But the story should be that 14 years later, most levees have not been made any stronger than when they were built by farmers in the 1920s, even though they could be: It's the law.
In 1936, Congress passed the Flood Control Act, which put levees under the supervision of the Army Corps of Engineers. They could affectively be called upon to help make improvements in some of the more rural areas of American ecosystems. But the reality is that the Corps defers all maters of levee construction and maintenance to locally managed and grossly under-funded drainage districts. Unless some serious federal money is poured into levees on the front end, even more will be spent in the cleanup efforts when they do burst. That is, of course, unless another James Scott arises, a person for whom residents can point to and say the levees broke because of his vandalism, not because of an Act of God. Some insurance companies in the Midwest still haven't recovered from this dubious qualification.
Undoubtedly, the resolve of Midwesterners will be put to the test again, and unquestionably, volunteers from across the country will hear the midsection's cry for help and descend upon floodplains to fill and stack sandbags. Such is the spirit of the American people. And some river warriors will fight the good fight and emerge victorious against Mother Nature, who can be a formidable adversary. This reality will play itself out on television in the coming months.
When it does, expect to hear in extremis about the Great Flood of 1993 and the 17th Street Canal. But don't expect to hear the name of James Scott batted around. To many in the Midwest, whether or not inmate #1001356 broke the West Quincy levee is immaterial: It's much easier to blame a man for a flood than to blame Mother Nature, and to admit that sandbagging efforts -- heroic though they are -- are sometimes all for naught.
Adam Pitluk's book, Damned to Eternity, which chronicles the story of James Scott and the Great Midwestern Floods of 1993, is due from Da Capo Press in November.
Popular in the Community