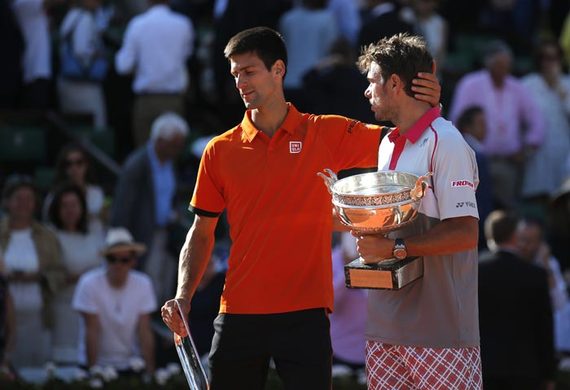 I have just finished watching a replay of the Roland Garros final, a match which has frequently been sighted as the best match of 2015 (sorry Serena Williams fans). While I don't think it was the defining match of 2015, Djokovic still went on to dominate the year, it did probably prevent Djokovic making his 2015 the greatest season of all time. Just for the record, I thought the best match of 2015 was the US Open final between Federer and Djokovic (such high quality play by both players), and I thought that the best one-man performance of 2015 was Roger's performance against Andy Murray in the Wimbledon semi-final. But for overall significance when you look back over the year, you just can't go past Stan the Man's four-set toppling of Novak Djokovic at the French Open final. In this article, I will analyse why Djokovic lost this match; 6-4, 4-6, 3-6, 4-6.
The first thing to point out is that of Djokovic of course won that first set. But while watching that first set, you realise that Djokovic was actually lucky to win it. He lost 3 set points before he was finally able to convert. It was I think quite critical that Wawrinka served first, and it was also critical that he was able to save two set points when Djokovic was going for the match at 5-3. Because if he hadn't saved those set points he would have served behind in the second set. And the fact that he served first in the second set was vital to him winning the match.
With Wawrinka serving first, the two players stayed on serve right until the last game of the set. The most important point of the match, and perhaps the most significant point of 2015 was when Djokovic was serving to stay in the match at 4-5 and 30-0. At that point it all looked like we were heading towards a tiebreak, which was until Djokovic rushed the net during the point, attempting to intimidate Wawrinka. Stan had other ideas though! Reminiscent of his Swiss contemporary Federer saving Nadal's second match point in the 2008 Wimbledon final, Wawrinka easily passed Djokovic with a wonderfully hit one-handed backhand smash down the line. It was very noticeable straight away that this shot rattled Djokovic, surprisingly it did effect him mentally. He ended up losing that game, and the set, with yet another unforced error.
Coming into the third set, with Wawrinka still serving first, Djokovic found himself on a hiding-to-nothing. But this time, Wawrinka broke him early and won the set 6-3. This meant that coming into the fourth set, Djokovic found himself serving first. And this clearly gave him a confidence boost and Djokovic broke Wawrinka in his first service game, and suddenly Djokovic found himself at 3-0 in the fourth set. Unfortunately for him though, Wawrinka kept coming at him. The ferocity of the shots that Wawrinka has hitting in this match was huge. Constantly during the match, Djokovic found himself being driven way behind the base line, with Wawinka coming forward with big forehands and backhands, and often coming up to the net and putting Djokovic away with powerful volleys'. His crucial break to help get him back to 3-3 was a cross-court forehand hit right at the edge of the centre line. Now the two players found the set back on serve.
At 4-4 in the fourth set, Djokovic was having pressure put on his serve. The game went to Deuce, and Wawrinka quickly put himself at advantage and with a break point opportunity. Reminiscent of the big point in the second set, Djokovic rushed to the net, and again Wawrinka passed him with a brilliantly hit backhand down the line. Now serving for the match, and the Roland Garros title in his grasp, the crowd were quick to realise that across the net, Wawrinka was facing the best returner and perhaps the greatest defender the game has ever known. Djokovic saved a Championship point at 40-30 with classic and forceful serve-and-volley play. At Deuce, Djokovic really put on the pressure, and with Wawrinka going into serve-and-volley mode, Djokovic stayed at the base-line, and when the time came, he sat back and smashed his great two-handed backhand down the line. Now at Advantage, and with a chance to get back in the match, Djokovic once again became overpowered by Stan the Man. Quickly we found ourselves back at Championship point for Stan, and this time he won the title with one of his fantastic one-handed backhands.
You have to think that when Djokovic is sitting back on his recliner with his glass of Champagne on New Years Eve, he will feel a tinge of regret about this match. But lets be serious, he can't feel too bad, he did win a record number of Masters titles this year, along with a record-setting amount of prize money. As it was this year, Roland Garros will be an important goal for him in 2016. His loss against Wawrinka can only be certain to strengthen his mentality and will to win.
REAL LIFE. REAL NEWS. REAL VOICES.
Help us tell more of the stories that matter from voices that too often remain unheard.