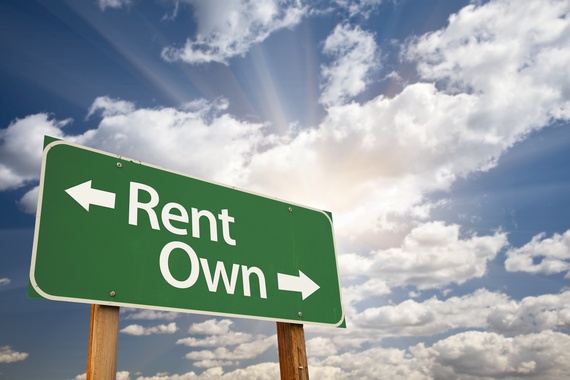 A universal decision crucial to residents across the country is the choice to rent or to buy a home. In New York City where both rental and purchase prices are not cheap, the decision can be haunted by uncertainty.
The New York Times recently published an article explaining that in recent years renters throughout the country are less likely to transition into home buying. According to a study conducted by real estate investment trusts, REITs, only 14.7 percent of tenants who moved out of their rental apartments during the fourth quarter of 2014 purchased a home. In comparison to the historic average of 17 percent and the mid-2000 housing boom's 20 percent, the current trend shows signs of decreasing home ownership.
In Manhattan, where a consistently low vacancy rate and high demand control the rental market, rents are unsurprisingly high. In March 2015, the average rent was $4,126 according to appraisal firm Miller Samuel. Despite the increasing rental rate, real estate research analyst David Guarino claims that "in the most expensive areas, like New York and San Francisco...the percentage of renters moving out tends to be lower," equalizing the high rents to high purchase costs.
However, a decision to purchase does not occur overnight and understanding the cumulative cost of renting over a long period of time and one's own future potential can help make the most economically efficient decision.
While it is important to look at accrued costs of continual renting, there are still many factors to consider. The New York Times has a "rent vs. buy" calculator in which you have the ability to enter your financial information, potential mortgage details, and future rent or purchase fees in order to obtain an itemized break down of the costs to rent or to buy. Factoring in long-term costs or plans, if known, can be beneficial for a renter in order to take advantage of the unfavorable market.
Despite decreasing homeownership and rental vacancies, an increasing number of both condos and rentals are being developed in the city. Perhaps the increased inventory will be the momentum needed to accelerate the traditional rental, first-time buyer, and veteran buyer cycle.
PHOTO GALLERY
The Best Cities to Live in Car Free(CLONED)
Calling all HuffPost superfans!
Sign up for membership to become a founding member and help shape HuffPost's next chapter