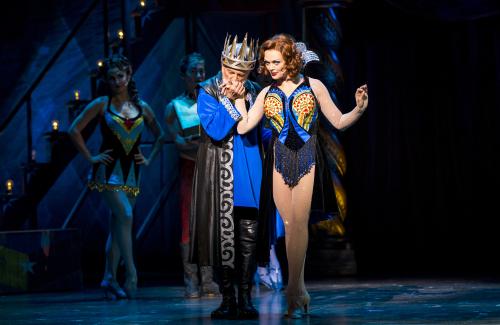 (Photo Credit: Terry Shapiro)
The world of theater lends to inspire, to take the audience from their regular day-to-day rigmarole and reflect on what we all truly want in our lives. The story of Pippin is one of satisfaction, about a young prince on his own expedition for contentment. Pippin was an iconic musical 40 years ago during it's original run in the 1970s, but it's revival, directed by Diane Paulus with a score from Stephen Schwartz, brings the beloved story back with a modern spin. With its added acrobatic components, Pippin is a bigger extravaganza than even before.
Recently, I was able to chat with Pippin cast member Sabrina Harper (pictured above), who plays Fastrada and has been with the production since it opened on Broadway in early 2013, about the magical elements of Pippin.
How is it be a part of this reboot of Pippin, a musical that garnered so many accolades back in its original run in the 1970s?
It was quite an exciting experience. Let alone the story, the history of the fosse style and working with Diane Paulus, Gypsy Snider, and Chet Walker, just these amazing people to re-create what was once very iconic. I believe a story and musical that is being produced right now that will never be forgotten. The new, revival version of Pippin added a whole new element to Broadway, a whole new element to musical theater by adding circus to acting, singing, and dance. I think it will be one of those musicals that will be spoken of in years to come.
How is the revival of Pippin different than the original run?
Oh, in so many ways! A lot of has been cut out because times have changed. We have a female Leading Player instead of man; it was Ben Vereen in the 70s. We've added this circus element of acrobatics. In the 70s version, it was a troupe of players, a troupe of performers. We are the same, but you can say we are a circus troupe bringing a show to town. It's quite different. It's modernized. It's still set in the same era, but it's brighter, and maybe even more extraordinary than it was in the 70s just through all the stuff that's brought to the stage every night.
How did you get into theater?
I started at very young age. I was about three years old when my mom first got me into dance classes. I grew up in Southern California, so at a very young age I got involved in TV and commercials with the help of my parents. I really took it off and wanted to continue doing that and strive for it because I remember the days where my mom and my dad sat me down and said 'if you don't want to do this anymore, you let us know'. I tried other things. I did sailing. I did horseback riding. My passion still continued more towards dance, theater, and acting, so I've been doing it since I was a little girl. Five years old I think was my first performance going across the stage in The Nutcracker as a little mouse. It's been in my blood. Occasionally, my mom would help out at our local regional theater in the costumes or props departments. I remember sitting and watching her work and just being in that environment, and knowing that I wanted to be a part of this world.
What's your favorite moment of the show?
I have two favorite moments. I have the opening of the show, "Magic To Do", when the stage is revealed. I won't say anymore. It's just really a spectacular moment. I remember the first time I saw that on Broadway sitting out in the audience watching I got goose bumps from that moment of the reveal. Also, in the finale, there's also a reveal, which is really very heavy and touching.
What do think the overall message of Pippin is?
It's a young man's journey to find his purpose in life. I wouldn't say his purpose in life, that's too set in concrete, but a young man's journey in search of happiness, for fulfillment. I think that the overlying idea towards it is finding you're "corner of the sky". We leave home, go to college, graduate, and we stand there and say 'Oh gosh! What's next?' We continue to do that. We even continue to do that when you turn 65. You stand there and you go 'OK! What's next?' We continue and continue to search for fulfillment and search for our corner of the sky, our piece of the pie, or whatever makes us the most happiness. It may even be we found it and the happiness we have is sitting on our porch watching our family and having your children around you. But having come to that realization and be able to sit there and say 'This fulfills me'. I think that's an idea of Pippin; finding that moment of fulfillment.
Calling all HuffPost superfans!
Sign up for membership to become a founding member and help shape HuffPost's next chapter