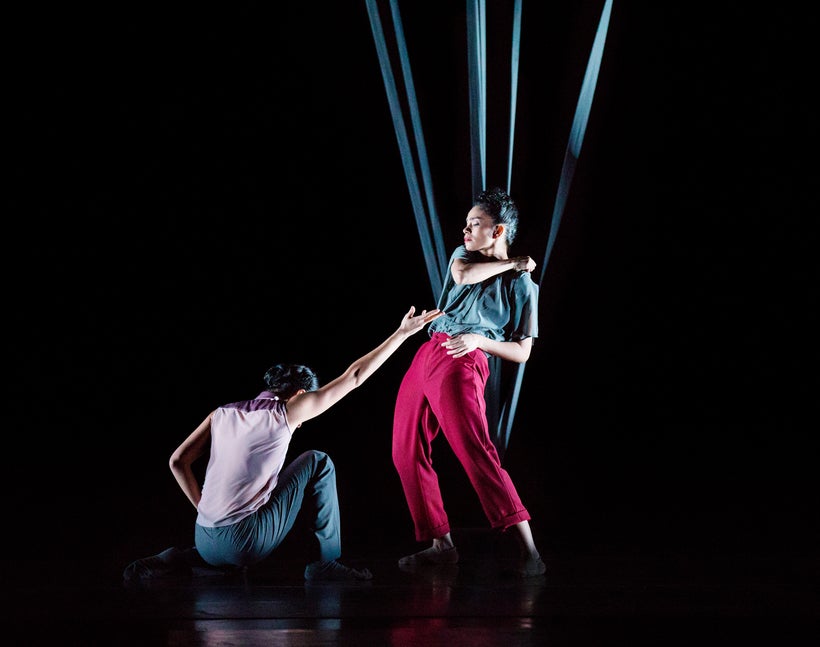 Alvin Ailey American Dance Theater continues to enrich its repertoire with new commissions and revivals. Though an inspired choice, Gustavo Ramirez Sansano's new work does not show him at his best. A mannered tapestry of repetitive effects, Victoria is entirely undone by its musical selection, Michael Gordon's droning Rewriting Beethoven's Seventh Symphony. Victoria's intense gestural repetition and undulating torso movement across waves of dancers called to mind Ravel's oft-used Boléro. Far be it for any critic to suggest anything to a choreographer, but I hope that Sansano will rework this piece with something less aurally jarring.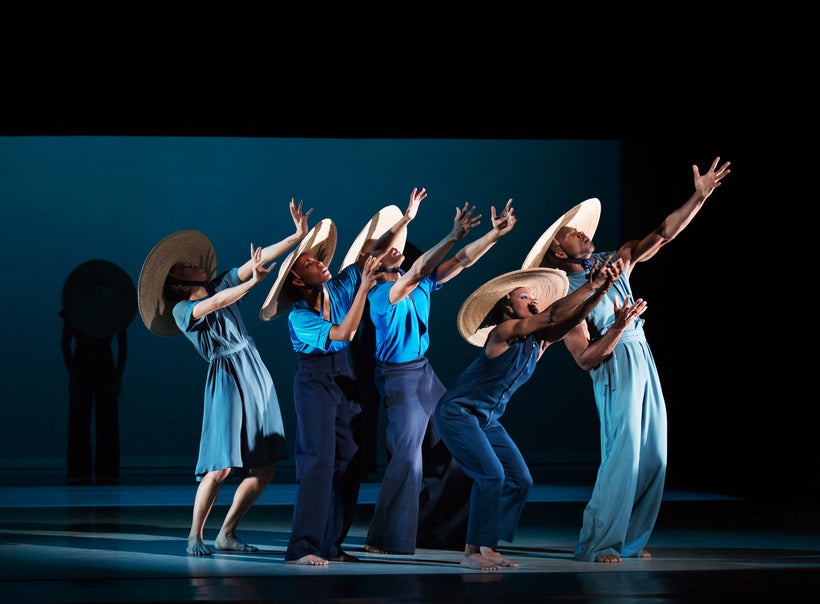 Jamar Roberts makes his choreographic debut for the company using John Coltrane's gorgeous Dear Lord and Olé to plumb the depths of a community of strivers bedecked in different modes of blue. A solid concept - costumes also by Roberts - Members Don't Get Weary pulses with shows of communal support for those in need. Grasp your arms in front of you as if you were hugging a barrel; feel the tension running through your veins. Whether reaching forward, circling around, scything the earth, or in collapse, this tribe of restless bodies carries that level of rounded tension through their extremities, always poised to strike. It makes for a fascinating image of people in supplication and grief. Theirs is an ever-present, though never harried, drive to push forward that obeys the maxim, "never get weary", precisely because - as my grandmother often said - "I can't afford tired." In its final moments, the action peters out to a subdued awe. Better to have kept running; it is there that Roberts captures the truth of people without options. Whatever my qualms, if only for its thrilling musicality, this is a piece to be seen and treasured.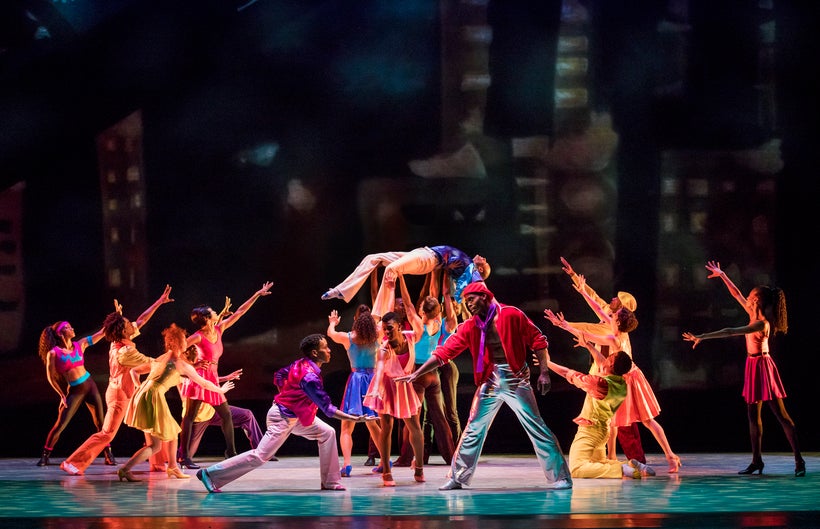 Choreographed by Talley Beatty in the myriad jazz dance styles of its time, Stack-Up proves an ageless masterwork that reflects the nightlife of any era. The action follows a wide-ranging set of exclusive social groups partying the night away in an impressionistic view of the 80's by way of Los Angeles. Replete with virtuosic challenges - turns into sky scraping layouts, split leaps forward that switch to land in wide squats, acrobatic partnering, and a moving line of high kicks + multiple pirouettes - Beatty's collection of audience pleasing daring wedded with Soul Train verve adds up to more than mere showing off. With its emphasis on character and political negotiations between disparate sects of night creatures, Stack-Up functions as social commentary that beckons the audience to join in on the fun.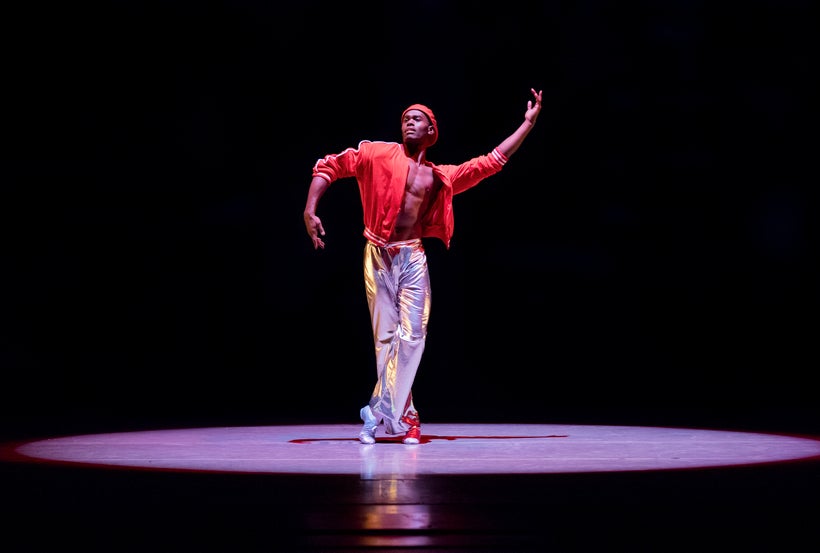 Name another another work that explodes out of its opening tableau into declaratory poses before melting into cascades of wild boogie-downs that span the entire stage through ever-shifting configurations. Beatty goes on to use a crisscrossing motif that further develops his characters with ultra-specific montages. Even without Carol Vollet Kingston's phenomenal costumes - lovingly reconstructed by Barbara Forbes - these characters are easily identifiable by their movement language alone. Though of one piece, the quirkiness of action communicates more than a minute of spoken dialogue could. Excitingly, the ante renews itself to no end. During the third movement - danced to Fearless Four's party anthem Rockin' It - a wall of men jam forward to shimmy-n-pop their booties as an exultant Jamar Roberts lip-syncs the lead lyric.
Having deftly defined this world and its characters, Beatty unveils a drug-fueled plot. Constantly rejected by other social groups, Roberts' antisocial drug-peddler injects Yannick Lebrun's genial party-boy with a hit of psychotropics. From there, a shimmering spotlight follows Lebrun as he dances the plight of a man coked-beyond-the-stars in the midst of a disco that refuses to stop raging. For many years, I directed dance performances at Webster Hall. Much like my concert partner for this evening, a former reveler of the Studio 54 scene, I have seen far too many instances of drug-binges gone wrong. Watching Stack-Up was akin to reliving the intrigue of those glory days that more often than not ended at 8 AM, and the Ailey company was nothing short of terrific in its execution. Specific shout-outs must be given to Roberts - who continues to astound with his limitless versatility - the high-soaring Lebrun, Jacqueline Harris' insouciant crew diva, and Solomon Dumas - who stepped in as a last minute replacement - as her hard-charging lead enforcer. One hopes that Stack-Up remains in the repertoire for many seasons to come. It is quite simply, the event of the season.
Alvin Ailey American Dance Theater performed this concert at City Center on December 22nd, 2017.
Calling all HuffPost superfans!
Sign up for membership to become a founding member and help shape HuffPost's next chapter
This post was published on the now-closed HuffPost Contributor platform. Contributors control their own work and posted freely to our site. If you need to flag this entry as abusive,
send us an email
.