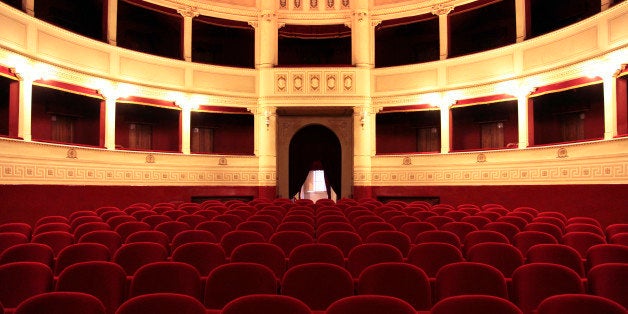 On Friday, an article in the New York Times announced that the Board of the currently defunct New York City Opera had decided to sell its remaining assets to one of the various investor groups that had been vying for the right to revive the company. Working under the radar for the past year, asset manager and former board member Roy Niederhoffer, after pledging $1 million of his own money and raising a total of over $2.5 million to date, has now won the right (pending court approval) to revive and reinvent the company we all thought had left us forever.
I first met Roy when we both played on the New York City Opera league softball team, the Baroque-n-Bats (yes, we had one, and yes, I was terrible -- he was pretty good). Because opera board members don't generally don funky blue uniforms and slide into third base with the staff and artists, I could tell Roy was not a typical "money guy." So when he contacted me nearly a year ago with his plan to revive New York City Opera, I was thrilled at the potential. With this recent announcement that his group, aptly titled NYCO Renaissance, will now take on the challenging but exciting task of reviving the beloved New York institution, I thought it was time for everyone to learn a little bit more about this dedicated philanthropist's plans.
I conducted an interview him over the weekend via email and phone, asking some of the burning questions I have about the next chapter in the life of the company that started my career:
Can you tell everyone a little about you?
I am a 48-year-old New York City investment manager and philanthropist, and for decades I have been a strong supporter and fan of City Opera. I served on the Board of the opera until recently, and I have had the pleasure of getting to know well the staff, management, and artists over the years. I live on the Upper West Side, and in my spare time I play violin in the Park Avenue Chamber Symphony and spend a lot of time with my wife and four kids.
When City Opera declared bankruptcy in 2013, I was hoping a white knight would arrive with a well-thought-out, financially and artistically sound plan to revive the company. None surfaced. But in late 2013, I received a call from Michael Capasso, the founder and General Director of the Dicapo Opera, who for 30 years has been an innovative impresario and producer. He sketched out a plan to not only revive the company, but to return it to its historic home -- Lincoln Center -- and do it in an efficient, entrepreneurial manner.
I realized that in order to succeed, Michael's artistic and production vision and decades of experience must be combined with a strong business team and a solid financial foundation. I made a seven-digit pledge to this effort, and agreed to lead it. For the last year, Michael and I and our staff and Board have been working closely with the Board of the former City Opera to create an exciting and well-structured revival plan. In addition to opera presentations, our plan includes broad education programming, the return of the VOX contemporary opera festival and many other exciting components.
Your plans mention a return to Lincoln Center as well as producing some operas in the smaller Dicapo Opera Theater on the East Side. Can you tell us about the Lincoln Center venue?
Our first performance is already planned at the Rose Theater at Jazz at Lincoln Center, the technologically state-of-the-art, 1,100-seat venue in the Time Warner Center. This theater -- which many don't even know exists and most have never seen in a "proscenium" configuration -- is perfectly suited for opera. It has a huge orchestra pit, wings, fly space, lots of dressing rooms, and excellent acoustics. And audiences will be able to take advantage of the many amenities: restaurants, bars, shopping, the Mandarin hotel, and fantastic transportation options.
Can you tell us more about Michael Capasso (who has been named general director) as well as addressing the fact that Dicapo Opera, his previous company, had its own financial difficulties?
Like so many other opera companies, Dicapo Opera faced enormous financial pressure following the economic downturn of 2008. After more than 25 years in which the company grew and thrived, gaining worldwide recognition and spectacular notices from the press, the economic downturn had a pronounced impact of the financial health of the company.
However, unlike many opera companies, Dicapo did not declare bankruptcy. In fact, in 2014 it produced several fully staged touring productions at the 2,200-seat Tilles Center and extensive educational opera programming for thousands of children. After negotiation of a delayed payment plan, Local 802, one of Dicapo's largest creditors, continued to perform for Dicapo as recently as November 2014 and wrote a strong letter of support for Michael and NYCO Renaissance.
Can you explain Michael Capasso's role at City Opera in more detail?
Michael's responsibilities at NYCO will be to oversee the day-to-day operations of the organization and oversee with the eminent directors, conductors, designers and staff that will create, produce and perform our shows. Michael's decades of hands-on experience with every facet of opera production from the details of set construction to the mechanics of profitable international opera touring will be an enormous asset to our company.
NYCO will be a collaborative effort, not a one-man show, and Michael will report directly to the Board of Directors. The strategy, business and financial side will be managed by the Board, and that's been a large part of our efforts so far. We also have engaged a development and marketing team.
So just to be clear, this isn't a merger with or continuation of Dicapo?

Not at all. Dicapo is being wound down.
Do you have pending agreements with the local 802? What about AGMA? Do you plan on using any of the former staff or artists from the previous New York City Opera?
I am able to say that we have an excellent five-year agreement in place with Local 802 (the City Opera orchestra), who have been our partners in this process the entire way. Some former City Opera staff are already working with the new company on a consulting basis, such as former NYCO (and current Glyndebourne) dramaturge Cori Ellison who has been instrumental in helping us craft our artistic plans. We'll definitely keep you posted on further relationships as we get closer to our first performance.
How will this time be different from before, when the company was on shaky ground for years leading up to the bankruptcy?
We will combine an exciting artistic plan with sound business practices, have a much higher percentage earned income, and require far less outside fundraising than the prior company did. Making the company financially successful, revitalizing and retaining the opera audience, and engaging financial supporters will only come through striking a balance between novelty and nostalgia, between innovation and tradition. During its most successful years, NYCO continually broke new ground with innovative productions and new repertoire while at the same time presenting compelling versions of the standard repertoire, all in an attractive, consistent venue and at affordable ticket prices. We plan to do exactly this -- in a new venue that audiences will love. New York City Opera should be a place where people go to learn to love opera. And it will thrive if this is the case.
I, for one, am very excited about this new development and the resurgence of a company that I feared was gone forever. And I'm very glad that there are philanthropists who, despite the tenuous nature of the arts in our culture at the moment, are still willing to play ball with us artists, both literally and figuratively. To read the full press release and see more about their effort, and to join in the discussion and participate, you can visit their website at www.nycorenaissance.com .