Now that Lady Gaga has announced the birth of the new post-patriarchal female archetype by her 2011 Grammy performance busting out of a semi-transparent egg, where she claims to have incubated for 72 hours...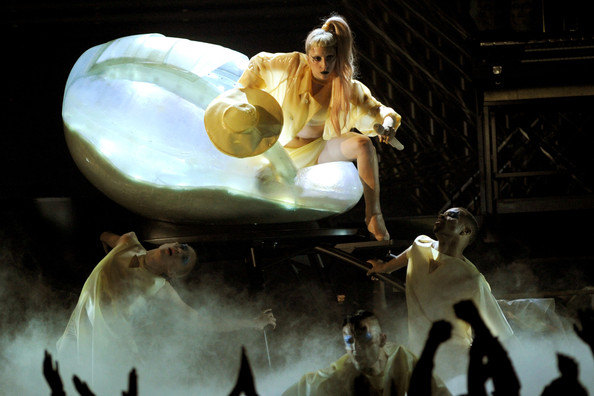 Photo Credit: Kevin Winters/Getty Images North America
... my job as cultural critic suddenly became much easier.
Even so, I wasn't taking any chances. So I spent two months preparing for "Eros(ion) Flow at the Gershwin Hotel" after host Neke Carson and Michael Wiener invited me to present during their Tuesday evening series.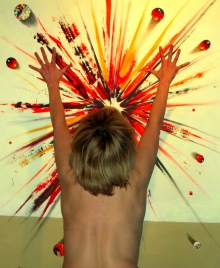 International Performing Artist Louisa Bradshaw's "Kundalini Rising" at Collective Hardware on the Lower East Side was mere prelude; Photo by Lisa Paul Streitfeld
The date was February 1, the eve of the New Moon in Aquarius commencing the Chinese New Year of the Rabbit and also the Feast Day of St. Brigid and Candlemas. I invited three outstanding male NY poets to perform and two female Kundalini performers. John Knowles, a.k.a. Panman performed his magick Video Alchemy VJ and the idea was to ignite the kundalini and raise it through the chakras.
The performance began at 7:15 PM, with Dianne Bowen cutting the silver and gold chord representing the conjunctio of the Solar eclipse of the Sun and the Moon. I had been braiding the opposites together all afternoon...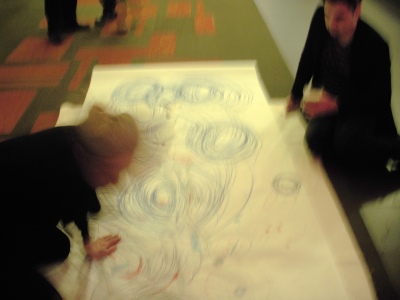 Dianne Bowen's performance of "Drawing Down the Zeitgeist": Photo by Lisa Paul Streitfeld
Her two-layer painting was placed before the red velvet curtains at the portal of the magnificent Gershwin Hotel lobby.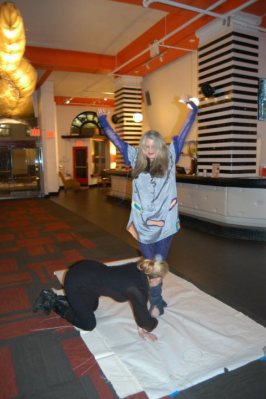 Dianne Bowen Drawing Down the Zeitgeist: Photo by Nikki Johnson
At 8 PM, I began by dedicating the evening to Aldo Tambellini, the artist dedicated to visualizing dark energy in form and Vera Rubin, the astronomer who discovered dark energy.
And then, the alchemy commenced with the kundalini fire...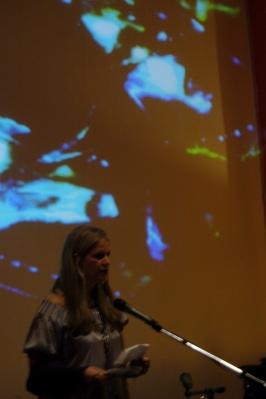 Photo by Nikki Johnson
... as I read Aldo's poem:
write the poem
when the mind is a huge sore
attacked by a billion flies

write the poem
when pain explodes
a shooting star in the sky

write the poem
when earth's daily rotation
revolves in revolution

burn the poem
set on fire a constellation
Then, I introduced the surprise guest. The "everyday" rock star, Pied Piper of Lower Manhattan come midtown...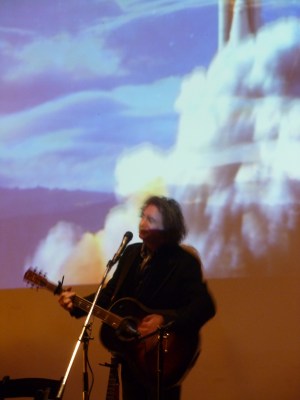 The English rocker James Maddock performing "When the Stars Align." Photo by Nikki Johnson
You see the world in a new light
Prove yourself right
When the stars align.
Serpent awakened, it snaked through the eros(ion) flow of masculine and feminine polarities...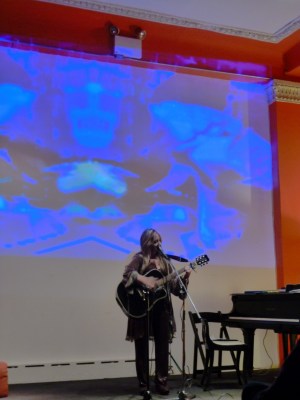 SK Lover lulled us into the dissolving of ego... Photo by Nikki Johnson

Beluga man I knew you
From another life
I gaze upon your whiteness
Through the frozen ice
Beluga man I knew you
When we lived in the sea
Trans-species love is something
Lucky lucky me
Beluga man I see you
Looking up at me
Beluga man I love you through the broken sea
The Universe is a road
A road of traveling souls
Fin and wing human being all are traveling souls
So my wish tonight is we all shine our light as far as we possibly can
To the wind and the seas and all the galaxies may we shine light where we can
I am I am I am I am I am I am I am I am I am I am I am I am part of it all
Jeffrey Wright brought us firmly back to earth with his ribald poetry, which culminated in the heart...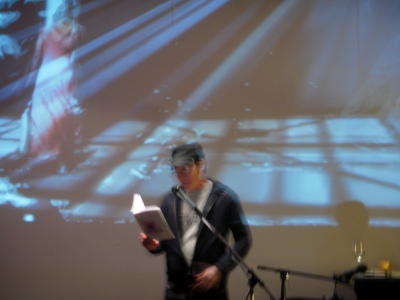 Jeffrey Wright performing against Panman's video mix of LPS dancing to Wright's poem inside David Byrne's "Playing the Building": Photo by Nikki Johnson
Drunk on the Vomit of Angels
Name your poison -- rattlesnake graffiti
whips through my veins -- a lexicon
of ladders -- a highway of scars.
I saw you dancing with the stars,
your lips on fire with desire,
a noose of pearls around our future.
We all shine on, like the wind
coated with whispers and asking
when you'd be free, alone with me.
Nicotine. Gin. I drink the night
like a freight train of wishes
and kiss the air with an empty stare.
And every day I write the book of love,
each page filled with fallout from above.
-- Jeffrey Cyphers Wright
Edwin Torres, barefoot, transcended through his alchemical transmutation of the opposites in his new chapbook YesThing NoThing, demonstrating, once and for all, that he is the authentic heir to Tambellini, the poet as a shamanic wordsmith transversing between worlds to propel humanity into the future through the image...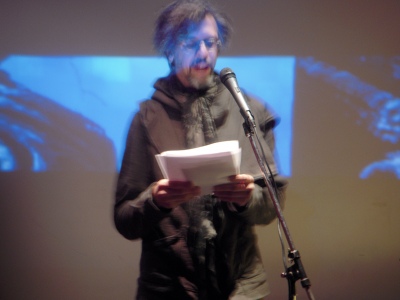 Edwin Torres transcending in performance; Photo credit, Lisa Paul Streitfeld

I am the guest of a prince. I stay at his palace and share my room with two other talents. The three of us are unique and in demand. We are each 10 stories tall. We do what we do and no one else does. Our limbs are a hike, folding path over glory. I awake one morning and look out the window. An ocean has appeared. It's surface, 10 stories high above me, the sun just arriving. A reef reaching towards me through clear, blue water crystallized by morning's shimmer. A surface broken by shadows, underneath what appear to be cliffs. The ocean bottom, as deep as I am from the surface, 10 stories below. I am 10 stories above. 10 is where we meet. I look down. A horse is swimming into view. It's main whipped by morning wind-water. The rider is a tourist on an underwater swimming tour, where the horse does all the swimming. I turn my head and see more enter the frame. 10 more. 10 signifying more than height, horse or story. Against the blue green water, the ocean bottom is visible. Horse and rider float. 10 stories above me. In slow motion, sounds like. But that is because storyteller remains in the story. They swim away. The water clears as if almost to disappear. My eyes adjust and see 10 surfer punks relaxing at the bottom of the ocean. They wear cut-off jeans and shorts. Some have t-shirts; some don't. They are relaxing in chaise lounges on the bottom of the floor, getting suntans through the crystal clear water. Every five seconds, one of them swims up to surface for a gulp of air and swims back down. The scene is a constant yo-yoing of bodies going up and down. Swimming with hands to the sides, long hair flowing behind, air bubbles tracing their destination. Up and down. Up and down. A hypnosis of breath and water. A reward at bottom and at top. A kind of water that lets this happen. A kind of animal doing what no one else can.
After Torres transformed into the conjunctio, or hieros gamos, through his alchemical wordplay, Louisa Bradshaw took the stage with her pianist/composer Gregory Nissen, and transformed from torch singer ("That Old Black Magic")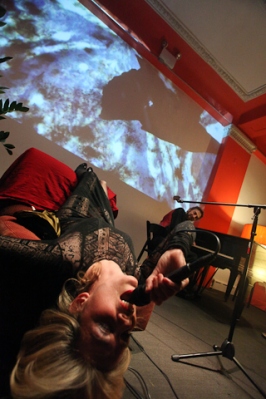 Louisa Bradshaw with pianist/composer Gregory NIssen: Photo credit, Joel Simpson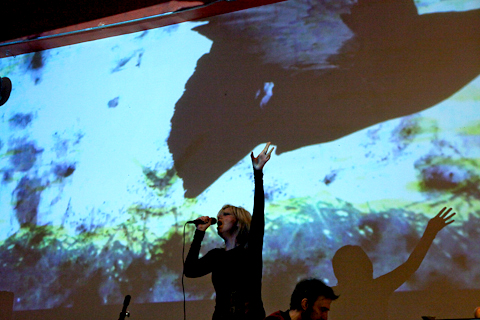 Louisa Bradshaw taking flight into the hieros gamos: Photo credit, Joel Simpson
Which brought us full circle (r)evolution...
take a slice
from this nourishing
bread

let's share it in a
communion

food for the soul not for
competition

rise
consciousness
rise
together
rise
to awaken souls
to
consciousness revolution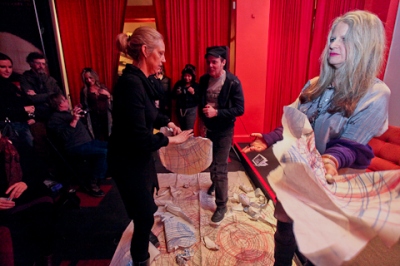 "Eros(ion)" Participants "Breaking the Surface" of Dianne Bowen's layered performance painting: Photo credit, Joel Simpson

Popular in the Community