 "The power of women is in their stories. They are not theories, they are real lives that, thanks to social networks, we are able to share and exchange," said Egyptian-American activist Mona el-Tahawey, kicking off a summit that brought more than a hundred of the Middle East's leading female activists together in Cairo.
With her arms still bandaged from the assault she suffered at the hands of Egypt's ruling military power last November, Tahawey was greeted like a celebrity by cyberactivists who only knew her from Twitter as she kicked off the Yahoo! Change Your World Cairo summit Wednesday.
The event brought together many of the region's leading activists to tell their stories of revolutions -- both successful and unsuccessful -- and discuss how women were using social and digital media to bring about positive change. Although they acknowledged the offline work that goes into human rights and political reform work, many were explicit in crediting social media with changing the dynamics in authoritarian countries throughout the region.
"I couldn't have done this without social media. The world would not have known," said 20-year-old Libyan cyberactivist Danya Bashir, who describes herself as the first female president of Libya on her Twitter profile. During the Libyan uprising she began using Twitter extensively to provide information about what was happening on the ground to journalists and activists around the world. She said she would "spam" Twitter superstars like Tahawey, NPR's Andy Carvin (@acarvin) and Arab commentator Sultan al Qassemi (@SultanAlQassemi).
In a panel on journalism and the internet, exiled Bahraini journalist Lamees Dhaif dismissed her government's attempts to censor her, noting that she had nearly 60,000 followers on Twitter and 43,000 followers of her website whereas the biggest newspaper in Bahrain prints a mere 12,000 copies daily. "Now people are outspoken because of these tools," said Lamees.
"We are blessed with the social media" said blogger and women's rights activist Manal al-Sharif, herself a Twitter star with more than 56,000 followers, many of whom surrounded her like a celebrity during the conference, as they were finally able to meet their role model in person.
Sharif shared a moving story about a woman she met on Twitter. The mother of two felt she was a hostage to immobility until she read that Sharif was driving. Inspired, she bought a car with darkly-tinted windows and taught herself and her two daughters how to drive.
"There is no law prohibiting women from driving," said Sharif, explaining that the ban was cultural rather than legal. Nonetheless, Sharif was jailed for nine days in June following calls for Saudi women to join her in breaking the taboo on driving but continues to urge women to try to obtain drivers licenses and runs the #women2drive campaign.
From Dalia Ziada, a young Egyptian women who organized countless on and offline protests over the past several years and was name on of the world's 17 most fearless bloggers by the TheDaily Beast and 150 most influential women by Time magazine to Aliaa Magda Elmahdy, who posted a naked picture of herself on her blog to boldly claim her right to freedom of expression, women have adopted and adapted new media technologies to the pursuit of personal and collective independence and freedom.
The convergence of networked media and street protests have helped women shatter cultural taboos, though many are still figuring out how to navigate the more freewheeling public sphere.
Several of the human rights groups, including Harassmap and the Egyptian Initiative for Personal Rights, said they struggled with how to respond to the blog, but largely defended Elmahdy's right to freedom of expression and said that they would defend that right regardless of the content she chose to publish.
Interestingly, there was no consensus on the issue of women quotas for parliamentary elections, with some arguing that elected representatives should be the best candidates regardless of gender and others asking why they should accept quotas of less than 50 percent given that women are half of the population. Egypt had a quota of 25 whereas Libya required only 10 percent and Tunisia's new law required party lists to alternate between men and women. According to a recent article in Foreign Policy, women are represented at twice the rate in Middle East countries with quotas than those without.
Nonetheless, the past year was momentous for women activists in the region. One of the most remarkable achievements was the awarding of the Nobel Peace Prize to Yemeni journalist and human rights activist Tawokkol Karman for her role in inspiring the democratic uprising in her country, which grew from 20 women journalists who gathered to protest the day Tunisia's president Ben Ali fled the country to more tens of thousands in the weeks and months that followed.
But Maria Al-Masani, a blogger and human rights activist who founded the Yemen Rights Monitor, said she worries about whether the gains made by women, who defied tradition to take to the street and refused calls to remain at home, will continue.
"Women's participation was valued during the revolution, but now, as top government positions are awarded, a female voice is seldom heard," said Masani.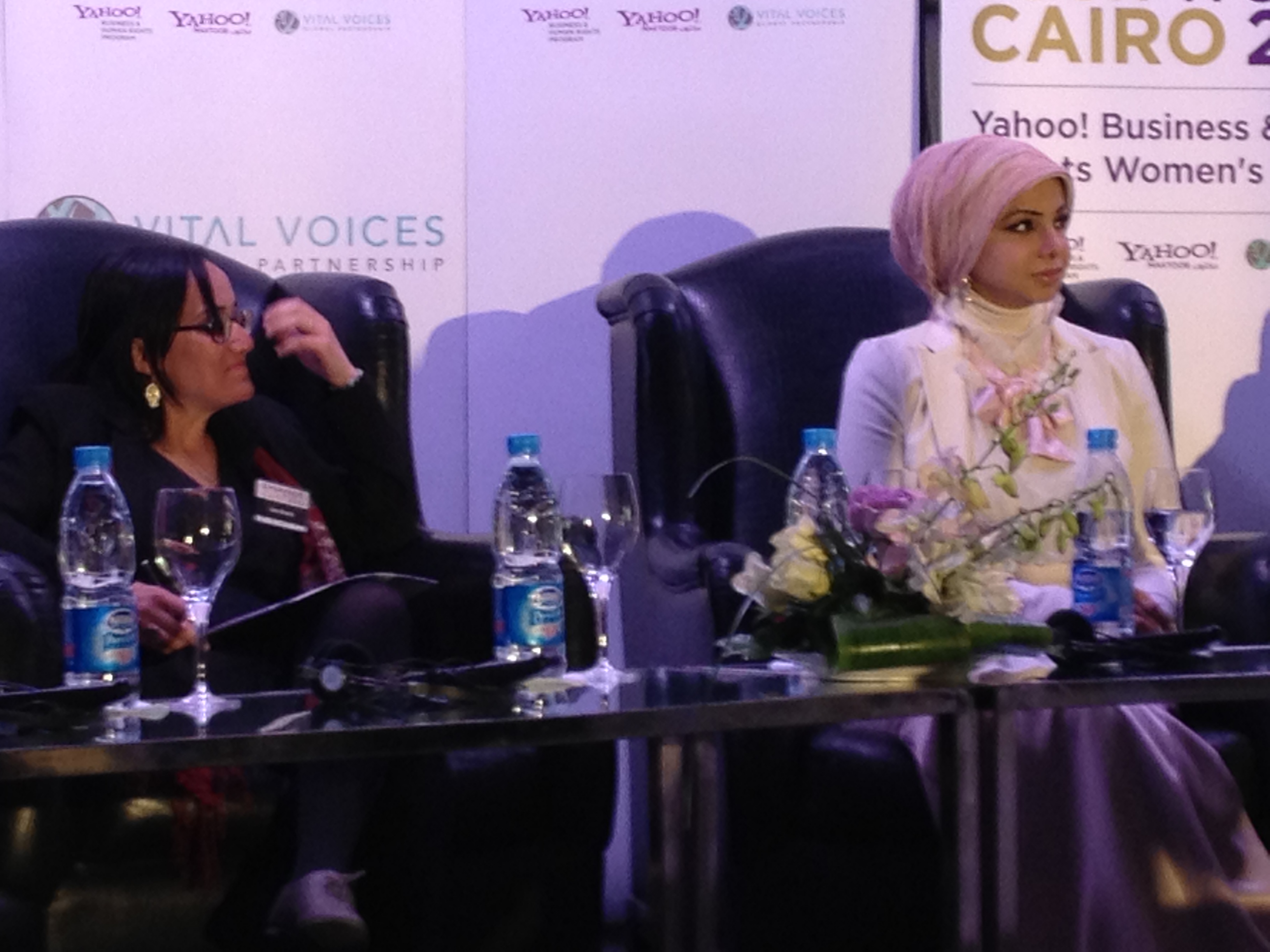 Despite the region's democratic uprisings many countries including Bahrain, Saudi Arabia, Syria and Yemen experienced backsliding on Freedom House's annual survey of political rights and civil liberties because of crackdowns on pro-reform activists. Tunisia was a bright spot in a region that continues to rank among the least free in the world, moving from Not Free to Party Free amid the successful democratic consolidation that has taken place in the wake of Ben Ali's ouster last year. Egypt continued to rank as Not Free amid continued repression by the ruling military power.
The Change Your World Cairo summit, sponsored by Yahoo! Business and Human Rights Program and the US-based non-profit Vital Voices, was billed as the first such annual even and organizers said there were plans to hold similar summits in Southeast Asia, Latin America and the Middle East next year.
According to reports midway through the day, the #changeyourworldcairo hashtag was among the top 20 topics trending worldwide, attracting an audience far broader than those collected in the Fairmont hotel ballroom. Many on Twitter expressed solidarity with the women on stage, wishing they could attend in person but nonetheless helping to amplify the voices of the Middle East leading young women cyberactivists.
Related
Popular in the Community