Though not a mother at the time, Rudolph was struck to learn how outdated breast pumps were in comparison to other commonly used devices. Knowing that she planned to be a working mom someday, the entrepreneur sprang into action.
Collaborating with her husband Jared Miller, Rudolph set her goal: to build a better breast pump.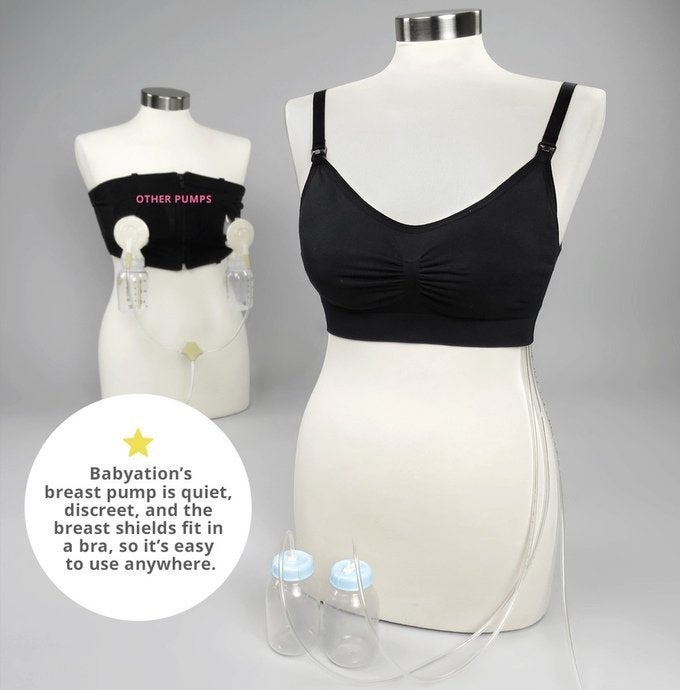 Two years later, Rudolph and Miller are parents to an 8-month-old boy and founders of Babyation, a St. Louis-based startup dedicated to developing innovative new products for families. Their flagship product is a "revolutionary" breast pump that offers a more quiet, comfortable and discreet experience for nursing moms.
"We don't mean to be dramatic, but we think this breast pump will literally change the lives of many women," Rudolph told The Huffington Post. The Babyation pump has comfortable breast shields designed to mimic the feel of a nursing baby and emits a much quieter sound than many existing products.
Instead of hanging off the mother's breasts, the bottles for the Babyation pump collect milk through long tubes. This gives women the option to keep their shirts on while pumping and can lessen the need for a private space. As Rudolph explained:
"There are women who are exclusive pumpers or pumping for their babies in the NICU who could be able to spend more time cuddling their babies because there will now be room for them against the mother's chest where the bottles used to be. There are doctors and nurses who will be able to breastfeed longer because they can pump while seeing patients. There are executives who will pump on their own schedules instead of fighting for the one lactation room available for multiple women."
Though the tubes for the current prototype of the pump are disposable, Rudolph noted that they're developing more environmentally friendly options and cleaning supplies.
The Babyation pump comes with an app, which allows moms to adjust the speed and suction and keeps track of preferred settings. Through sensors on the outside of the bottles, the app will also track how much milk each breast expresses, the length of the pumping sessions, which side(s) the moms pumped on, the time of the last pumping sessions and more.
"It will have a timer, and you can program it to automatically begin pumping," Rudolph said.
As of now, Rudolph and Miller have created a functional prototype for the pump, approved by a pediatrician and lactation consultant. In order to finalize the design and manufacture the product, they launched a Kickstarter campaign with a goal of raising $50,000. Through their fundraising page, parents can pre-order the new pumping system for a discounted price of $350. With one week left in the campaign, they've raised $36,000 so far.
New developments in the world of breast pump technology are much-needed. In September 2014, MIT hosted the "Make the Breast Pump Not Suck Hackathon" to facilitate group brainstorming with engineers, parents, and medical professionals.
"Until recently, there hasn't been any competition and therefore, there hasn't been any incentive to innovate," Rudolph told HuffPost, adding, "There is a captive audience in breastfeeding moms because if they want to continue nursing while being away from their children, a breast pump isn't an option. It's a necessity."
The entrepreneur and mom learned this firsthand after the birth of her son, Exton. "He had a poor latch for months (he still does, to be honest), and as a result, breastfeeding was way more painful than I ever thought possible," she told HuffPost. "In fact, pumping was often a much-needed rest for my sore nipples!"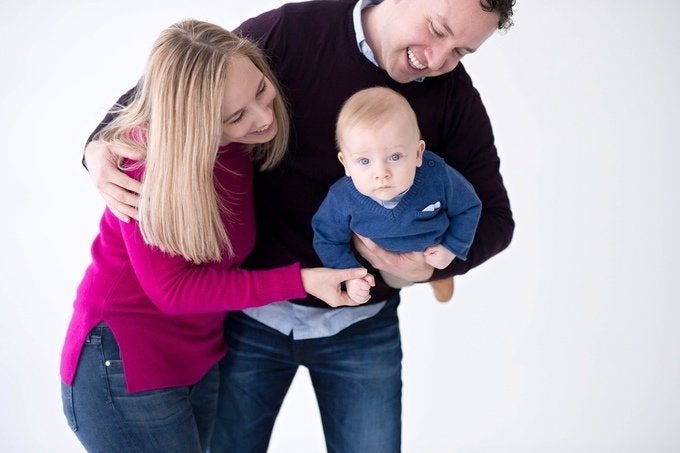 Using a traditional pump for the first time was more challenging than she'd anticipated.
"I had tried them on as part of our initial research, but that was long before I was lactating," Rudolph explained. "Jared and I were both huddled over the breast shields that were hanging off my chest trying to ensure the angle was right and we had proper speed and suction settings. It was hilarious!"
The experience inspired Rudolph and Miller to make their pump extra user-friendly for first-time parents with a special app setting and built-in instructions.
Today, Exton (aka Babyation's "Chief Baby Officer") comes to his parents' office a few days a week, so Rudolph doesn't have to pump every day. When Exton isn't in the office, however, "I like to tell people that if they can't find me, I'm probably pumping!" the mom joked.
"Even though I pump fairly often, I know there are a ton of moms who pump far more than I do," she added. "I'm especially in awe of exclusive pumpers. They are truly superheroes!"
Since launching Babyation, Rudolph and Miller have had the opportunity to hear from many moms and learn about their diverse breastfeeding experiences.
"We don't expect that every woman who buys our product will want to pump in public. Nor do we expect that every mom will use it in the same way," Rudolph said. "For instance, some moms may not want to use the app, and that's OK! The pump can still be physically controlled."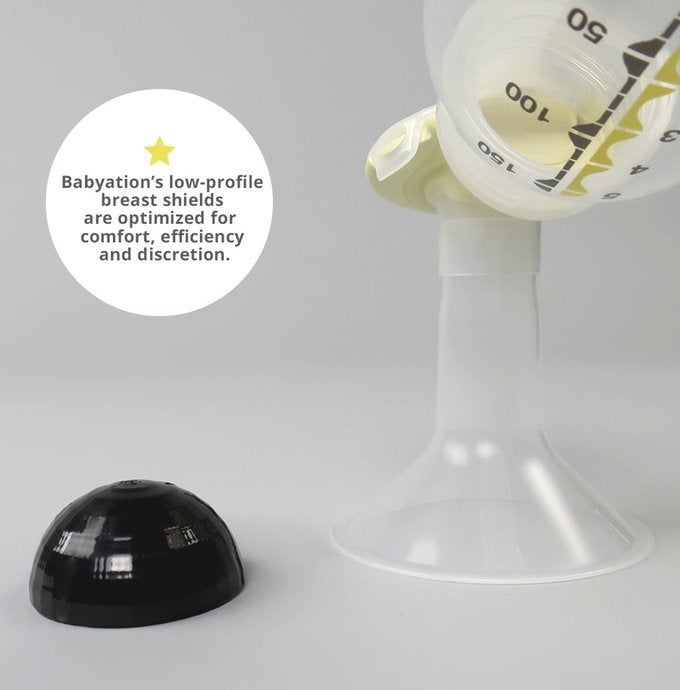 Ultimately, the Babyation breast pump is about adaptability, she continued. "We want women to be able to determine how to fit their pumping around their lives, instead of having no choice but to fit their lives around their pump."
The mom also hopes the Kickstarter campaign will reach with parents and non-parents alike. "We all know someone who could have benefited from a better breast pump in the past, or who will in the future," Rudolph said. "Even five dollars will make a difference!"
Beyond the fundraising goal, she and her husband want to get their names out and show that they are a family company serving families and not "a faceless corporation." They've spent a lot of time interacting with parents through email and social media and even face-to-face.
"Breast pumps are hugely personal for moms, and we want to answer every question, address every pain point and get to know each woman as an individual," Rudolph said, adding that she invites anyone to email her with questions at sam@babyation.com.
In turn, she hopes the mothers she meets can rally for her cause and help make the new breast pump a reality.
Said Rudolph, "With moms in our corner, we can do anything!"
Related
Before You Go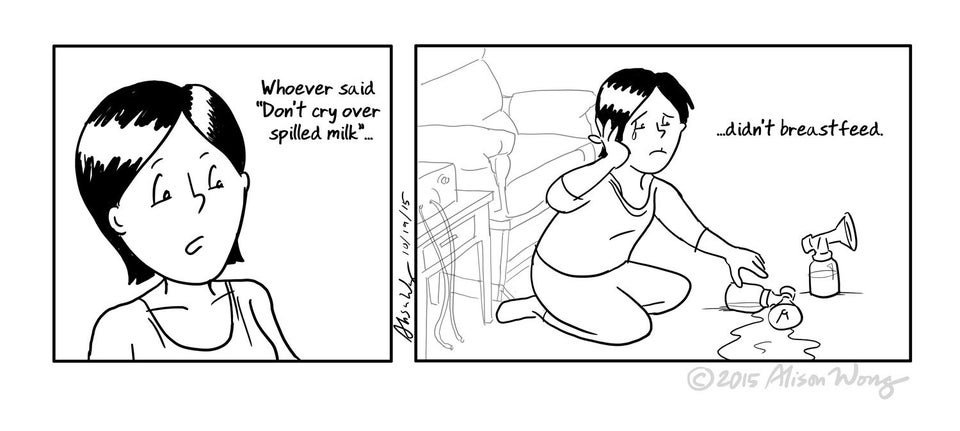 Comics That Sum Up Pumping