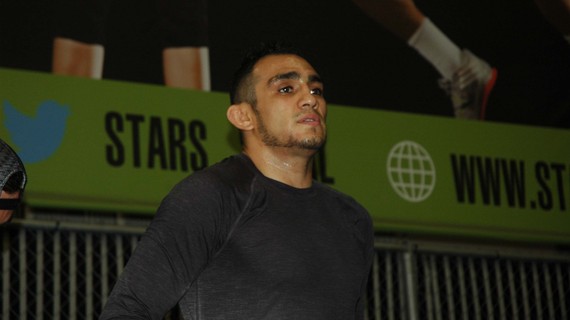 Last we saw of UFC lightweight Tony Ferguson (20-3 MMA, 10-1 UFC), the former The Ultimate Fighter winner delivered one of the most memorable performances of 2015, choking out Edson Barboza in wild, back-and-forth affair.
The win, Ferguson's seventh in a row, immediately thrust him into the divisional top-five and the 155-pound title picture; he was partnered, for a second time, with wrestling standout Khabib Nurmagomedov for an April bout to determine the lightweight division's next contender. But the fight never materialized after Ferguson was removed from the matchup when doctors discovered blood in his lung.
Now healthy, and set to face UFC newcomer Landon Vannata at Ultimate Fight Night 91 in Sioux Falls, South Dakota on July 13, Ferguson is prepared to resume his run towards the title. Although he knows a win over Vannata, a late replacement for the tenth-ranked Michael Chiesa, may not lead to an immediate shot at the belt.
"It sucks, but you gotta take your hit, take your bumps and bruises," offers Ferguson. "We all know it's a marathon not a sprint ... I like to stay busy. I'm not trying to look past this guy."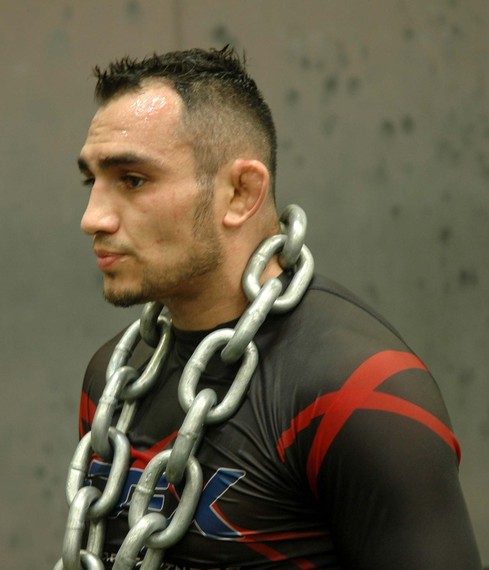 Ferguson, who has been a polarizing figure in mixed martial arts since his days on The Ultimate Fighter, understands the criticism he faces as a result of accepting a fight with the unranked Vannata, a UFC rookie who normally fights at featherweight. Just last month, Ferguson lambasted Nurmagomedov, his biggest rival, for competing against Darrell Horcher, a part-time fighter brought in as a replacement after doctors ruled Ferguson ineligible. The words have come back to haunt Ferguson a bit, but the Orange County-based fighter is dealing with it in stride.
"I'm hungry," explains Ferguson, who believes he can compete as many as eight times a year inside the Octagon. "This guy's gonna have a lot of problems. I'm gonna pose a big threat as far as hands."
And while Ferguson remains focused on collecting his eighth-straight UFC victory, which would be the longest current streak in the lightweight division, he does not mince his words when talking about Nurmagomedov and other fighters who rely on a single discipline of martial arts.
"I can't stand one-dimensional fighters in MMA. If you're the best, you have to have all facets," states Ferguson. "I think it's kind of fun to be a video game fighter ... I like to keep it revolutionized."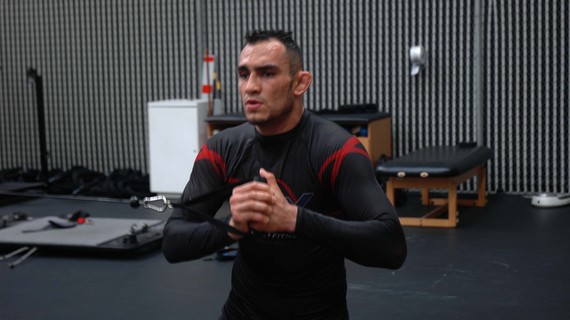 A standout wrestler in high school and college, Ferguson developed his one-of-a-kind MMA style, in part, due to his background as a break-dancer. Applying his unorthodox body movements and dance techniques to the jiu jitsu game, Ferguson forged a unique path, one without caution, rolling into dangerous positions to attempt submissions.
Creating a "fluid, flowing" style, Ferguson mixed in his heavy punching power to complete his well-rounded, multi-faceted MMA game. As a result, he quickly vaulted his way up the promotional ranks, keeping opponents guessing which version of Ferguson they would be facing.
"There's no way to prepare for me," states Ferguson, the UFC's third-ranked lightweight. "I'm just too fast, too quick, too unorthodox; I'm lanky, and I got a crazy monkey grip that is relentless, that will not let go."
For this particular camp, Ferguson has increased his training regiment, beyond the usual wrestling, jiu jitsu, boxing, and Muay Thai sessions. Working with STARS SoCal, a unique training facility that designs programs for NFL standouts, Ferguson has increased his strength and conditioning load for the demands of what he hopes will eventually be five-round bouts (his fight with Vannata is scheduled for three).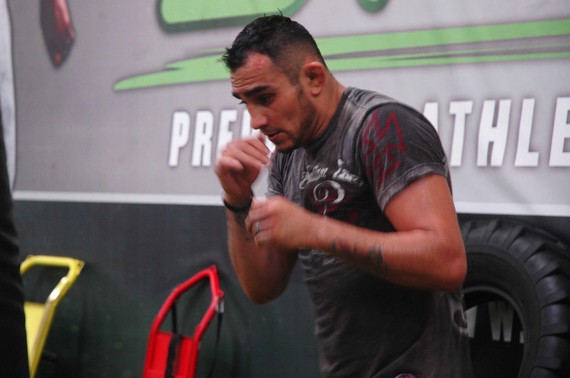 Ferguson also expects to display a higher level of athleticism with every bout. And while he's already recorded four submissions and three knockouts inside the Octagon, Ferguson is adamant that he still has many tools that he has yet to display inside UFC competition; it's all a part of his plan to bring out new weapons for every fight as he inches closer to a title shot.
"There's a lot of stuff I haven't shown," comments Ferguson. "I've been waiting to show the world exactly what I can do, but I think it's kind of fun to flirt with the idea to show little bit by little ... I've shown a lot, but I keep showing more."
Tony Ferguson faces Landon Vannata on Wednesday, July 13 (7 P.M. EST, FOX Sports 1) at the Denny Sanford Premier Center in Sioux Falls, SD.
Popular in the Community