Because I often write about my own vision of how mobile can positively impact the lives of citizens, it is quite a significant milestone for our team at APPCityLife to begin a new leg of our journey as a civic tech startup, because today we join our efforts to solve the significant challenges of bringing mobile solutions to cities with the incredible team at Accela. The reason I am so personally excited for this new opportunity is because it promises to completely change the way cities and people connect through mobile. How? By changing who can develop and deploy apps from expensive custom app development to the teams within government who know exactly what solution they need to serve their community.
Consider this: in the past 90 days, there have been over 1.51 billion visits to federal government websites, and over one third of those visits have been on a mobile device or tablet. This doesn't include the millions of visits to city, county and state government websites - or the thousands of government agencies whose teams access their own internal systems via mobile. It is worth noting that within this significant growth in mobile traffic that 7% of US adults - mostly lower income, young adults and minorities - are smart-phone dependent, meaning they rely solely on their smart phone for internet access.
While most government agencies and leaders are keenly aware of the growing demand and need to deploy mobile, finding solutions which meet the unique needs of government has not been easy or affordable.
It is one of the many reasons why a partnership between Accela and APPCityLife is so exciting to our teams and already generating interest within the civic tech industry.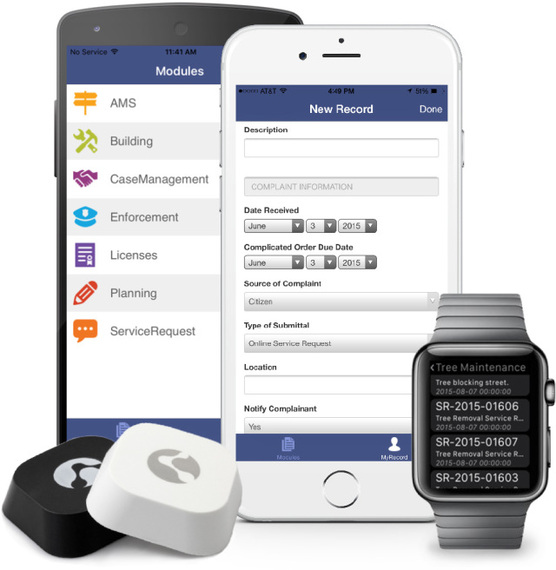 Accela has been a leader in delivering productivity and engagement software to governments for over thirty years, serving over half of America's largest cities and over 2000 communities worldwide. The company's Civic Platform helps bridge citizen and government engagement by connecting the public sector, citizens, partners and developers. The Civic Platform already includes a collection of native mobile apps developed by software engineers for government agency field staff and citizens.
APPCityLife was an early innovator in open data and serves a wide variety of government clients including public transit, cultural services, education and nonprofits. The company's Mobile Publishing Platform, CityLife, can be used by individuals with no programming skills and supports cross-platform development for iOS, Android, wearables, and beacons. Templates created on the CityLife platform are easily customized to meet the unique branding, workflow or data integration needs of a project, meaning government teams can take ownership of mobile solutions and deploy new sophisticated apps in days instead of weeks or months.
In addition to rapid development and deployment of mobile apps, the CityLife Platform also provides additional benefits to government agencies.
CityLife's ODS (Open Data Server) normalizes data on the fly from a wide variety of formats for easy mobile consumption.
Robust analytics help agency staff to collect meaningful data for data-driven design and reporting.
Targeted push notifications allow agency staff to send notices to the entire audience of a mobile app or only to a defined subset of users.
CityLife's unique approach to streaming cloud-based apps resolves the ever-growing challenge of governments to provide communities with access to a wide variety of mobile apps without requiring additional app downloads.
And now through this newly formed partnership, our CityLife Mobile Platform can serve as an extension of Accela's Civic Platform and enable non-technical government staff to take to market agency-specific mobile apps. Instead of starting from scratch, teams can expedite development by using templates and features designed specifically for Accela's Civic Platform. And most exciting, new solutions created by one agency using CityLife can easily be templated and shared among jurisdictions to foster innovation.
What does that mean for you and me?
Let's say you want to have a garage sale. More likely than not, your city requires that you first secure a permit. And doing that likely requires a trip to City Hall where you then wait in one line to fill out a form and then wait in a different line to pay a cashier.
This is more than just inconvenient. It actually creates an unnecessary burden for citizens, especially those who cannot leave their job during the hours their city is open for business. When we can transform that process into a mobile app where anyone can log in day or night, submit their application and even pay the fee in minutes, it is not only far more convenient, it can drive higher compliance rates and revenue for the city. It's a win for everyone involved.
While the need for custom app development certainly still exists, the opportunity to quickly share and deploy mobile apps among agencies finally makes it possible for governments to meet the growing demand for mobile. Through access to a platform designed specifically to meet their needs, agencies can deliver easier access to services and information for both the public and internal government teams. The possibilities are endless - and that changes everything.
REAL LIFE. REAL NEWS. REAL VOICES.
Help us tell more of the stories that matter from voices that too often remain unheard.