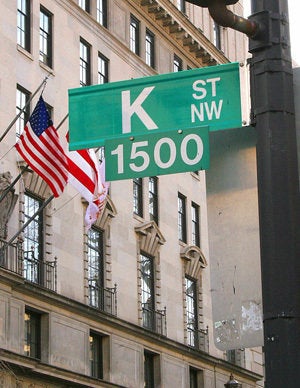 The financial services sector has hired 1,447 former government employees to do its bidding as lobbyists since the beginning of 2009, according to the latest report from the Center for Responsive Politics and Public Citizen.
Seventy-three of those lobbyists are former members of Congress -- four former Senate and House Majority Leaders and 17 former members of Senate and House banking committees. Sixty-six financial sector lobbyists formerly worked as banking staffers and 82 worked for members still serving on those committees.
What's to be done? Stop talking to colleagues who cash out, says Public Citizen's David Arkush.
"These people are influential because they have personal relationships with current members and staff," said Arkush in a statement. "It's hard to say no to your friends, but that's what Congress needs to do. Listening to them would result in a bill that would fail to get the job done and would disappoint the American people."
HuffPost has reported on the other side of this phenomenon: Lobbyists becoming staffers. In December, 16 of the 86 House Financial Services Committee staffers -- most of them senior lawyers -- previously worked as lobbyists.
"The door doesn't just revolve once," said Rep. Brad Miller (D-N.C.). "They tend to go out and come back and go out again. It really does create a set of financial incentives, whether conscious or not."
The Senate and House lobbying databases make these reports possible -- and not too difficult. Campaign for America's Future reported in May that the six biggest banks have 243 former staffers lobbying for them. Public Citizen reported that financial sector lobbyists specifically targeting derivatives legislation outnumber pro-reform lobbyists 11 to one. (Over the years, corporate lobbyists have always massively outnumbered their union and public interest counterparts. In 2006, the ratio stood at 25 to one.)
Some members are losing patience with the pattern. In April, House Financial Services Chairman Rep. Barney Frank (D-Mass.) permanently banned a staffer-turned-lobbyist from lobbying his committee.
"The more effective and higher-paid lobbyists all worked for guys named Schumer and Frank and Dodd," said a Republican lobbyist whose name appears in the report. He said he didn't have much luck tweaking the Democrat-driven Wall Street reform bill. "They ain't hiring me to fix anything."
In the upper chamber, Sen. Michael Bennet (D-Col.) has a no-hope bill that would ban former members of Congress from K Street for life and force staffers to wait six years before they can lobby their former colleagues. The bill has one cosponsor.
Click HERE for a PDF of the report, titled "Banking on Connections."
Popular in the Community