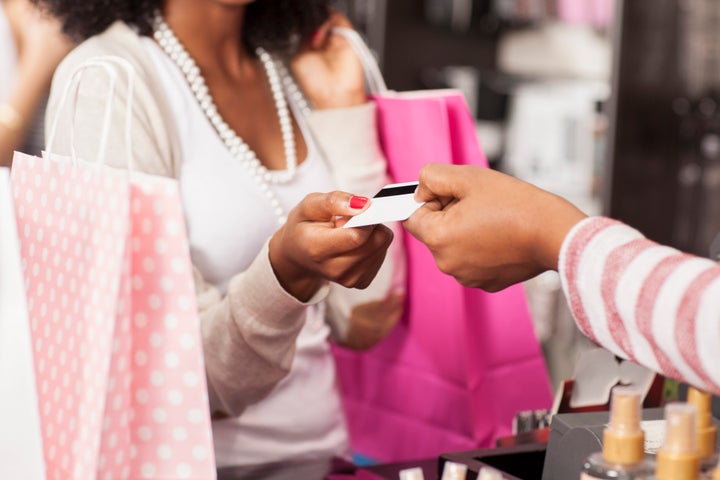 The holidays can wear out the magnetic strip on your credit card. We shop to exhaustion, eat out more than we should, book peak-season travel and rack up expensive food bills from all the entertaining. By the time Dec. 31 rolls around, total credit card debt in the U.S. for 2017 is estimated to reach $905 billion, according to a NerdWallet analysis.
But even for those who successfully contain their end-of-the-year spending, some financial experts, like Dave Ramsey, have long proselytized that swearing off credit cards makes good sense. For 25 years now, Ramsey has urged people to cut up their credit cards and close their accounts. He minces no words.
"There's no good reason to play with snakes," he told HuffPost. "They bite."
Here are some of the ways your credit card could be ripping you off:
Airline credit cards are often not what they seem.
Accruing miles is one of the top reasons people give for holding on to their credit card. There are a few catches, though, including the annual fees on most airline cards. Ramsey offered this example: Say your card awards you a mileage point for every dollar spent. It has an $80 annual fee. If you charge $8,000 on the card every year, it'll take about three years to have enough miles accumulated to get a free one-way coast-to-coast ticket (typically 25,000 mileage points). You'll have spent $240 in annual fees by then — and you could probably buy a round-trip plane ticket by yourself for not much more.
Even if you start off with a certain number of bonus miles just for signing up, the system isn't necessarily designed in your favor. Some miles expire before you even get to use them. And The Points Guy notes that the biggest complaint about airline miles is that they're nearly impossible to use, because airlines cap the number of seats they make available for reward travel on each flight.
You may find that it's cheaper to buy your own ticket rather than use a credit card to earn miles. Plus there's less risk that you'll carry a balance and add to your debt.
"Cash-back" cards don't always give you actual cash back.
Ramsey says that, while he likes cash as much as the next guy, cash-back cards aren't the best way to get cash and keep it. "You have to spend thousands on a credit card to get a measly $100 cash back," he said, adding, "And [in many cases] it's probably just a credit applied to your account, not actual cash in your pocket."
Maybe it will be just enough to cover your annual fee. In that case, he said, "How about you just keep your cash instead?"
Cash-back cards don't generally give you cash or a credit back on every purchase. Some limit it to gas or dining out. Others may claim to give you cash back on every purchase but cap it at a certain amount for each transaction. The credit card companies generally have a strict limit on the maximum amount that they will give back to customers in a billing period or year. Read the fine print on the application, and look for the paragraph that details limits.
"I never once heard a millionaire say, 'My big breakthrough came from the cash back I got on my credit card.' It doesn't happen," Ramsey said.
You have to spend a bundle to break even on Amazon's "5 percent back" card.
Amazon now has a card that offers 5 percent cash back on items purchased on the site. In order to qualify, you must be an Amazon Prime member, which costs $99 a year and entitles you to free shipping on many items, along with benefits including streaming entertainment.
The calculation is an oversimplification, because it doesn't consider all the other benefits involved in Prime membership. The card may make some sense for those who subscribe to Prime anyway, but for those who aren't Prime members, review your Amazon orders from last year to see if your spending nears the $4,950 threshold. Amazon also offers a free card ― with no Prime membership strings attached ― that gives 3 percent cash back.
Store cards can be light on the rewards, heavy on requirements.
Some people like having credit cards for the purpose of using the rewards or coupons they get. This is especially true of retail store credit cards. Old Navy, The Gap and Banana Republic, for example, are notorious for offering 30 percent off to anyone who signs up for emails, but 40 percent off if you charge your purchases to their store credit card. Cardholders might get free shipping twice a year or a coupon for 20 percent off every other month, but is it really saving you money when you have to spend a minimum amount when you shop?
"Think about it," Ramsey said. "You're so excited to save 15 percent you spend $150 in a shopping frenzy. That 15 percent you 'saved' goes out the window when you tack on interest — especially if you don't pay off the balance."
Analyze where it is you're spending your money, and if the card is dictating your purchases or where you make them, you're not likely being smart about its use.
In fact, it could actually be harming you, Ramsey said.