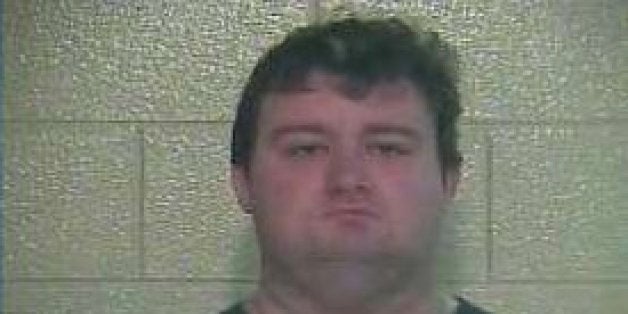 A Kentucky youth pastor and Sunday school teacher is in jail after being accused of sexually abusing a teenager.
Rex Allen Murphy, 30, was booked into Pulaski County jail on Tuesday on felony charges including sodomy, sexual abuse, and use of a minor in a sexual performance, according to jail records.
The 16-year-old male victim approached authorities last Friday to tell them of the alleged sexual abuse. A statement released by the Eubank Police Department described the details of the case as "very graphic and to the point."
Eurbank Police Chief Colin Hatfield told The Huffington Post Thursday that the abuse took place over a six month period, occurring at least ten times.
"The victim spoke to a coworker about the abuse, pretty much reaching out to her for help from an adult, and she brought it to my attention," Hatfield said.
According to police, Murphy told the victim he could "cure" the teen's homosexuality because he too had "experimented with homosexuality," according to Lex18.
Hatfield said Murphy was heavily involved in studying "black magic and witchcraft" at the local library. Murphy allegedly used this to manipulate his victim into not telling anyone.
"The suspect told the victim that he had the powers to make his sins from the past come out just by brushing his skin or shaking his hand," Hatfield said. "He threatened to bring out all of [the victim's] sins to the public if he told anyone. When we asked the suspect, he said he had brought it up but not in a threatening demeanor."
When investigators interviewed Murphy, he allegedly confessed to the crimes.
"At times [Murphy] did seem remorseful," Hatfield said. "It took us an hour and a half to get a confession, and every time we'd ask him the same questions he would add more details as to how far he would go in molesting the victim."
Hatfield said the church where Murphy worked was a small congregation made up of mostly families in a town with approximately 400 residents. Polly Ann Church Pastor Linville Dalton told the Commonwealth Journal that Murphy was never a youth pastor, despite what police have said.
"He was in a position of power" at the church, Hatfield said.
Murphy allegedly told authorities that there had been other victims in the past, but that Murphy was a juvenile himself at the time.
Police are asking for help from anyone who has information regarding other potential victims. Anyone with information is urged to call at 606-425-1490.
Calling all HuffPost superfans!
Sign up for membership to become a founding member and help shape HuffPost's next chapter