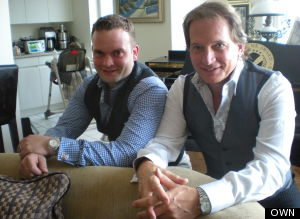 Actor, singer and former teen idol Rex Smith has had plenty of memorable experiences. There was his acting debut in "Grease" on Broadway, the time his hit single "You Take My Breath Away" reached No. 10 on the Billboard Hot 100, and his rise to fame in the action series "Street Hawk." But one of Smith's most unforgettable moments came in 1997, when he got the surprise of his life.
Smith, at the time a divorced father of two daughters, had been performing in a stage production of "Sunset Boulevard" when he noticed one particular audience member during the top of the second act.
"It's a Wednesday matinee," Smith recalls in the above video from "Oprah: Where Are They Now?". "There's a 16-year-old boy sitting there, in the dead center [of the row]."
As Smith performed, the boy watched him intently -- more so than any other audience member, Smith says. "Wherever I go, he's following me. His eyes are burning through me," he explains.
When the performance ended, Smith stepped out into the lobby to sign autographs for those who had just seen the musical. The mysterious 16-year-old patiently stood in line, waiting for his turn to meet Smith.
"He comes up, I take a picture with him... I say, 'What's your name?' He says, 'Brandon,'" Smith says. "I say, 'You seem like a very intense young man. Are you interested in the arts?'"
As Smith finished signing his autograph for the teen, he looked up and suddenly froze.
"I knew I was looking into the eyes of my firstborn son," Smith says. "I almost fainted."
In 1979, Smith fathered a baby during a one-night stand with 23-year-old Karen Lakey, who kept the child a secret until she began losing her battle with cancer. Brandon recalls the moment his mother told him the truth about his famous father.
"She'd been battling cancer for many years and her condition got so bad, the doctor said she wasn't going to make it," Brandon says. "That's when she told me that my real dad was Rex Smith."
He didn't believe her at first. "That's a bit of a wild story to take on, especially if your mom's on morphine," Brandon says. "But when I saw a picture of him, it's a shock of how much we look alike. And I went on an adventure to go find him."
Calling all HuffPost superfans!
Sign up for membership to become a founding member and help shape HuffPost's next chapter