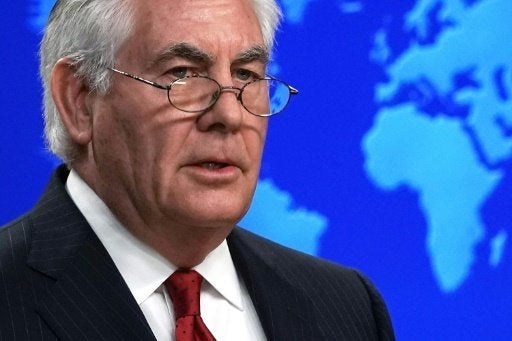 Former Secretary of State Rex Tillerson spent over $1 million in taxpayer money flying around the country aboard military jets, often traveling for personal purposes, according to an estimate by American Oversight, a nonpartisan watchdog group. 
The estimate is based on government documents the group obtained through a Freedom of Information Act request and shared with HuffPost. The documents show that Tillerson used military jets at least 15 times during his nearly 14-month stint as the nation's top diplomat to travel to Texas, Colorado, Montana, and West Virginia. Five of the trips are clearly described as "personal travel" in State Department memos to the Defense Department, requesting use of the aircraft. The other 10 trips referenced in the documents do not indicate the purpose of Tillerson's travels — but his public schedules at the time do not indicate any official reason for those trips.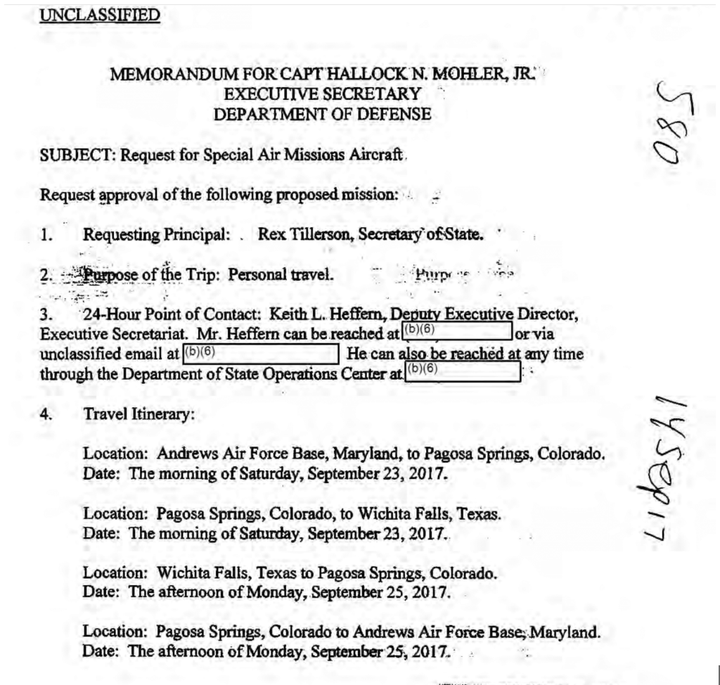 The documents obtained by American Oversight only list the costs associated with the use of the military aircraft for two of the trips. Tillerson's May 2017 trip from Texas to Colorado to Andrews Air Force Base in Maryland cost taxpayers $82,212. The return leg of his June 2017 trip to Texas cost $56,218.50.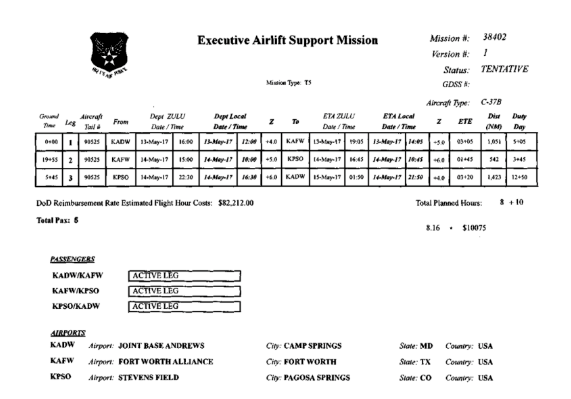 The aircraft used on those two trips cost $10,075 per hour to operate, a figure the Defense Department confirmed to the Wall Street Journal earlier this year. American Oversight used that cost per hour to estimate the cost of the 13 trips that did not include cost information. Based on those calculations, the watchdog group estimates Tillerson spent at least $1,039,136 of taxpayer money flying on military jets.
The first leg of a July 2017 trip from Andrews Air Force Base to West Virginia was likely for a Boy Scouts event, where Tillerson, an Eagle Scout, was being honored. (Days later, President Donald Trump ranted about the media, Barack Obama, and Hillary Clinton in front of thousands of Boy Scouts at the same location.) After the West Virginia event, Tillerson continued on to Fort Worth Texas before returning to Andrews Air Force Base. 
State Department spokeswoman Heather Nauert defended Tillerson's use of military aircraft.
"Every Secretary of State — regardless of whether they serve in a Democrat or Republican administration — must be protected by a security detail and have access to secure communications at all times, and DOD aircraft are equipped to provide that capability," Nauert said in a statement. "When utilizing DOD aircraft for personal travel, all Secretaries of State reimburse the government at the rate required by law." 
The reimbursement rate required by law is the cost of the coach fare on a commercial airline, a State Department spokesperson said. That would amount to only a small fraction of the cost of using a military jet. 
Former Secretary of State John Kerry sometimes made stops at home on the way to or from overseas trips using government aircraft. And FOIAs obtained by Judicial Watch, a conservative watchdog group, show that former Secretary of State Hillary Clinton used military aircraft to travel between Washington and New York. 
Tillerson, who was best known at the State Department for gutting the agency, used expensive military aircraft to visit his home state of Texas almost every month that he served as secretary of state. He made trips to Fort Worth, where he owns a $1.5 million home near a country club, and to Wichita Falls, where he grew up. Tillerson also owns a 5,857-square-foot vacation home worth $3.7 million in Horseshoe Bay, although it's not clear if he used government-chartered planes to visit that location. Sometimes, Tillerson would combine visits to Texas with a stop in Pagosa Springs, Colorado, where his parents lived.
Tillerson couldn't be reached for comment, but if he felt equally justified in using aircraft that cost $10,075 an hour to operate, he probably could have afforded to pay for it himself. Last year, Forbes estimated his total net worth at $330 million.
This article has been updated to include State Department comment about the reimbursement rate. 
Calling all HuffPost superfans!
Sign up for membership to become a founding member and help shape HuffPost's next chapter
BEFORE YOU GO