Rex Tillerson came precipitously close to criticizing his former boss Wednesday.
In a commencement speech at Virginia Military Institute, the camera-shy former secretary of state gave his most public remarks since President Donald Trump ousted him from the White House in March.
"As I reflect upon the state of American democracy," he told the Class of 2018, "I observe a growing crisis in ethics and integrity."
Tillerson's emphasis on integrity echoed his parting words to colleagues at the State Department in March. Then he went even further:
"If our leaders seek to conceal the truth, or we as people become accepting of alternative realities that are no longer grounded in facts, then we as American citizens are on a pathway to relinquishing our freedom."
But the oil industry veteran has yet to directly criticize Trump. His speech, which began with a discussion on the globalized economy and stressed "the value of friends and allies," is the closest he has come to attacking Trump's rhetoric and "America First" policy.
Tillerson's hands are hardly clean on the subject of "friends and allies." He earned a fortune as CEO of ExxonMobil, the oil behemoth that made common cause with despots (and helped push the climate toward catastrophe). He spent his tenure as secretary of state gutting America's diplomatic corps.
A commitment to facts "binds us to other like-minded democratic nations," he said, distinguishing America from "nondemocratic" countries such as Russia.
Tillerson said it's the responsibility of all Americans to recognize "what truth is and is not," and "what a fact is and is not." Citizens must also demand the country's future be "fact-based, not based on wishful thinking, not hoped-for outcomes made in shallow promises, but with a clear-eyed view of the facts as they are and guided by the truth that will set us free to seek solutions to our most daunting challenges," he said.
"When we as people, a free people, go wobbly on the truth ― even on what seem the most trivial of matters ― we go wobbly on America."
Ending on a dark note, he said that departing from the truth could mean "American democracy as we know it is entering its twilight years."
Watch Tillerson's full speech below.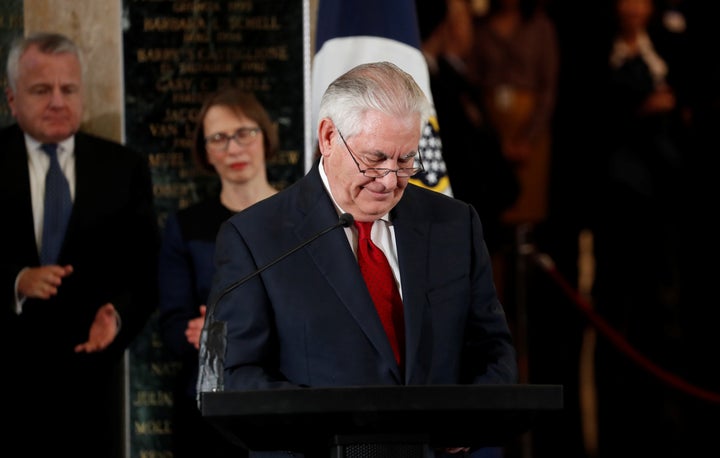 Support HuffPost
The Stakes Have Never Been Higher
Popular in the Community