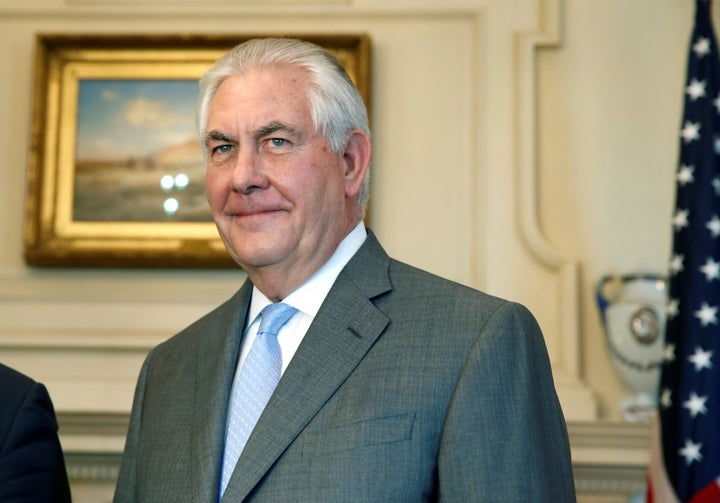 As of now, when Secretary of State Rex Tillerson travels to Asia next week, the press won't be along for the ride.
The secretary's recently reported plans not to travel with journalists are a break with precedent, and come amid growing concerns over access at the State Department, which only started holding press briefings this week. Tillerson himself has yet to give an interview since taking the helm.
In a Tuesday letter to State Department officials, top editors and bureau chiefs said they were "deeply concerned" that Tillerson "plans to travel to Beijing, Seoul and Tokyo to hold key meetings about some of the most important foreign policy issues for the United States without any traveling press."
The letter, published Thursday by Poynter, was signed by representatives from major networks like CNN and Fox News and publications such as The New York Times, The Washington Post, the Los Angeles Times and The Wall Street Journal. The group requested a meeting with State Department officials.
Though news organizations will still be able to cover Tillerson's Asia trip, it's unlikely journalists could do so in as comprehensive a way while traveling separately, given commercial flight schedules and visa issues.
When asked Thursday about Tillerson's decision not to bring along the press, White House press secretary Sean Spicer said it was the first he'd heard of the plan and deferred to the State Department.
Acting State Department spokesman Mark Toner said in a press briefing Thursday that officials are still working out the logistics of the trip, and could not say definitively if they'll accommodate any press on Tillerson's plane.
Past secretaries have traditionally flown with a traveling press corps that would cover their movements and statements ― not only for an American audience, but for a global audience following U.S. diplomacy abroad.
CNN's Jake Tapper tweeted Thursday that not traveling with reporters would be both "unusual" and "insulting" to a public that expects independent press coverage of the secretary of state.
Beyond the Asia trip, journalists are also concerned about access to Tillerson at home.
A former CEO of Exxon Mobil Corp., Tillerson arrived at the State Department with no experience in government ― and, apparently, little grasp of the role the press plays in the lives of public servants. The expectations are different in the private sector. When Tillerson chose as a CEO not to speak to journalists, such as when he declined to give an interview to Columbia Journalism School Dean Steve Coll for his deeply reported book on Exxon, it raised fewer eyebrows.
As secretary of state, however, Tillerson is accountable to the public and is expected to answer questions about the most urgent international issues of the day.
So far, he's engaged little with the press. Tillerson "said less than 50 words in response to press questions" during a recent two-day Europe trip, according to CNN.
NBC News' Andrea Mitchell shouted several questions at Tillerson during a photo op earlier this week, but he ignored them.
Related
Popular in the Community