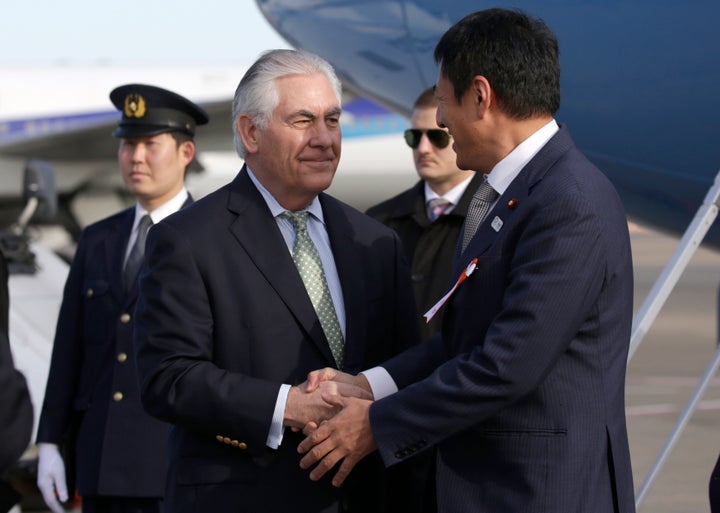 Secretary of State Rex Tillerson reportedly opted not to have a meal Friday with his South Korean counterparts because of "fatigue," according to a line buried toward the end of an article in The Korea Herald.
It's a newsworthy development, not just because this is Tillerson's first trip to Asia as secretary ― a trip that comes amid a looming North Korean nuclear threat ― but because of what it suggests about his stamina. And the fact that it was only known through the accounts of anonymous "Seoul officials" via a foreign outlet is noteworthy in and of itself.
That's because Tillerson has taken this trip without the usual accompaniment of the U.S. press corps. It's a break with tradition, and it introduced a host of complications and potential pitfalls. For example, Americans have no independent confirmation as to whether "fatigue" did in fact play a role in Tillerson's actions.
Indeed, as rumors spread Friday about Tillerson's condition, The Washington Post's Glenn Kessler, who served as the paper's chief State Department reporter for nearly a decade, wrote that a foreign ministry, South Korea, was able to get out its own "spin" because the State Department "failed to bring US reporters on [its] plane." Previous administrations would typically make room for at least a "pool" reporter to provide timely and newsworthy dispatches ― everything from the secretary's remarks to local color ― for the larger press corps to use when space was at a premium. Tillerson didn't do that.
Instead, he and the State Department invited one reporter, who won't provide "pool" coverage but will instead enjoy exclusive access to the secretary for her own outlet. In an unprecedented and controversial move, the State Department decided only to take reporter Erin McPike from the Independent Journal Review, a four-year-old conservative news site. It's a media outlet, as press secretary Mark Toner acknowledged Wednesday, that does not typically cover the State Department and "isn't steeped in foreign policy."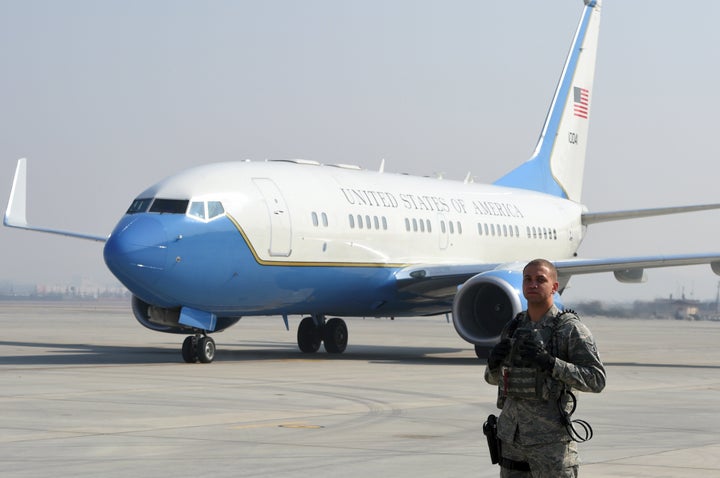 McPike is a legitimate journalist who has worked at news outlets such as CNN, National Journal and RealClearPolitics. However, she only joined IJR last month, and her main contribution on the State Department beat thus far appears to be a positive story about Tillerson having President Donald Trump's ear despite a perception that he'd been sidelined. 
A social media-savvy upstart, IJR is investing in more original reporting and recently landed a big scoop on Trump's Supreme Court nominee. The site, however, sparked controversy Thursday by publishing a conspiracy theory involving former President Barack Obama, in a now-removed article that prompted one of its Congressional reporters to quit. The State Department justified giving exclusive access to IJR as part of an effort "to include a broader representation of U.S. media" and to bring in a "new fresh perspective."
But IJR's "fresh perspective" has so far been missing from coverage of Tillerson's trip. McPike, who got on a plane Tuesday, had not published any stories or even tweeted as of midday Friday ― a silence noticed by other journalists. McPike told The Huffington Post that IJR editors made the decision for her not to tweet or file incremental stories, and to focus on a long-form piece instead. IJR founder Alex Skatell confirmed on Twitter that he made the decision.
In fairness, IJR wasn't given the only press seat to provide pool duty for other outlets. The publication is within its rights to publish as it sees fit with the access provided. But not only has its editorial decision brought renewed scrutiny of the State Department's unusual arrangement with the site, it has also been derided as overly self-interested. With IJR unwilling to report on Tillerson's movements in real time, and the press not having traditional access to do so, the public loses out.
CNN's Jake Tapper recently said that the State Department's decision not to bring reporters on the Asia trip is "insulting to any American who is looking for anything but a state-run version of events."
Journalists' complaints about press access might come across as simple whining. But the inability to comprehensively cover a president's movements, or those of top officials like Tillerson, results in the public potentially losing independent coverage of historical moments. In 2001, pool reporters flew aboard Air Force One with President George W. Bush as he returned to Washington, D.C., following the Sept. 11 attacks. Without such access, Americans are left with only the government's account of what happened, along with whatever appears in the foreign press.
This has become something of a pattern in the Trump administration. Last month, Mexico's press was the first to report that Tillerson planned to visit the country. And on Friday, British media revealed that White House press secretary Sean Spicer had apologized for repeating the unsubstantiated claim that the British intelligence agency GCHQ helped Obama spy on Trump.
Tillerson has appeared reticent on the world stage ― The Washington Post's editorial board recently dubbed him "Secretary Silent." Though Tillerson may speak at length to McPike for her article, the former CEO of Exxon Mobil Corp. has given no other interviews since taking the country's top diplomatic post. And the State Department only recently resumed daily press briefings after a drought of over a month.
On Friday, Tillerson again rankled the press corps when he barred a CNN producer providing pool coverage of his visit to the Korean Demilitarized Zone, allowing in only a team from Fox News.
State Department spokesman R.C. Hammond disputed the CNN journalist's pool report, which described being "blocked," apparently at the secretary's request. 
"Pool reporters were not barred," he told The Huffington Post. The secretary answered a question from Fox News during a photo session at the DMZ, he said.
The confusion Friday over Tillerson's physical condition could put increased pressure on the State Department to return to traditional press coverage abroad. 
"This is a good example of why, on the press side of things, the U.S. side is always pressing for access," NBC News Pentagon correspondent Hans Nichols said on MSNBC during a discussion of the South Korean press report. 
"If a story gets out that may not be accurate, or may be more spun to the host country or wherever the dignitary is visiting, there isn't the own U.S. press corps to either correct the record or, frankly, get the other side out," Nichols said. "So maybe this will cause them to rethink — the secretary and his high command — rethink their policy of not bringing a full complement of reporters."
Calling all HuffPost superfans!
Sign up for membership to become a founding member and help shape HuffPost's next chapter